Phyl­lis: Night means many things: the ter­ri­fy­ing dark­ness behind the garage where I had to car­ry the garbage after sup­per as a child, the dark night of the soul that depres­sion brings, the hours between sun­set and sun­rise that grow longer and longer as our earth turns into win­ter. But night holds com­fort as well as fear, and this month we want to look at books about the gifts that night and dark­ness can bring.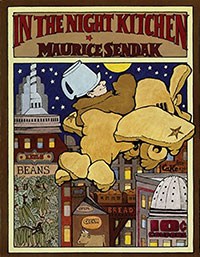 Who hasn't heard of Mick­ey who "heard a rack­et in the night and shout­ed 'Qui­et down there!' and fell through the dark out of his clothes past the moon and his mama and papa sleep­ing tight and into the light of the night kitchen?" (Mau­rice Sendak moves through more action in his mar­velous first sen­tences than almost any oth­er author we can think of.) The Night Kitchen is Sendak's imag­ined answer to what might have hap­pened after he had to go to bed as a child, and his com­ic-book art pays trib­ute to the comics that influ­enced his work. This book has encoun­tered both pub­lic and pri­vate cen­sor­ship, includ­ing librar­i­ans paint­ing dia­pers or clothes on Mick­ey to cov­er his nudi­ty, but chil­dren love the adven­ture he dis­cov­ers in the night kitchen.
Jack­ie: Sendak's edi­tor, the leg­endary Ursu­la Nord­strom, was elo­quent in defend­ing her books from such cen­sor­ship. She once wrote to a teacher who had burned a copy of In the Night Kitchen, "I think young chil­dren will always react with delight to such a book as In the Night Kitchen, and that they will react cre­ative­ly and whole­some­ly. It is only adults who ever feel threat­ened by Sendak's work." (Dear Genius, p.302)
Phyl­lis: Sendak imag­ines a rol­lick­ing adven­ture mak­ing cake for break­fast, while Nik­ki Weiss, right from the title, asks, Where Does the Brown Bear Go? Love­ly in its sim­plic­i­ty and strong at its heart, this series of rhyming ques­tions, one to a spread, won­ders where ani­mals go when night falls:
When the lights go down on the city street
Where does the white cat go, honey?
Where does the white cat go?
When evening settles
On the jun­gle heat,
Where does the mon­key go, honey?
Where does the mon­key go?
After every two ques­tions, the same answer comes:
They are on their way.
They are on their way home.
This would be a sweet cat­a­log of ani­mals head­ed home at night, but the book res­onates more deeply when it asks:
When the junk­yard is lit
By the light of the moon
Where does the junk­yard dog go, honey?
Where does the junk­yard dog go?
Know­ing that even the junk­yard dog is on his way home moves me almost to tears.
Jack­ie: Same here. And it urges me to imag­ine what is home for the junk­yard dog and to put myself in that home for just a bit.
Phyl­lis: The last page shows a boy snug­gled in bed sur­round­ed by his stuffed ani­mals (who resem­ble the ani­mals of the pre­ced­ing pages), and the book's last line reas­sures us that every­one is home. It's what we wish for every one of us, that a home awaits us at night where we are safe and cherished.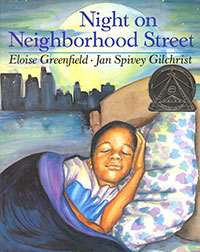 Eloise Greenfield's Night on Neigh­bor­hood Street uses a vari­ety of poet­ic forms to tell the sto­ries of the chil­dren and grown-ups who live on Neigh­bor­hood Street as night falls and bed­time arrives. Juma stretch­es out his bed­time with a will­ing dad­dy, a new baby cries and is rocked lov­ing­ly to sleep, a fam­i­ly gath­ers for "fam­bly time" on the floor, Tonya's moth­er plays her horn for Tonya's friends at an overnight, the church con­gre­ga­tion sings songs of praise, and Karen lets her sis­ter be the mama when their mama has to work at night. But the dark­er side of life appears as well: a lone­some boy wait­ing for his friend to come home looks at the moon "with a sad, sad eye/poking out his mouth/getting ready to cry." A drug deal­er comes around, but the chil­dren "see behind his easy smile" and head inside. A "broth­er who tries to pick a fight" is shut down when every­one else nods and smiles and lets him know they're not inter­est­ed in fight­ing. The book ends with Tonya's mama blow­ing lul­la­by sounds on her horn into the silence of the street. And the chil­dren "hear and smile…and they are at peace with the night."
Jack­ie: I love how the fam­i­lies watch out for each oth­er in this book. There is such a strong sense that chil­dren are cared for. Tonya's Mama is a good exam­ple of this:
When Tonya's friends come to spend the night
Her mama's more than just polite
She says she's glad they came to call
Tells them that she loves them all
Lis­tens to what they can do
Tells them what she's good at, too.
Plays her horn and lets them sing
(Do they make that music swing!)…
We aren't sure why Tonya's friends are there. Per­haps there was trou­ble, per­haps it's just a vis­it. But we are sure that Tonya's moth­er is strong and will love and take care of these chil­dren. Neigh­bor­hood Street is a neigh­bor­hood indeed, where all are made stronger by watch­ing out for each other.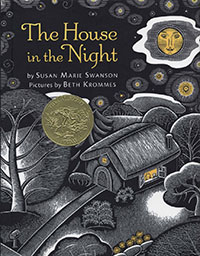 Phyl­lis: Susan Marie Swanson's The House in the Night, inspired by a nurs­ery rhyme from The Oxford Nurs­ery Rhyme Book, is also decep­tive­ly sim­ple in its text. The sto­ry is told in short declar­a­tive sen­tences, one sen­tence each to a dou­ble page spread of Beth Krommes' Calde­cott-win­ning scratch­board illus­tra­tions illu­mi­nat­ed with bright yel­low stars, lamp­light, moon, and oth­er objects. "Here is the key to the house," the book begins. In the house a light burns, a book rests on a bed, a bird flies with a song about star­ry dark, moon, sun, all of which cir­cles back (in short­er phras­es, a beau­ti­ful use of syn­tax) to the house in the night where art shows a par­ent lov­ing­ly tuck­ing in the child who has read the book in "the house full of light." Utter­ly beau­ti­ful and satisfying.
Jack­ie: There is so much to notice in this book. First the trav­el and the won­der­ful verbs: In the house burns a light/In the light rests a bed./On that bed waits a book./In that book flies a bird./In that bird breathes a song…." We go all the way to the moon and the sun — and return. And for the jour­ney back Susan Marie Swan­son uses no verbs. We zoom from one place to the next. It real­ly feels like space travel.
Sun in the moon,
moon in the dark,
dark in the song,
song in the bird,
bird in the book,
book on the bed,
bed in the light,
light in the house,…
You are right, Phyl­lis. This is such a sat­is­fy­ing trip back to the cozy bed­room of the house in the night.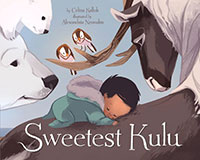 Phyl­lis: Not all nights are dark. The sum­mer sun nev­er real­ly sets in the arc­tic, although some­one who lives there told me how the qual­i­ty of light changes under the mid­night sun. (Some­day I hope to see for myself.) In the Arc­tic Sum­mer of Sweet­est Kulu by Celi­na Kalluk nature comes to give its gifts to lit­tle Kulu on the day he is born. The sun gives him "blan­kets and rib­bons of warm light," wind tells how weath­er forms, snow buntings bring seeds of flow­ers and Arc­tic cot­ton, "remind­ing you to always believe in your­self." Arc­tic Char, Fox, Nar­wahl and Bel­u­ga, Muskrat, Polar Bear, and the Land itself all offer gifts both tan­gi­ble and intan­gi­ble. This is a child wel­comed and cher­ished by all. A final piece of art shows Kulu nes­tled with a polar bear cub in a cir­cle of grass and flow­ers. Exquis­ite­ly beau­ti­ful and lov­ing, this is a book as full of light and joy as the end­less Arc­tic sum­mer days.
Jack­ie: I am so impressed with the lan­guage of this book. Many phras­es caught my ear. Here are a cou­ple of exam­ples: "Melodies of wind arrived," "Fox, so thought­ful and swift,/came to tell you to get out of bed as soon as you wake,/and to help any­one who may need your help along your way…"
This bed­time lul­la­by res­onates with old­er read­ers, too. We are dai­ly remind­ed in our own lives of Muskox's gift. "Muskox shared her­itage and empow­er­ment with you,/magnificent Kulu,/showing you how to pro­tect what you believe in."
These night­time books, whether in the kitchen, on Neigh­bor­hood Street, in the cozy house in the night, or in the Arc­tic urge us to qui­et, to being in a qui­et world, where we have space and time to appre­ci­ate what is around us in the phys­i­cal world as well as what is in our hearts and how they are strength­ened by affec­tion and care.
Phyl­lis: This is the sea­son for qui­et, after the bloom­ing and buzzing of sum­mer. As days short­en and the nights stretch out toward sol­stice, choose a book or sev­er­al to read aloud, an act as com­fort­ing as a cup of warm cocoa and a fire in the fireplace.
Here are a few more night stories:
Can't Sleep by Chris Raschka
Good Night Sleep Tight by Mem Fox
Good Night, Goril­la by Peg­gy Rathman
Night Flight by Joanne Ryder
Night Nois­es by Mem Fox
Ten Nine Eight by Mol­ly Bang