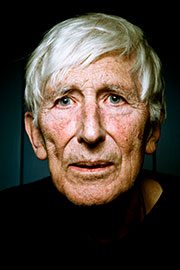 Phyl­lis: Tomi Unger­er has writ­ten and illus­trat­ed over 30 books for chil­dren, along with over 100 oth­er books. I didn't know much about him until Jack­ie sug­gest­ed we do a blog on him, and I'm so glad she did. I came home from the library with a stack of his books, which range wide­ly from the ridicu­lous to the mysterious.
One of my favorites is I am Papa Snap and These Are My Favorite No Such Sto­ries, six­teen most­ly absurd sto­ries with illus­tra­tions. One sto­ry is only 14 words long, anoth­er is told in three sen­tences (although the first sen­tence runs for 14 lines and gives a whole brief his­to­ry of the pink gaso­line sta­tion). I par­tic­u­lar­ly love the sto­ry of the very hun­gry sofa and also the sto­ry about Mr. and Mrs. Limpid. Here is the Limpid sto­ry in its entirety:
Mr. Limpid is blind.
Mrs. Limpid is lame.
They are old.
They are hap­py.
They have each other.
There's a whole ten­der life of two peo­ple con­tained in these words, which remind me of my par­ents when they grew elder­ly, one able to dri­ve, the oth­er able to remem­ber where they were going and how to get back home.
I also love Mr. Tuber Sprout, who every morn­ing for sev­en years runs for the train to work and miss­es it. "The sta­tion clock is always five min­utes ahead of mine," he exclaims. "But at least it keeps me from going to work."
These brief, ridicu­lous sto­ries make me want to try to write my own no such sto­ries in which no such things prob­a­bly ever hap­pened (that we know of). But, like Unger­er, we can still imag­ine a world of wacky possibilities.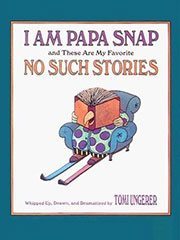 Jack­ie: I love these sto­ries, Phyl­lis! And I have nev­er seen them before. Read­ing them was like eat­ing pota­to chips. I kept turn­ing the pages for one more. And some of Ungerer's phras­es are just hilar­i­ous: Mr. and Mrs. Kaboo­dle buy a new nest from a "local nidologist."
Or here is the Doc­tor Stig­ma Lohengreen's diag­no­sis of Mr. Lido Rancid:
"There is a PICKLE jammed in your vena cava,
and the gan­gli­at­ed chords of your sym­pa­thet­ic
are all tan­gled up."
Or,
"Zink Slugg bought a new car.
It had lots of cylin­ders,
coör­di­nat­ed cram-notch gears,
cou­pled crush-brakes, two-speed grinders,
cobra uphol­stery,
an elec­tron­ic police detec­tor,
strobe head­lights, and a quan­ti­ty of whatnots."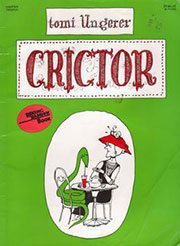 Phyl­lis: I also love Cric­tor, a Read­ing Rain­bow choice that chron­i­cles the adven­tures of an old lady named Madame Louise Bodot in a lit­tle French town and the boa con­stric­tor her son sends her for her birth­day. Upon open­ing the box she first screams but, being prac­ti­cal, then takes the snake to the zoo to make sure he's not poi­so­nous. He isn't, and she names him Cric­tor. Most of the book relates their lives togeth­er; I par­tic­u­lar­ly love her cradling Cric­tor in her arms and feed­ing him a bot­tle of milk. She gets palm trees so he will feel at home and knits him a sweater to keep him warm when he wrig­gles behind her in the snow on their walks. Cric­tor goes with her to school one day, where he shapes let­ters and num­bers for the chil­dren, but the real dra­ma begins late in the book, when a bur­glar breaks in and gags and ties Madame Bodot to a chair. Cric­tor attacks and traps the bur­glar in his coils until the police arrive. Crictor's hero­ism is hon­ored with a medal, a stat­ue, and a park ded­i­cat­ed to him. "Loved and respect­ed by the entire vil­lage, Cric­tor lived a long and hap­py life."
Jack­ie: I once read an inter­view with Unger­er in which he said:
"I iden­ti­fy a lit­tle bit with all of [my heroes]. I'm always on the side of the under­dog. I iden­ti­fy with my snake, my octo­pus, all of my reject­ed animals."
Phyl­lis: As if absurd sto­ries and boa con­stric­tor heroes weren't enough, among his oth­er books Unger­er has writ­ten and illus­trat­ed Fog Island about a mys­te­ri­ous island where things might (or might not) have hap­pened. Finn and Cara live on a farm with their moth­er and fish­er­man father, who makes them their own cur­ragh, a boat con­struct­ed of reeds and tar. He tells them to stay clear of Fog Island, which looms off­shore "like a jagged black tooth." "It's a doomed and evil place," he says. "Those who have ven­tured there have nev­er returned."
One day when Finn and Cara are explor­ing in their cur­ragh a fog rolls in, and strong cur­rents car­ry them out to Fog Island. They fol­low steps up to a door, which is answered by a wiz­ened, white-haired old man who calls him­self the Fog Man and shows them how he makes fog by let­ting water flow in to a deep well of mag­ma. He turns off the fog so they can return home safe­ly the next day, then Finn, Cara, and the Fog Man have a singsong. He makes them a meal and shows them a bed for the night where they sleep cov­ered by a quilt.
They wake the next morn­ing sur­round­ed by desert­ed ruins but with the quilt still tucked over them and two steam­ing bowls of stew beside them. When they leave the island a storm over­takes them, and they are saved by their father and the oth­er fish­er­men who have come look­ing for them. All the neigh­bors cel­e­brate Finn and Cara's return, but no one believes them about the fog man, and no one wants to vis­it the island to see if their sto­ry is true. Weeks lat­er, Cara pulls a long hair from her soup, and she and Finn chuck­le, rec­og­niz­ing it as one of the Fog Man's.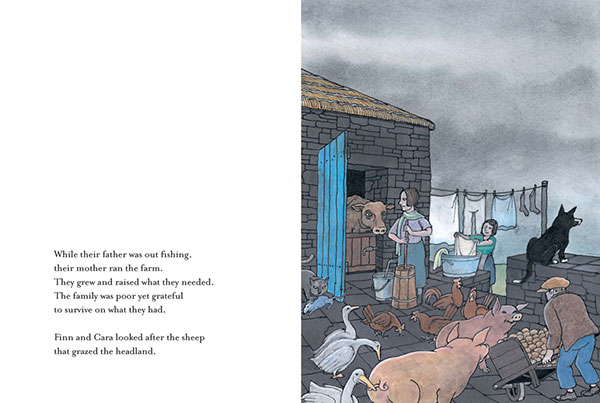 Jack­ie: This book seems typ­i­cal of Tomi Ungerer's work, so inclu­sive. There's an affec­tion­ate fam­i­ly, a named Evil — Fog Island, and a won­der­ful ambi­gu­i­ty in the end­ing. Who was the fog man? And I also find it inter­est­ing that the father, fol­low­ing received com­mu­ni­ty wis­dom, I think, tells the chil­dren that Fog Island is a "doomed and evil place." But they find singing and hot soup.
There may be anoth­er con­sis­ten­cy here — a com­plex artist push­ing us to see that a "doomed and evil place" can offer hot soup and a good night's sleep, a boa con­stric­tor can become a help­ful part of the community.
"Most of my chil­dren's books have fear ele­ments," Unger­er has said in an inter­view on Fresh Air. "But I must say, too, to bal­ance this fact, that the chil­dren in my books are nev­er scared. … I think fear is an ele­ment which is instilled by the adults a lot of time."
We see this in Fog Island. When the chil­dren land on Fog Island Finn says, "This must be Fog Island./Let's find out where those steps lead." No fear, but curiosity.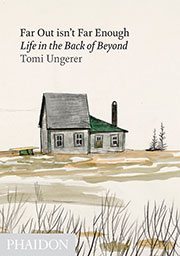 Phyl­lis: In Far Out Isn't Far Enough, a doc­u­men­tary about Unger­er, Mau­rice Sendak said of Ungerer's influ­ence on his own [Sendak's] work: "I learned to be braver than I was. Unger­er did­n't mind scar­ing kids, because he believed in their abil­i­ty to cope with and adapt to life's difficulties."
Unger­er him­self learned about liv­ing in fear­ful sit­u­a­tions from an ear­ly age: from eight to thir­teen, he lived under Adolf Hitler's occu­pa­tion of Alsace and was told in school that Hitler need­ed artists to draw for him. In a Fresh Air inter­view he recalls, "…I had to do a por­trait of the Führer, you know, giv­ing a speech, and I put a stein of beer on this thing. Well, the Führer did­n't drink, but still, you know, nobody ever object­ed. The thing is, no mat­ter what tyran­ny, you can always get away, maybe not with mur­der, but with a few oth­er things. And your mind is always free. Nobody can take away your mind." Years lat­er in the Unit­ed States Unger­er would draw anti-war posters dur­ing the Viet Nam war.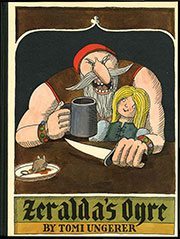 Jack­ie: He received the Hans Chris­t­ian Ander­son Award in 1998 and is tru­ly a giant. I haven't read close to all of his sto­ries and espe­cial­ly want to read Zeralda's Ogre, which Book World called "the most hor­ren­dous, ugli­est — yet most beguil­ing — ogre imaginable."
What I love about his work is that the dots do not have to con­nect. The sto­ries do not get tied up neat­ly at the end. We don't know about the Fog Man. Zink Slugg's won­der­ful car rams into a tree and Zink "feels very bad" and that is the end. I also admire the way Unger­er com­bines edgi­ness and heart — feed­ing a boa con­stric­tor with a bot­tle is such a great exam­ple and only one of many we could point to.
Phyl­lis: It's so fit­ting that for a time his children's books were con­sid­ered dan­ger­ous and evil, like Fog Island (because of erot­ic draw­ings he did for adults). But now when we do vis­it these books, we find strange and won­drous things, things not to answer but to pon­der — deal­ing with fear, being sub­ver­sive, and aspir­ing to live a fear­less life.