We have been think­ing of trees — green, leafy, bloom­ing, buzzing trees. It's not that we're tired of win­ter. We love win­ter. Phyl­lis even has snow­shoes — and uses them! Jack­ie loves walk­ing in the snowy qui­et and the near­ly mono­chro­mat­ic land­scape. We both love can­dles, sweaters, and hot soup. But every now and then we think of green. This month we decid­ed to write about trees.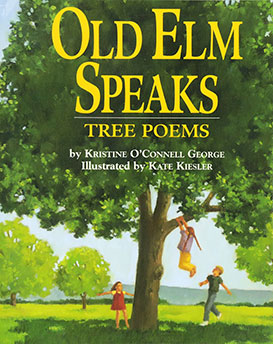 We have known kids, and oth­ers, who talked to trees. And maybe the trees talked back. The trees in Old Elm Speaks by poet Kris­tine O'Connell George (illus­trat­ed by Kate Kiesler) tell their own sto­ries. The book begins with oak's intro­duc­tion. "I've been wondering//when you'd notice/me stand­ing here. //I've been watch­ing you grow taller. / I have grown too. /My branches/are strong. // Step closer./Let's see. How high/ / you can/climb."
Jack­ie: One of my favorites in this book is "Tree Traf­fic," writ­ten a bit like a traf­fic report we might hear on the radio. "Major tree traf­fic today — /commuters in both direc­tions, //rippling up and down, /tails unfurled. //The tree­way is heav­i­ly squir­reled." I love the puns — tree­way, the rhymes — unfurled, squir­reled. It's fun to read and fun to say out loud.
And final­ly, when Old Elm speaks, we are remind­ed of the turn­ing of time and sea­sons pass­ing into years: "It is as I told you, Young Sapling. //It will take autumns of patience/before you snag/your/first/moon." This book will make read­ers want to try their own tree poems.
Phyl­lis: Kate Kiesler's warm­ly col­ored full-page art invites us in to climb trees, swing under ham­mock-hold­ing trees, pick plums from trees offer­ing fruit over a fence, or find tree seedlings sprout­ing unex­pect­ed­ly in a pump­kin patch ("the dirt was sweet and soft — /I guess/I must/have/dozed/off…"). The poem "Hide and Go Seek" takes on the con­crete shape of elbows stick­ing out from a child hid­ing behind a too-slen­der tree, and the lines of "Tree's Place" shape a tree, trunk and crown. I love, too, how the nar­ra­tor of "Leav­ing Woods' Lake, Col­orado" plans to take the whole place home with them in the car: pines, lake, row­boat, squir­rel, din­ner bell, log cab­in, columbine — "My broth­ers will ride home/in the trunk."
These voic­es of trees are solemn, fun­ny, friend­ly, play­ful, wise, which I imag­ine trees would be if we could lis­ten hard enough to hear them speak. This past win­ter I found a tree with a door­way I could crawl inside of, and although I didn't hear the tree's heart­beat, as the nar­ra­tor of "Kings Canyon" does, I plan to go back and lis­ten harder.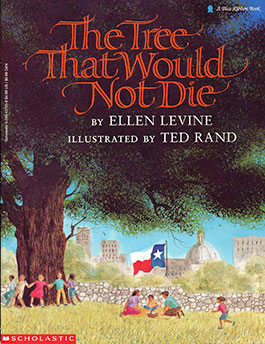 Jack­ie: Anoth­er tree I'd like to con­verse with is the Treaty Oak that grows in Austin, Texas. And I want to lis­ten as this tree in our dear friend Ellen Levine's book The Tree That Would Not Die (illus­trat­ed by Ted Rand) tells us its sto­ry. The Treaty Oak is hun­dreds of years old and was once one of the Coun­cil Oaks, reput­ed­ly the site of gath­er­ings of tribes of First Peo­ples. When this oak was the last one stand­ing, peo­ple say it was where Stephen Austin signed a treaty with lead­ers of First Peo­ples' tribes. The tree was pur­chased for one thou­sand dol­lars in 1927 by the City of Austin. Peo­ple pic­nicked, danced, cel­e­brat­ed under that huge old oak until 1989, when a man poured a pow­er­ful poi­son around the base of the tree. He used enough poi­son to kill a hun­dred trees. No one thought this tree could live. Peo­ple came to hug the tree, to bring flow­ers — even chick­en soup. Arborists dug out the soil around the roots and washed them. They sprayed the tree, which could not shade itself, with water. Two-thirds of the tree died and had to be pruned away.
This love­ly book, pub­lished in 1995, could not answer the ques­tion whether the tree would sur­vive. But we know it has. The poi­son­er has passed, but the tree con­tin­ues to live and has pro­duced acorns. It has been cloned. It is still there to con­nect Tex­ans to their history.
Phyl­lis: The rich­ly col­ored illus­tra­tions show the tree grow­ing larg­er and larg­er as his­to­ry hap­pens around it. The treaty oak sur­vives with the help of a whole com­mu­ni­ty of car­ing peo­ple. When­ev­er I read one of Ellen's books, it is as though she is here with us again, fight­ing for jus­tice, car­ing about com­mu­ni­ty, mak­ing us all laugh as she shares her joy in life. We miss her.
Jack­ie: Wan­gari Maathai, win­ner of the 2004 Nobel Peace Prize, plant­ed trees. She has been writ­ten about sev­er­al times in pic­ture books for chil­dren. Among the books are Mama Miti, writ­ten by Don­na Jo Napoli and illus­trat­ed by recent Calde­cott recip­i­ent Kadir Nel­son; Plant­i­ng the Trees of Kenya writ­ten and illus­trat­ed by Claire A. Nivola; Wangari's Trees of Peace, writ­ten and illus­trat­ed by Jeanette Win­ter. We want to focus here on Wan­gari Maathai The Woman Who Plant­ed Mil­lions of Trees, writ­ten by Franck Prévot and illus­trat­ed by Aurélia Fronty.
This beau­ti­ful book is a full account­ing of Wan­gari Maathai's life. In the pro­logue Prévot writes: "When Wan­gari plant­ed a large-leafed ebony tree or an African tulip tree, she was remind­ed of her own roots. She was born in 1940 in the lit­tle vil­lage of Ihithe, across from the majes­tic vol­cano Mount Kenya, which her peo­ple con­sid­er holy."
Her home was sur­round­ed by forests. She had her own lit­tle gar­den and was a con­sci­en­tious helper to her moth­er. But, unlike many girls in Kenya, she was sent to school. "She received her high-school diplo­ma at a time when very few African women even learn to read." When Sen. John F. Kennedy invit­ed young Kenyans to pur­sue stud­ies in the Unit­ed States, Wan­gari trav­eled to the Unit­ed States. She stud­ied in the U.S. for six years. When she returned to Kenya, she found a dif­fer­ent home. So many trees had been cut that wild ani­mals were rare. Plan­ta­tions had replaced farms and peo­ple were going hungry.
In 1977, Wan­gari cre­at­ed the Green Belt Move­ment. She raised mon­ey and cre­at­ed tree nurs­eries in vil­lages across Kenya. She asked the vil­lage women to care for the nurs­eries and gave them mon­ey for each tree that grew. She opposed the plans of Pres­i­dent Daniel arap Moi to build a stat­ue of him­self in a park in Nairo­bi and to set up a real-estate project in a large for­est — and she won. But she also went to jail sev­er­al times. But she con­tin­ued to plant trees. Even­tu­al­ly, Daniel arap Moi was defeat­ed and Kenya had a new con­sti­tu­tion. Maathai was elect­ed to Par­lia­ment and appoint­ed "assis­tant min­is­ter of the envi­ron­ment, nat­ur­al resources, and wildlife."
In 2004 she was award­ed the Nobel Peace Prize "for the count­less seeds of hope she plant­ed and grew over the years."
Exten­sive back mat­ter and bib­li­og­ra­phy will be use­ful to read­ers who want to know more about this remark­able woman.
Phyl­lis: While I knew about Wangari's work of plant­i­ng trees, I knew noth­ing about the polit­i­cal side of her efforts. "Wan­gari wants to make democ­ra­cy grow — like trees," Prévot writes. She demon­strates, stands up to a pow­er­ful gov­ern­ment, is impris­oned, receives death threats. When Pres­i­dent Daniel arap Moi tries to pit tribe against tribe to main­tain his hold on gov­ern­ment, Wan­gari and the Green Belt Move­ment offer saplings to neigh­bor­ing tribes to sym­bol­ize peace. Through all the strug­gles and even­tu­al tri­umphs, she nev­er for­gets her mother's words that "a tree is worth more than its wood." Aurélia Fronty's vivid, dou­ble-page art is a joy.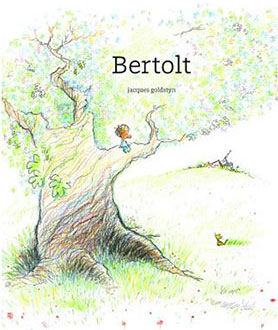 Jack­ie: Final­ly, a book about a sin­gle tree — a tree a young boy has named "Bertolt." And the book is called Bertolt. Writ­ten in French and illus­trat­ed by Jacque Gold­styn, trans­lat­ed by Clau­dia Zoe Bedrick, the book doesn't begin with a tree. It begins with a lost mit­ten. Our pro­tag­o­nist has lost a mit­ten and must replace the lost item with a mit­ten from "lost and found." Of course, it doesn't match. "Who cares. /I like it this way. Wear­ing two dif­fer­ent mit­tens is kind of funny."
But, he goes on, when you are dif­fer­ent peo­ple laugh, "or even worse." The nar­ra­tor tells us he isn't like oth­er peo­ple. He doesn't mind being alone. "I love doing lots of things by myself, but I love climb­ing my tree best of all." He has named the tree Bertolt and guess­es it to be about five hun­dred years old. Climb­ing Bertolt is "like climb­ing a secret lad­der." Up in the tree the view is great. Our hero can watch the goings-on in the vil­lage. And there are squir­rels, a crow, an owl, insects, and birds. He even loves the tree dur­ing storms.
But one spring, Bertolt does not leaf out. "Days pass. Then weeks. /I wait. I hope. I pray. / But final­ly I have to accept it. / Bertolt is dead."
What to do? He wants to keep Bertolt from being turned into tooth­picks. The Lost and Found…some stolen clothes pins…And Bertolt blooms!
Phyl­lis: I love the illus­tra­tion of Bertolt leafed out in many dif­fer­ent col­ored mit­tens. I love, too, that this is not a book that sets out to teach us about death (although it does not shy away from it, either). A boy loves a tree, the tree dies, the boy hon­ors his friend and makes it beau­ti­ful again while still accept­ing that the tree is no longer alive.
Jack­ie: This lit­tle book is like a shared secret between the nar­ra­tor and the read­er. It reminds us of the fun of being by one­self, of the sad­ness of change, and the pow­er of cre­ative thinking.
It reminds us, too, as all of these books do, of the joy of trees — in any season.