by Phyl­lis Root and Jacque­line Brig­gs Martin
It's high sum­mer in the gar­den, with an abun­dance of veg­eta­bles to har­vest and flow­ers abuzz with pol­li­na­tors. Crunchy car­rots, leafy kale, sun-warm toma­toes, gar­lic bulbs, green beans, zuc­chi­ni (some gigan­tic) all offer them­selves to the gar­den­er. But more grows in a gar­den than plants. Peo­ple grow, too, and con­nec­tions between peo­ple take root and blos­som. Two love­ly pic­ture books about grow­ing things and the peo­ple who grow with them are The Gar­den­er by Sarah Stew­art with pic­tures by David Small (Far­rar, Strauss, Giroux , 1997) and The Grandad Tree by Trish Cooke, illus­trat­ed by Sharon Wil­son (Can­dlewick Press, 2000).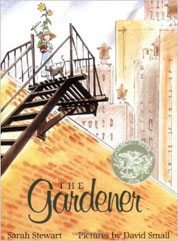 The Gar­den­er is an epis­to­lary pic­ture book (a cat­e­go­ry wor­thy of its own blog post), told in let­ters from a young girl, Lydia Grace, sent from her home in the coun­try to live in the city with her Uncle Jim dur­ing the Depres­sion until "things get bet­ter." She writes first to her Uncle Jim, then back home to Mama, Papa, and Grand­ma. Although Uncle Jim doesn't ever smile, Lydia Grace is excit­ed by the win­dow box­es she sees in the city, by learn­ing to bake bread in her uncle's bak­ery, and by the store cat Otis who sleeps on her bed.
With help from her fam­i­ly back home who sends her bulbs and seedlings and seed cat­a­logues, from Emma who works in the bak­ery with her hus­band Ed, and from neigh­bors who give her con­tain­ers in which to plant flow­ers and call her "the gar­den­er," Lydia Grace sets about mak­ing gar­dens in pots and fill­ing win­dows box­es with radish­es onions, and let­tuce. But what fills her with "great plans" is her dis­cov­ery at the top of a fire escape of the building's roof (shown in a word­less spread), lit­tered with trash and just wait­ing for the dirt she hauls from a vacant lot.
All the while, Lydia hopes for a smile from Uncle Jim.
When her "secret place" is ready, Lydia Grace, Emma, and Ed bring Uncle Jim to the roof gar­den in a glo­ri­ous dou­ble page word­less spread, which par­al­lels the first view of the roof, now transformed.
A week lat­er, when Lydia Grace learns that her papa has got a job and that she's going home Uncle Jim clos­es the shop, sends Ed and Emma and Lydia Grace to the roof gar­den, and brings Lydia Grace a cake cov­ered in flow­ers. Lydia Grace writes, "I tru­ly believe that cake equals one thou­sand smiles." The last page, also word­less, shows Uncle Jim hug­ging Lydia Grace as they wait for her to board the train home. In the grim grey city, Lydia Grace has grown more than beau­ti­ful flow­ers and a gar­den, she has grown a con­nec­tion with her uncle, Emma, Ed, and the neigh­bors. As she writes in the P. S. of her last let­ter, "We gar­den­ers nev­er retire." In this book, the deep­est emo­tions are not said in words but with flow­ers, with cake, and with silent hugs. Even the word­less spreads con­vey the book's heart — that plants and peo­ple can bloom in the grayest surroundings.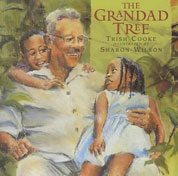 The spare poet­ic words of The Grandad Tree begin,
There is a tree

at the bot­tom of Leigh's garden.

An apple tree.

Vin, Leigh's big broth­er, said

it start­ed as a seed

and then grew

and grew.

And Vin said

that tree,

where they used to play

with Grandad,

that apple tree

will be there…

for­ev­er.
The text goes on to tell how Grandad was a baby once, then a boy who climbed coconut trees near the sea where he lived, then a man and a hus­band and a dad and a grand­dad for Leigh and Vin. "That's life," Grandad would say.
The apple tree blos­soms in spring as the art shows Vin and Leigh play­ing ball with Grandad. In sum­mer, as the apples grow, Grandad plays his vio­lin for the chil­dren under the tree. He watch­es them har­vest apples as the leaves fall, and he watch­es from the win­dow as they build a snow­man in the win­ter. The text continues,
And some­times things die,

like trees,

like peo­ple…

like Grandad.
Leigh and Vin and their mom­ma remem­ber Grandad as Vin plays his vio­lin, and Leigh plants a seed beside the apple tree to grow and grow, to go through changes, and for them to love for­ev­er and ever
just like they'll always love Grandad.
In few words and glow­ing illus­tra­tions, Cooke and Wil­son bring togeth­er the sea­sons of a tree and of a life lived and show how while things change, some things, like Leigh and Vin's love for Grandad and his for them, will last forever.
Com­fort, love, rela­tion­ships can all bloom along with the wide world of grow­ing things. Even when har­vest is upon us gar­den­ers, it's good to remem­ber that seeds will hold next year's gar­dens close inside. Who knows what will blos­som there beyond fruits and flowers?
Oth­er books about grow­ing things that we love:
Cher­ries and Cher­ry Pits by Vera B. Williams
Farmer Duck by Mar­tin Waddell
Miss Rumphius by Bar­bara Cooney
The Tree Lady: The True Sto­ry of How One Tree-Lov­ing Woman Changed a City For­ev­er by H. Joseph Hopkins
Wangari's Trees of Peace by Jeanette Winter