Phyl­lis: Min­neso­ta has had a win­ter full of weath­er this year. We've just fin­ished the snowiest Feb­ru­ary on record, and now March is blow­ing down on us with the promised of wind and rain and (most like­ly) still more snow. An anony­mous British poet wrote of the weath­er, "We'll weath­er the weath­er what­ev­er the weath­er." We decid­ed to not only weath­er the weath­er but to cel­e­brate it with a few weath­ery pic­ture books.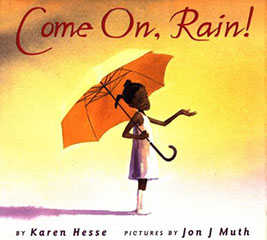 In Karen Hesse's Come On, Rain, illus­trat­ed by Jon J. Muth, an urban African Amer­i­can child yearns for rain. Her mamma's plants are parched, She is "siz­zling like a hot pota­to," and the city droops with heat. Hope comes in gray clouds rolling in, and the nar­ra­tor runs to find her friend Jack­ie-Joyce and tell her to put on her swim­suit. They run out into the alley, where their friends join them, and rain­drops plop down, "mak­ing dust dance all around us." The friends dance in cir­cles, open their mouths to catch the rain, chase each oth­er down the street. They make such a rack­et shout­ing, "Come on, rain!" that the grown-ups toss off their shoes and socks and join them in a joy­ous cel­e­bra­tion. When the clouds and rain at last move off and every­thing is "spring­ing back to life," they head home soaked and soothed by the wel­come rain. I remem­ber the delight of run­ning out into my back yard into a rain­storm, pud­dle-jump­ing, rain­drop catch­ing, and rain­bow spot­ting. Hesse's book makes me wish for a rain­storm right now so I could run out into one again.
Jack­ie: I love this book, too, for that feel­ing of a grow­ing cel­e­bra­tion that's going to bring the whole neigh­bor­hood togeth­er. And it reminds me of the fun of being drenched by a warm rain. It always gives me a feel­ing of being one with the world to be out in the rain, just get­ting wet. I laugh at how even the dust dances in cel­e­bra­tion in this story.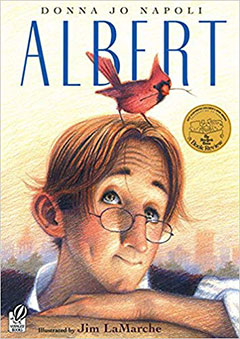 Phyl­lis: Albert by Don­na Jo Napoli, illus­trat­ed by Jim LaMarche, is less about a par­tic­u­lar kind of weath­er and more about a man who only expe­ri­ences the weath­er by stick­ing his hand out the grill­work over his win­dow, decid­ing it's too cold, too damp, too hot, or too breezy to go outside.
One day when he sticks his hand out, a car­di­nal drops a twig in it, then anoth­er car­di­nal joins in. While Albert watch­es, they build a nest in his hand and set­tle in. Albert doesn't want to dis­turb the nest by twist­ing his hand back in through the grill­work, so he stands there, hold­ing the nest, which soon con­tains eggs. Kind-heart­ed Albert sleeps stand­ing up at night, breath­ing on the eggs to keep them warm when­ev­er the moth­er leaves the nest, and scar­ing away a curi­ous cat, all the while watch­ing life go by on the street below. One morn­ing "when Albert opened his mouth, he peeped." The father car­di­nal brings him a bee­tle, then black­ber­ries to eat. On the twelfth morn­ing the eggs hatch, and with­in a few weeks the hatch­lings fledge, even­tu­al­ly leav­ing the nest, the last with encour­age­ment from Albert. He lets the now emp­ty nest fall, pulls his hand back in, and real­iz­ing that he is part of the big won­der­ful world, whether cold or damp or hot or breezy, he heads out of his apart­ment. The book ends: "Now Albert walks often. And some­times, just some­times, when no one's look­ing, he flies." The art shows Albert soar­ing on a swing, a car­di­nal perched on his head. This is a book that invites us not only to be gen­er­ous and kind to ani­mals but also to step out into the "big won­der­ful world" of which we are all a part.
Jack­ie: And if we are lucky, per­haps some­times we will fly. My used copy of this book is signed by the illus­tra­tor Jim LaMarche. The car­di­nals he drew for this book are so won­der­ful. They look as if they might fly right off the page. Read­ers of this sto­ry may nev­er have a nest on their hands, but they will nev­er see car­di­nals the same again.
Phyl­lis: Two books about wind seem fit­ting for March, which has come in like a snow lion this year. In When the Wind Blew by Mar­garet Wise Brown, illus­trat­ed by Geof­frey Hayes, an old, old lady lives all by her­self by the ocean with sev­en­teen cats and one lit­tle blue gray kit­ten. Each morn­ing the old lady milks her cow and fills sev­en­teen pur­ple saucers and one lit­tle blue saucer to feed her cats and kit­ten, then fills a mug for her­self. The old woman wash­es up the dish­es, the cats wash them­selves, and they all enjoy the sun­shine. One day the wind blows off the ocean, and the old lady brings her cats and kit­ten in out of the wind, where they curl up by the fire. Then a ter­ri­ble toothache strikes her, for which she has no med­i­cine or even a hot water bot­tle to put on her toothache for the pain. She takes her toothache to bed and lis­tens to the wind tear­ing through the cracks in her house, wish­ing for a hot water bot­tle for her aching tooth. Click purr, click purr. The lit­tle blue gray kit­ten jumps onto the bed and curls up next to her cheek, a fur-cov­ered hot water bot­tle that takes her toothache away. The wind blows on, but the old lady and her cats and blue grey kit­ten all sleep peace­ful­ly in her lit­tle house by the ocean. A sim­ple tale, and a com­fort­ing one, with Mar­garet Wise Brown's lov­ing atten­tion to the sim­ple details of every­day life.
Jack­ie: One of her details is the detail of pain. "Her toothache was all there seemed to be in the world." And I love the verbs that MWB uses. The cats, "mewed and purred and gur­gled for break­fast." And the wind that "blew the sun­light cold and almost blew the lit­tle gray kit­ten off his feet." We have had those winds that blow the sun­light cold. This book is a peek into a self-con­tained world that gets blown awry and then right­ed and it is so satisfying.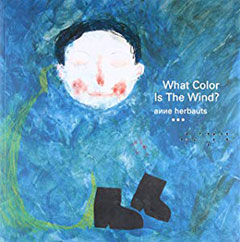 What Col­or is the Wind? by Anne Herbauts is a lyri­cal med­i­ta­tion on the wind, but it is also a tex­tur­al book. By run­ning one's fin­gers over the pages one can feel the ruf­fled hair of a dog, the coarse fur of a wolf, the raised bumps of rain, the smooth skin of an apple. Com­bine this with cut out win­dows, and you have a book to fas­ci­nate the sens­es. In the sto­ry, a lit­tle giant of a child sets out to dis­cov­er the col­or of the wind, only to receive dif­fer­ent answers from the ani­mals and objects that he meets. Stream, tree, bird all weigh in, but it is an enor­mous giant who answers, "It is every­thing at once. This whole book." Ruf­fling the pages of the book the enor­mous giant makes a gen­tle wind for the lit­tle giant. The wind of the book. Magical.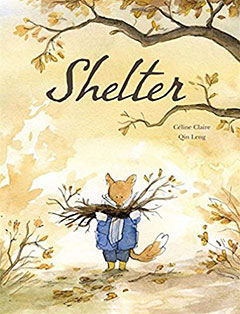 Some­times a book touch­es us so much that we have to own it. As soon as I took Shel­ter by Celine Claire, illus­trat­ed by Qin Leng off the shelf at Red Bal­loon Book­shop and read through it, I knew I could not leave the store with­out it. The book begins with ani­mals prepar­ing for a com­ing storm, gath­er­ing wood for the a fire, squir­rel­ing away nuts. As the storm hits and the ani­mals are snug­gly tucked in their dens, two strangers, a big bear and a lit­tle bear, appear in the fog seek­ing shel­ter. They offer tea in exchange for the warmth of a fire at the first den they come to, and though the art shows a bright­ly burn­ing fire, the ani­mals inside claim their fire is out. "Try next door," they say. Next door the hun­gry bears offer to trade tea for a few cook­ies but are told, "We have no food. Try next door," even though the den is heaped with acorns. The fox­es next door turn the bears down because their den is crowd­ed, although Lit­tle Fox runs after the bears and offers them a lantern. Next door is only a hill, but the bears feel wel­come there, and once snow begin to fall, they know they will be all right. Back in the fox­es' den, the weight of the snow caus­es the roof to col­lapse, and although the fox fam­i­ly escapes, the world out­side is cold and dark and full of snow. A light beck­ons, which turns out to be the lantern Lit­tle Fox gave the bears, glow­ing through the snow den they have built. Lit­tle Fox offers cook­ies for tea and the bears reply that their lantern is weak­en­ing, their den is small and crowd­ed, and they have no food but the fox­es are wel­come to share the den and their tea — which they do. The last illus­tra­tion shows the win­ter storm blus­ter­ing while inside the small snow shel­ter, the fox­es and bears sip tea and eat cook­ies togeth­er by lantern light. This sto­ry moved my heart, not least because it is about the gen­eros­i­ty of strangers and about how we nev­er know when we might be the stranger in need of aid who hopes some­one will open their heart to us.
Jack­ie: I agree. This is a won­der­ful book and so per­fect for our time. If one read­er shares one cook­ie with anoth­er, who then shares a cookie…Well, let's hope.
So many more good weath­er books, some of which we've looked at in pre­vi­ous posts—The Snowy Day, Hide and Seek Fog, Lau­ren Stringer's Win­ter is the Warmest Sea­son, Red Rub­ber Boot Day, Yel­low Time—we could keep list­ing them until the snow melts. Whether or not we like the weath­er, we'll weath­er it with a good weath­ery book, know­ing, too, that if we just wait a lit­tle while, new weath­er will be upon us.