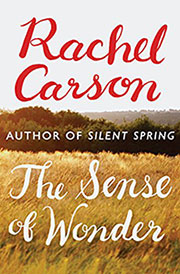 In her book A Sense of Won­der, Rachel Car­son wrote:
If I had influ­ence with the good fairy who is sup­posed to pre­side over the chris­ten­ing of all chil­dren, I should ask that her gift to each child in the world be a sense of won­der so inde­struc­tible that it would last through­out life, as an unfail­ing anti­dote against the bore­dom and dis­en­chant­ments of lat­er years, the ster­ile pre­oc­cu­pa­tion with things that are arti­fi­cial, the alien­ation from the sources of our strength.
To a young child or a lis­ten­ing heart every­thing is a won­der. How do bees find the right flow­ers for nec­tar and pollen? How do birds find their hid­den migra­tion high­ways in the sky? How does a seed turn into a tree?
This month we want to write about children's books that nour­ish that sense of won­der and get kids outside.
But­ter­fly Eyes and Oth­er Secrets of the Mead­ow by Joyce Sid­man, illus­trat­ed by Beth Krommes, is itself a won­der of poet­ry and art. Two poems per dou­ble page spread, each of which ends with the ques­tion "What am I?" alter­nate with a dou­ble page spread that answers the ques­tions (although the art gives plen­ty of clues) and gives more infor­ma­tion about the rela­tion­ship between the two sub­jects of the pre­vi­ous poems. So spread with a poem about sleep­ing rab­bits and one about a hunt­ing fox is fol­lowed by a spread explain­ing how fox­es use their incred­i­ble hear­ing to hunt rab­bits and how baby rab­bits hide until they are ready to go out into the mead­ow on their own. (Their moth­er vis­its them only occa­sion­al­ly so as not to reveal their nest to preda­tors.) This book is a won­der­ful reminder to all of us to look close­ly, to pay attention.
We both love the poem in which the owl is apol­o­giz­ing for his sharp talons, keen eyes, silent wings, and hooked beak, not as one first thinks, because he is sor­ry to be a predator.
I'm so sor­ry. For you, that is.
All this works out quite well for me.
The com­bi­na­tion of ques­tion poems, expla­na­tion of the inter­con­nec­tions of species, and vivid, bril­liant art reveal the com­plex­i­ty of the mead­ow and make us want to ven­ture more often into the mead­ow, where a web of life as intri­cate as a spider's wed exists.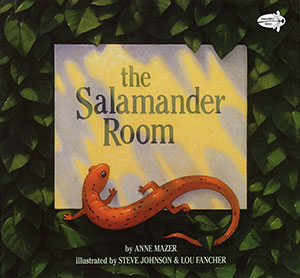 The Sala­man­der Room by Anne Maz­er, illus­trat­ed by Steve John­son, tells how a lit­tle boy Bri­an finds a sala­man­der in the woods and takes him home, where his moth­er asks him, "Where will he [the sala­man­der] sleep?"
Bri­an answers,
"I will make him a sala­man­der bed to sleep in. I will cov­er him with leaves that are fresh and green, and bring moss that looks like lit­tle stars to be a pil­low for his head. I will bring crick­ets to sing him to sleep and bull­frogs to tell him good-night stories."
To each of his mother's ques­tions — Where will he play? What will he eat? — Bri­an tells how he will trans­form his room to make it a home for a sala­man­der and friends. Brian's expla­na­tions and the lumi­nous art turn his room into a place for birds and bull­frogs with trees and ponds until he has lift­ed off the ceil­ing of his room. To the last ques­tion, "And you — where will you sleep?" Bri­an answers,
"I will sleep on a bed under the stars, with the moon shin­ing through the green leaves of the trees; owls will hoot and crick­ets will sing; and next to me, on the boul­der with its head rest­ing on soft moss, the sala­man­der will sleep."
He answers.
Who wouldn't want to sleep in a sala­man­der room? Magical.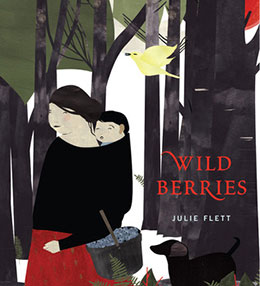 Wild Berries, writ­ten and illus­trat­ed by Julie Flett, one of our favorite authors and illus­tra­tors, tell how Grand­ma used to car­ry Clarence to pick wild berries and sing to him, but now he is big enough to car­ry his own buck­et, sing with Grand­ma, and pick berries with her tup tup. [Flett so skill­ful­ly cap­tures the sound of berries drop­ping into a buck­et.] While they pick he and grand­ma eat berries until their lips turn pur­ple and Clarence observes the world around him. An ant crawls up his leg, a spi­der spins a web, a fox sneaks past. He leaves berries on a leaf for the birds and oth­er ani­mals who say nanasko­mowak, Cree for thank you.
Each spread of this love­ly book includes Cree words print­ed in red in the same size font below the Eng­lish words in black. An end­note explains that this is Swampy Cree, one of sev­er­al dialects, and includes a pro­nun­ci­a­tion guide. A recipe for wild blue­ber­ry jam makes us wish it were ear­li­er in the sum­mer so we could go find some tart wild berries, pick them, and make jam.
Flett's palette of greens, browns, blues, and soft yel­lows is punc­tu­at­ed by red on each page: grandma's red skirt, a red sun, red fox, red but­ter­flies, flow­ers, and red breast­ed birds that sing (nikamo) in the clearing.
Here again, we find the won­der of the nat­ur­al world. And the joy of look­ing closely.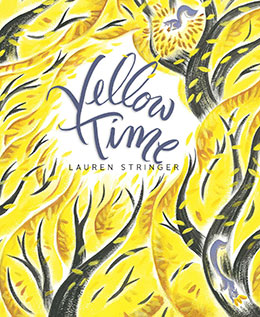 Lau­ren Stringer's Yel­low Time, illus­trat­ed by the author, is anoth­er lumi­nous book about fall and the turn­ing of leaves. The text describes yel­low time when the leaves all turn. It begins,
The squir­rels are too busy to notice.
And the geese have already gone.
Oth­er birds have left too,
But not the crows.
Crows love yel­low time.
So do the chil­dren, whom the art shows in increas­ing num­bers com­ing out to play, smelling the yel­low time air "like wet mud and dry grass with a sprin­kle of sug­ar," run­ning in the swirling leaves, danc­ing in a whirl­wind of yellow.
Every­where fills
with yellow.
A symphony
of yellow.
As the leaves all fall and the book winds down, the chil­dren return home, one by one with
bou­quets of yellow
to press in thick books
to remember…
what a love­ly yel­low time it was.
With lines and col­ors that swirl and with spare, poet­ic text, Stringer's book is a sym­pho­ny to fall and the joy chil­dren take in leaves falling. And who is ever too old not to enjoy the swish of walk­ing through leaves?
Rab­bits, owls, sala­man­ders, berries, fox­es, leaves, crows, earth, trees, wind, sky: we are all related.
And isn't that a wonder?