The fifti­eth anniver­sary of the Apol­lo 11 moon land­ing in July 2019 inspired many new books along with some updates and reis­sues of exist­ing titles. For those who haven't had the chance to look at all the pos­si­bil­i­ties, let me intro­duce you to a few.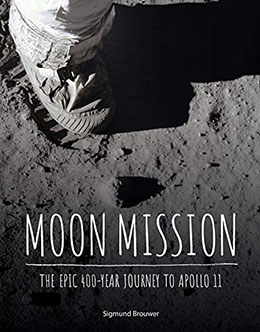 Moon Mis­sion: The Epic 400-Year Jour­ney to Apol­lo 11 by Sig­mund Brouw­er (Kids Can Press May 7, 2019) The book is orga­nized into ten episodes rang­ing from liftoff to the journey's end. The chal­lenges of each stage of the flight are explained along with dis­cus­sions of pre­vi­ous dis­cov­er­ies and the­o­ries that helped make the Apol­lo pro­gram pos­si­ble. Read­ers are invit­ed to solve mys­ter­ies about STEM and to name the peo­ple involved. Although many of those men­tioned are men, notable females such as Emmy Noe­ther and Mar­garet Hamil­ton are also includ­ed. Plen­ti­ful black and white archival pho­tos and oth­er images sup­port the text. There is also a lengthy list of resources. Rec­om­mend­ed for mid­dle school.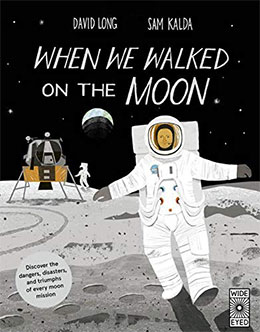 When We Walked on the Moon: Dis­cov­er the dan­gers, dis­as­ters, and tri­umphs of every moon mis­sion by David Long and Sam Kal­da (Wide Eyed Edi­tions June 4, 2019) "More than 5,000 rock­ets have been blast­ed into space, but only twelve peo­ple have ever been lucky enough to walk on the moon and look up at Earth." This title offers a sur­vey of Apol­lo mis­sions 11 to 17 and describes the high­lights of each. A final chap­ter dis­cuss­es the lega­cy of the Apol­lo pro­gram. Col­or illus­tra­tions are done in a retro, graph­ic design style. Some are small images such as a close­up of the moon bug­gy, while oth­ers are two-page spreads like the one show­ing mis­sion con­trol. Back mat­ter includes a page on each of the fea­tured mis­sions with an image of the crew and bio­graph­i­cal sketch­es of the astro­nauts. A glos­sary and a time­line are also pro­vid­ed. Not as tech­ni­cal­ly dense as Mis­sion Moon, this is more suit­ed to upper ele­men­tary grades.
Go for the Moon: A Rock­et, a Boy, and the First Moon Land­ing by Chris Gall (Roar­ing Brook Press June 11, 2019) A young boy's inter­est in the moon land­ing frames the expla­na­tions offered to read­ers. A change in font sig­nals when the nar­ra­tor is speak­ing for him­self and when his­tor­i­cal and tech­ni­cal details are being shared. Expla­na­tions are pre­sent­ed in sim­ple, clear lan­guage. Col­or­ful, large for­mat illus­tra­tions will draw read­ers in and have them care­ful­ly exam­in­ing every detail. An image of the Stat­ue of Lib­er­ty is placed next to the Sat­urn V rock­et to help show its size. Details of the space suits are care­ful­ly labeled and so is a cut­away view of the Colum­bia. Insets depict the narrator's par­al­lel jour­ney — launch­ing rock­ets in his back­yard, sip­ping Tang in his card­board space­craft, or sit­ting in front of the tele­vi­sion to watch the land­ing (wear­ing his own NASA cos­tume). An author's note includes a pho­to of the author with a col­lec­tion of mod­el rock­ets he has assem­bled. There is also a page of addi­tion­al fun facts and a glos­sary. Rec­om­mend­ed for ele­men­tary grades.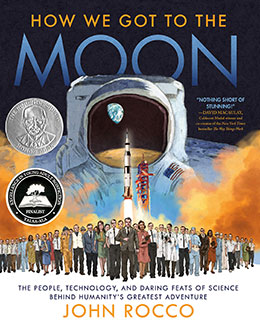 How We Got to the Moon: The Peo­ple, Tech­nol­o­gy, and Dar­ing Feats of Sci­ence Behind Human­i­ty's Great­est Adven­ture by John Roc­co (Crown Books for Young Read­ers Octo­ber 6, 2020) This book cov­ers events from Sputnik's launch to the parades cel­e­brat­ing the return of the Apol­lo 11 crew. The var­i­ous aspects of the Apol­lo pro­gram are described and shown in detailed illus­tra­tions. Famous fig­ures like Wern­her von Braun are intro­duced to read­ers, as well as the often over­looked con­tri­bu­tions of women and minori­ties. The vari­ety of his­tor­i­cal images have been recre­at­ed in the author's own style offer­ing read­ers the opti­mum amount of detail for com­pre­hen­sion and enjoy­ment and uni­fy­ing the visu­al style. Dia­grams show orbital intri­ca­cies and all the com­plex equip­ment required for the pro­gram. Notes about the research process, a source list, and a chart of Apol­lo mis­sions are includ­ed in the back mat­ter. End­pa­pers show a map of the moon with all the land­ing sites marked and an incred­i­ble mon­tage of essen­tial fig­ures. This is a stun­ning, rich­ly depict­ed his­tor­i­cal nar­ra­tive. Intend­ed for grades 5 and up, this book would also be at home on the shelf of NASA enthu­si­asts of any age.