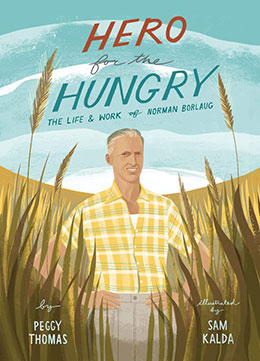 I know of Nor­man Bor­laug because a hall is named after him at the Uni­ver­si­ty of Min­neso­ta. My hus­band stud­ied hor­ti­cul­ture and worked in agron­o­my there, so the sub­jects in the book were not unknown to me.
No mat­ter the read­er's famil­iar­i­ty with agri­cul­ture, Bor­laug's sto­ry is engross­ing. He affect­ed the entire world with his ded­i­ca­tion to chang­ing world Hunger. And he did it!
So many young read­ers are activists already. How can they help becom­ing Hunger activists after read­ing this book?
I had shiv­ers as I read the last chap­ter. Could Nor­man Bor­laug's life be any more excit­ing? The author, Peg­gy Thomas, cre­ates as much ten­sion and mys­tery as any good thriller.
Sam Kalda's illus­tra­tions and the design of this book are com­ple­men­tary and elu­ci­dat­ing. The palette is an earthy one. Art appears through­out this gem of a book, draw­ing the read­er through the biography.
End­notes tena­cious­ly ref­er­ence the facts. Side­bars explain unfa­mil­iar con­cepts and def­i­n­i­tions in a live­ly way.
Thomas makes good use of intro­duc­ing ideas that are tied off with sat­is­fac­tion for the read­er. In the last para­graphs we learn that Bor­laug's child­hood dreams of play­ing for the Chica­go Cubs or becom­ing a wrestling coach weren't real­ized, but this man is one of five to receive three of the high­est inter­na­tion­al hon­ors, along with "Mar­tin Luther King, Jr., Moth­er Tere­sa, Elie Wiesel, and Nel­son Man­dela." (pg 141).
I love this book. I think you and your young read­ers will, too. How will we step up indi­vid­u­al­ly to the chal­lenge of world Hunger?