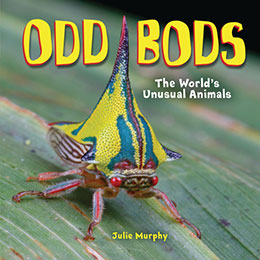 One of my favorite non­fic­tion pic­ture books so far this year is Odd Bods: the World's Unusu­al Ani­mals by Julie Mur­phy.
Here's a brief description:
Long snouts, bright-red lips, pointy heads … the ani­mal king­dom is full of crit­ters with unique fea­tures. Learn about the incred­i­ble adap­ta­tions that help these ani­mals – and their odd bods – sur­vive and thrive all around the globe!
Why do I love this book so much? Because it's loaded with kid appeal. The fun, rhyming title will hook even the most skep­ti­cal young read­ers and the col­or­ful design will invite them to dive in.
Kids often say they pre­fer books with pho­tos (rather than illus­tra­tions) because "then I know it's real," and the images in this book don't dis­ap­point. Cap­ti­vat­ing close-ups of red-lipped bat­fish, naked mole rats, and lizards known as thorny dev­ils are sure to delight curi­ous kids.
While the text of this expos­i­to­ry lit­er­a­ture list book is sim­ple enough for most grade 2 stu­dents to tack­le on their own, it's jam­packed with vibrant verbs, allit­er­a­tion, and ono­matopoeia that make the book a plea­sure to read. For exam­ple, when dis­cussing the crit­i­cal traits of an odd-look­ing bird called the shoe­bill, Mur­phy writes, "A hefty, hooked beak and scary stare can be fierce features!"
To craft the book's live­ly, play­ful voice, author Julie Mur­phy also makes excel­lent use of sec­ond-per­son nar­ra­tion rhetor­i­cal ques­tions, sur­pris­ing adjec­tives, and the inter­rup­tion con­struc­tion. For exam­ple, when describ­ing the naked mole rat, Mur­phy writes, "For rare chilly snap, this wrinkly rodent hud­dles with its large fam­i­ly. Who doesn't love a cud­dle once in a while?"
Sand­wiched between an intrigu­ing intro­duc­tion and a sat­is­fy­ing end­ing, eleven spreads with lay­ered text allow read­ers to com­pare and con­trast a range of unusu­al ani­mal from all over the world. The larg­er main text high­lights each critter's most notable fea­ture in a sin­gle sen­tence, while more exten­sive sec­ondary text set at a small­er size pro­vides addi­tion­al details.
The back­mat­ter includes a map show­ing where all the fea­tured ani­mals live, key facts about each crit­ter, and a list of addi­tion­al books and web­sites kids can explore to learn event more.
Book talk Odd Bods once, and it'll become one of the most pop­u­lar titles in your class­room or library book col­lec­tion. It's a great choice for read alouds and book clubs, and it can eas­i­ly be inte­grat­ed into sci­ence lessons or used as a men­tor text dur­ing units on infor­ma­tion­al writing.