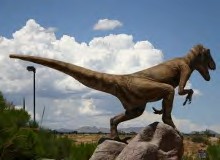 One of my favorite stu­dent sto­ries fea­tured a char­ac­ter whose beloved pet was a hor­ri­bly behaved dinosaur — def­i­nite­ly on the T. rex rather than the Bar­ney end of the dinosaur social­iza­tion spec­trum. As the con­clu­sion of the sto­ry, the char­ac­ter says: "But it doesn't mat­ter if my dinosaur is naughty all nine days a week. I love him any­way. Because he is my dinosaur."
I'm moved by what that con­clu­sion says about the uncon­di­tion­al love that young writer was obvi­ous­ly receiv­ing from some­body impor­tant to him. But it's also a great reminder that there are some basic sto­ry lines that rarely fail to pro­vide excel­lent start­ing points for strug­gling young writ­ers. Ask a young author, "What pet do you real­ly wish you could have, and can you think of how to turn that into a sto­ry?" — and most kids are on a roll.
In fact, the han­ker­ing for pets (even those less exot­ic than a dinosaur) has proved gold­en for estab­lished writ­ers too. From my pic­ture book­shelf alone I can pull out Peter Brown's Chil­dren Make Ter­ri­ble Pets, Karen Kaufman's I Wan­na Igua­na, Cath­leen Daly's Pru­dence Wants a Pet (at one point poor Pru­dence has to set­tle for a branch), and David LaRochelle's The Best Pet of All.