A while back I was at my par­ents' lake cab­in with my extend­ed fam­i­ly. My brother's teenagers had all brought along friends, and on Sat­ur­day we packed every­one who fell into the "thir­teen to fif­teen" age range off to the late movie. As the res­i­dent night owl, I vol­un­teered to pick up the kids when the movie was over so that the oth­er grown-ups could make it an ear­ly night.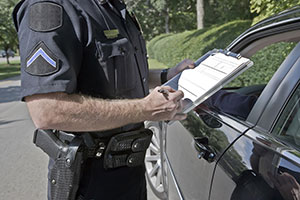 Which is how it turns out that the first time ever in my life I was pulled over by the cops, I was dri­ving some­one else's mini­van full of McDonald's wrap­pers and dog hair.
Those flash­ing red lights in my rearview mir­ror instant­ly had me feel­ing all Bon­nie-and-Clydish, despite the fact that I had no idea what I had been doing wrong. Dri­ving too fast? Nope, I'd just checked my speed. Dri­ving under the influ­ence? Not unless they'd added iced cof­fee to the list.
What was I missing?
It turns out that one of the van's head­lights was out. Once I knew that, I real­ized that the road had seemed a lit- tle poor­ly lit — but then again, I was in a tiny town with no street­lights. It nev­er occurred to me that I might be miss­ing a head­light. The very pleas­ant sheriff's deputy ran my license and, as he promised, had me back on the road with­in five min­utes. I arrived to find the kids run­ning around like mani­acs in the dark park­ing lot of the small-town movie the­ater, and my "street cred" as the cool aunt only seems to have been height­ened by my har­row­ing run-in with the law.
Some­times it helps to have some­body pull us over and point out what we've over­looked in our writ­ing, too. When it's time to begin the revi­sion process, ask your stu­dents to exchange their writ­ing, and then to ask each oth­er, "What's miss­ing from my piece?" It's a great all-pur­pose peer-review ques­tion. Often, it turns out, the miss­ing ele­ment is some­thing that the writer already has in their head — but that hasn't yet made it onto the page.
Ask­ing a read­er "What's miss­ing?" often sheds some much-need­ed light on a writer's up-to-then shad­owy problem.