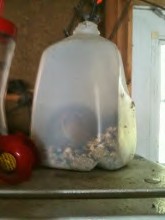 When I was a kid grow­ing up in the north woods of Min­neso­ta, a group of my neigh­bor­hood friends had a "Chip­munk Fort." It was con­struct­ed out of a pile of old fenc­ing mate­ri­als in my friend Paul's back­yard; each kid had their own "house" in the fort. We spent some time col­lect­ing pret­ty rocks and odd­ly shaped sticks and soft clumps of moss to dec­o­rate our hous­es. But the pri­ma­ry work of the Chip­munk Fort was to sup­port our large com­mu­ni­ty of striped squir­rel neigh­bors by peel­ing acorns for them.
I don't know if chip­munks appre­ci­ate such efforts or not, but the crea­tures are genius­es at stock­pil­ing food for when times are scarce. In fact, if you look care­ful­ly at the pho­to, you'll see that one of them has found his way into my dad's con­tain­er of bird­seed; the crit­ter spent the entire day stuff­ing his cheeks with the con­tents of the jug and car­ry­ing it home for win­ter provisions.
To me, stock­pil­ing ideas has proven to be a great tac­tic. One of the most com­mon ques­tions young writ­ers ask me is, "Where do your ideas come from?" The truth is, they come from every­where, all around me. But they often show up when I can't actu­al­ly make use of them, and prove elu­sive when I'm sit­ting in front of my com­put­er. I don't keep a jour­nal (a tac­tic that has worked well for many oth­er writ­ers); I'm too undis­ci­plined to fol­low through on that reg­u­lar prac­tice. But I have learned to car­ry a writer's note­book so I can stuff it full of the good bits when they spon­ta­neous­ly pop up. The note­book becomes an assort­ment of ran­dom mus­ings, eaves­dropped con­ver­sa­tions, bizarre facts, and won­der­ful-to-say words. Then when I face one of my reg­u­lar "writ­ing win­ters," those times when it seems impos­si­ble to come up with an inter­est­ing con­cept, I've got plen­ty of seeds stored away.
That note­book is a lit­tle like hav­ing an emer­gency car kit when you set off on a long winter's dri­ve. You may be blessed with good for­tune and nev­er need the emer­gency kit. But in case you do get stuck — whether in a snow bank or faced with a "writ­ing emer­gency" — you'll be awful­ly glad you've got it on hand. Why not encour­age your young writ­ers to take a sim­i­lar pre­cau­tion and keep a writer's note­book of their own in their desk or backpack?