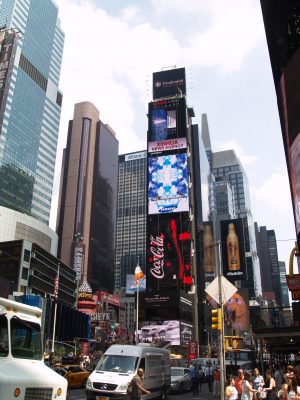 When I worked as a pub­lish­ing pro­fes­sion­al, I got to vis­it New York twice a year as part of my job. I loved it: the peo­ple, the pace, the movie-set land­scapes. So I gawked. I mean­dered. I stopped and stared up at the sky­scrap­ers. I was a stranger in a strange land.
All that seemed to make New York­ers unhap­py. Final­ly a kind mag­a­zine edi­tor explained to me what was going on.
"They seem…irritated," I said.
He looked me up and down and shook his head. "You're walk­ing slow­ly, right? You're stop­ping to look at things? They're not mad, they're in a hurry."
Then he leaned way for­ward and whis­pered so no one else could hear. "Trust me. I'm from Michi­gan. They can tell you're a Mid­west­ern­er, and you're in their way."
I did fine in New York once I learned to stay out of the way. But here's the thing: I would nev­er want to shut down that "coun­try yokel in the big city" side of myself, because in many ways, it's my sin­gle most valu­able trait as a writer. Noth­ing has come in more use­ful than my plea­sure at wan­der­ing aim­less­ly — whether it's through city streets or a long con­ver­sa­tion or the Inter­net — the whole time col­lect­ing the shiny bits of life as if I were a magpie.
Some­times I pick up somebody's life sto­ry. Some­times I col­lect triv­ia. Some­times it's an odd expres­sion. They pile up in my crow's nest of a brain, and then seem­ing­ly out of nowhere, pop up and insert them­selves into my writ­ing. They sug­gest sto­ries. They com­bine and mutate in strange and won­der­ful ways.
So despite the fact that it's prob­a­bly the most com­mon ques­tion young writ­ers ask me, I'm always a lit­tle sur­prised when I hear, "Where do you get your ideas?" Ideas are every­where, I tell them: you just have to wan­der and gawk long enough to notice them.
As a brain­storm­ing activ­i­ty for your stu­dent writ­ers, I encour­age you to offer them mean­der­ing time. Take a nature walk. Go to the media cen­ter and tell them to grab nonfic­tion books on any top­ics that catch their fan­cy. Allow them to browse Inter­net sites from muse­ums or zoos. Ask them to bring in three curi­ous facts about their own family's history.
Infor­ma­tion I dis­cov­ered while research­ing one of my nonfic­tion titles, about the walk­ing catfish, turned out to pro­vide the entire the­mat­ic basis for my mys­tery nov­el. You real­ly nev­er do know where a great sto­ry idea might come from.
Maybe even from the streets of New York.