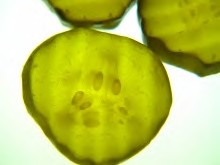 When I was a kid I got lost while par­tic­i­pat­ing in a sum­mer recre­ation pro­gram. I was ter­ri­fied. So the first thing I did when the group lead­ers found me was to laugh.
I was laugh­ing out of pure relief at being found. And because even as a kid, my emo­tion­al stress relief valve was set to "humor." I'm hard­wired in such a way that I often laugh even while I'm crying.
I got in big trou­ble that day for laugh­ing, and I con­tin­ued to get in trou­ble when­ev­er oth­er peo­ple thought humor was an inap­pro­pri­ate response. Which led me to believe that if I want­ed to be tak­en seri­ous­ly as a writer, I need­ed to use a seri­ous tone. Humor, I had learned, would like­ly get me into trouble.
Guess what? None of those oh-so-seri­ous things I used to write got pub­lished. The writ­ing felt life­less and arti­fi­cial; it wasn't reflec­tive of who I real­ly am. It wasn't until an edi­tor encour­aged me to pur­sue the "hid­den fun­ny sto­ry" that she found buried in a man­u­script of mine that I let humor back into my work.
That reworked sto­ry, com­plete with lots of "fun­ny," went on to become my first pub­lished book.
I think that what we mean when we talk about "writer's voice" is a writer's per­son­al­i­ty show­ing up on the page. It emerges through many diverse writ­ing choic­es, rang­ing from word usage to tone to rhythm. It's a tough con­cept for stu­dents to grap­ple with. Yet edi­tors say it's a major fac­tor in what they look for in a pub­lish­able piece, and writ­ing pro­grams include it as a key com­po­nent. We can't ignore voice just because it's hard to teach and learn. So how do we help stu­dents find their voice, espe­cial­ly giv­en that some of them may have been told that the voice that comes nat­u­ral­ly to them should stay lost?
I use an activ­i­ty that encour­ages stu­dents to play with voice. I first choose a group of things that exist as a col­lec­tive, with­in which the dif­fer­ent com­po­nents have "per­son­al­i­ty" with­out being con­tro­ver­sial. Exam­ples are the four sea­sons — win­ter and sum­mer have dif­fer­ent per­son­al­i­ties; or it might be col­ors — we can assign per­son­al­i­ties to green and pink with­out com­ing to blows over it; or you could even use food flavors. Then I have stu­dents write about a sim­ple top­ic using con­trast­ing choic­es from the group. In oth­er words, I might ask them to describe the town they live in, first using a dark choco­late voice, and then using a pick­le voice.
It sounds odd, but I've seen it have sur­pris­ing results. Some­how play­ing with voice in this way can set stu­dents on a path to find­ing the writer's voice that was lost inside them all along.