In this inter­view with Jen Bryant, author of A Riv­er of Words: The Sto­ry of William Car­los Williams, our Book­storm™ this month.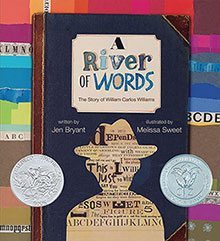 Do you recall the first time you encoun­tered a William Car­los Williams poem?
I was in high school — and it was part of an anthol­o­gy read­ing that we did for Eng­lish class. I had disliked/not understood/ been unmoved by all of the oth­er poems in this assigned read­ing (I recall that the lan­guage in those poems was archa­ic and flow­ery, and the forms very, VERY tra­di­tion­al) — and then — whooosh — like a breath of fresh air, here were a few select­ed W. C. Williams poems, which used lit­tle punc­tu­a­tion, were freeform in struc­ture, and focused on every­day scenes and real life. They were the first poems I enjoyed and felt "wel­comed" into.
Do you have a list of Most Favorite Poets? Was William Car­los Williams on that list before you began the research for this book? Is he on that list now?
He's def­i­nite­ly on the list — and there are too many oth­ers to name here, so I'll just start by list­ing a few of them: Emi­ly Dick­in­son, Mary Oliv­er, Yusef Komun­yakaa, Wen­dell Berry, William Stafford, Rita Dove, Marge Pier­cy, Robert Frost, Lucille Clifton, Phillip Levine, Mar­i­lyn Nel­son, Gary Soto, Gal­way Kinell, Eamon Gren­nan, Jane Keny­on … (see? way too many!)
When you turned your man­u­script in to your edi­tor, did you envi­sion how the book might be illus­trat­ed? What do you think when you first saw Melis­sa Sweet's ideas for illus­trat­ing Williams' life?
Melis­sa and I did not know each oth­er before Eerd­mans paired us for this book. Gayle Brown, the art direc­tor at EBYR, chose Melis­sa as the illus­tra­tor — and I believe that this sin­gle act has influ­enced my writ­ing life ever since! I'd already writ­ten three pic­ture book biogra­phies on cre­ative peo­ple (O'Keeffe, Mes­si­aen, and Moore) and I had nev­er met ANY of those illus­tra­tors. All of their styles were very dis­tinct, very dif­fer­ent from one another's — so, no, I had no clue what an illus­tra­tor would do with this text. You can just imag­ine my reac­tion when I saw Melissa's art for this book … I wept with hap­pi­ness. She's tru­ly amaz­ing.
How did you find infor­ma­tion about this poet's younger years?
I had to piece scenes togeth­er from many dif­fer­ent sources: fore­words and pref­aces to poet­ry col­lec­tions, a few audio record­ings, an old film, some archival records, etc. The key, though, was to keep the riv­er as the cen­tral image around which the rest of the sto­ry could spin. Once I had made that deci­sion, the rest became a bit eas­i­er.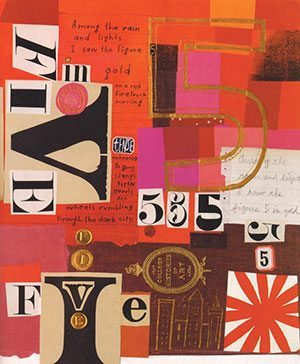 Did you have to cut much mate­r­i­al from your orig­i­nal con­cept of the book? Did you go through a few revi­sions with the edi­tor or many revi­sions with the edi­tor?
I always pre­fer to give the edi­tors more than they need — then let them give me feed­back on which scenes/stanzas are more com­pelling and which are redun­dant or less com­pelling (and thus can be cut.) Yes, there were on-going revi­sions with this man­u­script — but if I recall cor­rect­ly, the orig­i­nal­ly-sub­mit­ted ver­sion was the one that was sent to Melis­sa and she got start­ed from that text. We didn't make HUGE changes to this sto­ry, but we tweaked word­ing here and there — and then the back mat­ter was added lat­er on.
If you had met William Car­los Williams, what ques­tion would you have asked him?
"If you had been able to quit your day-job (as a physi­cian) and could sup­port your fam­i­ly full-time by writ­ing, would you have done that? OR, did your dai­ly rounds — with all kinds of patients and in many dif­fer­ent set­tings — feed your art so much that you need­ed to do both in order to write well?"
___________________________________________
Jen, thank you for shar­ing your answers with our read­ers. Your style of writ­ing biogra­phies is so unique, and so well researched, that it's valu­able for us to know more about the process of this book's cre­ation.
For use with your stu­dents, Jen's web­site includes a dis­cus­sion guide that you'll find use­ful as you incor­po­rate this book into your plan­ning.
illus­tra­tions in this arti­cle are copy­right © Melis­sa Sweet