When one poet, Mer­na Ann Hecht, and one edu­ca­tor, Car­rie Stradley, observed their com­mu­ni­ty, their schools, their stu­dents, and real­ized that a pletho­ra of life expe­ri­ences sur­round­ed them, they put their teach­ing and their hearts togeth­er to cre­ate The Sto­ries of Arrival: Refugee and Immi­grant Youth Voic­es Poet­ry Project at Fos­ter High School, in Tuk­wila, Wash­ing­ton.
These weren't typ­i­cal high school sto­ries. Instead, these stu­dents have expe­ri­ences of leav­ing their homes, their friends, their schools, their coun­tries … to emi­grate to Amer­i­ca, where life is often astound­ing­ly dif­fer­ent.
Encour­ag­ing these Eng­lish Lan­guage Learn­ing stu­dents, more than 240 of them over the past six years from 30 coun­tries, to com­mu­ni­cate their sto­ries through poet­ry helps to empow­er them to find their voic­es and move con­fi­dent­ly into their cho­sen futures (a para­phrase of the project's mis­sion).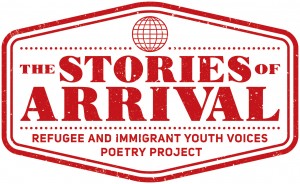 Com­bine this project with anoth­er, Project Feast, and you have not only a cook­book of world­wide appeal but a book of poet­ry that is often eye-open­ing, com­pas­sion­ate, and heartrend­ing. A recipe for under­stand­ing. A taste of the mem­o­ries, trav­els, and long­ing behind the poets' words.
Togeth­er with their part­ners The Insti­tute for Poet­ic Med­i­cine (Palo Alto, CA), the Jack Straw Cul­tur­al Cen­ter (Seat­tle, WA), and Chatwin Books (Seat­tle, WA), these two women and their projects have cre­at­ed Our Table of Mem­o­ries: Food & Poet­ry of Spir­it, Home­land & Tra­di­tion. It's a beau­ti­ful book, part poet­ry by high school stu­dents, part recipes from the tra­di­tion­al cooks from their coun­tries, and part art with illus­tra­tions by Mor­gan Wright, a recent col­lege grad­u­ate, new­ly enrolled in New York City's Bank Street Col­lege to pur­sue her Mas­ter of Arts in teach­ing.
By pub­lish­ing this inter­view with Mer­na Hecht, it is the hope of Bookol­o­gy's edi­tors that you will be inspired to con­sid­er a pro­gram like this in your own com­mu­ni­ty. Feel free to con­tact Mer­na with your ques­tions.
Can you tell us a bit about your life, in par­tic­u­lar what pulled you toward poet­ry?
There is not a moment I can recall when I wasn't pulled toward poet­ry. I first heard the incan­ta­to­ry rhythms of poems from my grand­fa­ther who gave beau­ti­ful, mem­o­rized recita­tions of Longfel­low and John Green­leaf Whit­ti­er. I think it was sec­ond grade when I began writ­ing rhymed poems. Those child­hood poems were shaped by what then seemed the mag­ic of the nat­ur­al world. Notic­ing details of bugs, petals, leaves, cracks in the side­walks on my way to and from school often made me late. At the time it seemed like a secret world. Now I think that ear­ly impulse for close obser­va­tion and a deeply pri­vate inner world have shaped the poet I've become. I have always turned toward poet­ry to nour­ish my spir­it. As a young woman, I began to read many dif­fer­ent poets who spoke to me, chal­lenged me, pro­voked me and opened my eyes and heart to the beau­ty and suf­fer­ing of the world; I've not stopped turn­ing these pages. Poet­ry is the place where I find a well­spring for expres­sion of what seems most ten­der, most true and most unsayable.
How did you find your way to teach­ing?
By a some­what gnarled and twist­ed path and I'm so glad I got there! I was a reg­is­tered nurse by the age of 21 and worked for five years as a pedi­atric nurse. I usu­al­ly car­ried fin­ger pup­pets in my pock­ets and offered impromp­tu sto­ried pup­pet shows at children's bed­sides. Then came a real­iza­tion that I much pre­ferred the sto­ry­telling and pup­pets to the nurs­ing! "The rest is his­to­ry," from work­ing with mid­wives on the Nava­ho reser­va­tion, to jaunt­ing about as a pup­peteer and poet in the schools in rur­al Ida­ho, to earn­ing a Mas­ters Degree as a children's librar­i­an. Under the tute­lage of mas­ter sto­ry­teller, Pro­fes­sor Spencer Shaw at the Uni­ver­si­ty of WA, I fell in love with the art and craft of tale-spin­ning. Fast for­ward to work­ing as a children's librar­i­an for Seat­tle Pub­lic Library to my first for­mal teach­ing job in a pro­gres­sive teacher cer­ti­fi­ca­tion pro­gram and onward to becom­ing a teach­ing artist and a uni­ver­si­ty lec­tur­er.
You're nation­al­ly known as a sto­ry­teller. In 2008, the Nation­al Sto­ry­telling Net­work pre­sent­ed you with their Brim­stone Award for Applied Sto­ry­telling, with which you cre­at­ed a pilot pro­gram as a poet and sto­ry­teller at Bridges: A Cen­ter for Griev­ing Chil­dren in Taco­ma. Can you tell us about applied sto­ry­telling? What does that mean and how do your sto­ries work toward that spe­cif­ic appli­ca­tion?
These days, sto­ry­tellers show up in many places: deten­tion cen­ters, hos­pi­tals, war torn coun­tries at cen­ters for young peo­ple in trau­ma and drug rehab facil­i­ties for teens. These racon­teurs bring the age old plea­sure of lis­ten­ing to a tale well told. This allows young peo­ple (and all of us) to tem­porar­i­ly walk in some­one else's shoes; it sparks the imag­i­na­tion to life. Through ancient pat­terns of myth and folk­tales sto­ries can allow a trust in pos­si­bil­i­ties to take hold. To apply sto­ry­telling in set­tings for young peo­ple and adults who have expe­ri­enced loss or trau­ma helps cre­ate safe space and gath­er­ing places where deep lis­ten­ing can occur. There are uni­ver­sal truths in sto­ries from all cul­tures. Many sto­ries reflect the inevitabil­i­ty of loss in human life and they speak to our inter­con­nect­ed­ness to each oth­er, to ani­mals, trees, the moon, the stars and to mys­ter­ies beyond us. In this way sto­ries can ease a sense of iso­la­tion and lone­li­ness. Find­ing the right sto­ry for a sit­u­a­tion, a group, or an indi­vid­ual is part of apply­ing sto­ry­telling to spe­cial set­tings and using sto­ries to help oth­ers trust that they can over­come obsta­cles and find their inner strength and courage.
What drew you toward work­ing with refugee and immi­grant chil­dren?
The short answer is that these young peo­ple are my teach­ers! Their deter­mi­na­tion to suc­ceed in high school, con­tin­ue on to col­lege and con­tribute to this coun­try and/or to return to their home­land to help oth­ers inspires me and gives me hope. They dream of becom­ing doc­tors, nurs­es, peace-mak­ers, envi­ron­men­tal­ists, actors, pilots and they do not bemoan the dif­fi­cul­ties they have expe­ri­enced at such a young age. Loss of fam­i­ly mem­bers, life in refugee camps, forced migra­tions, lack of enough food, health care, edu­ca­tion and still they are mod­el cit­i­zens. They are young peo­ple who are hope­ful, curi­ous, and deeply kind who wish to help cre­ate a more peace­ful, humane world.
You're an organ­ic gar­den­er with respect for food tra­di­tions. How did this inspire you for Project Feast and how did the idea of the cook­book, Our Table of Mem­o­ries, with poet­ry and illus­tra­tions come into being?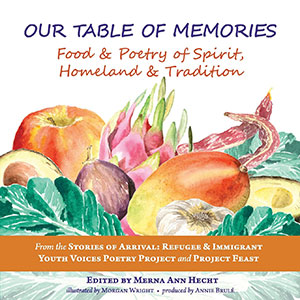 When I heard about Project Feast and found that it was locat­ed with­in a mile of the school my idea for a col­lab­o­ra­tion sprang in part from years of "hands on" inten­sive gar­den­ing and cook­ing and from a pas­sion for explor­ing dif­fer­ent ways peo­ple across the globe pre­pare and share food. This love of cross cul­tur­al food is some­thing Car­rie and I share. When she heard the idea for col­lab­o­rat­ing with Project Feast her eyes lit up with a "yes!" We both rec­og­nize that when peo­ple leave their home­lands, a deep sense of home remains with them, in part, with eat­ing and grow­ing the foods of their cul­tures. We felt that a food-themed project would gen­er­ate a rich out­pour­ing of poems. Giv­en that food and poet­ry both speak lan­guages of fla­vor, scent, spice, tex­ture, and col­or we want­ed to include illus­tra­tions that would reflect the sen­so­ry feel of the poems — to cre­ate a pre­sen­ta­tion much like a mem­o­rable meal which the eye feasts upon before the palette! We also want­ed to cel­e­brate our stu­dents and the refugee women of Project Feast by includ­ing beloved recipes from their mem­o­ries, their fam­i­lies and their home­lands.
Can you share a par­tic­u­lar sto­ry from this Project that gave every­one hope?
One of Carrie's ELL class­es had four­teen boys and only two girls. Hope cer­tain­ly flour­ish­es when a group of ado­les­cent boys, all refugees from dif­fer­ent coun­tries, cul­tures and eth­nic­i­ties, open­ly sup­port and applaud each oth­er for writ­ing poems that are vul­ner­a­ble and emo­tion­al­ly expres­sive. Hope flour­ish­es when they tell us that they've found their voic­es and a way to tell their sto­ries through poet­ry. At the project's con­clu­sion those who wished to apply for a schol­ar­ship were asked to reflect on what they learned from poet­ry. Their replies filled us with hope and in truth, with tears, here are a few short excerpts:
Khai, from Bur­ma
I can speak the truth in the poem I wrote… Poems will make oth­er peo­ple under­stand us (immi­grants). As an immi­grant and a lot of oth­ers who are just like me, we have a vast­ly hard life… One of the ways that we can explain our painful past is only by a POEM, it is the only way to make a con­nec­tion with every­one; poems make us two in one. Poems are vast­ly cru­cial to all of us because poems are ALIVE! There is peace, love, friends, fam­i­ly, and much more in a poem. This is why poems are extreme­ly impor­tant to us (immi­grants) and to every­one who has a heart.
Abdi A., from Soma­lia
I was born in a refugee camp in Dadaab, Kenya, and lived there most of my life. Writ­ing poems helped me remem­ber and appre­ci­ate what I have now and also helped non-immi­grants to have a bet­ter under­stand­ing of what is it real­ly like to be a young boy with a hope­less dream of becom­ing a doc­tor. I remem­ber a white man who worked with the IOM ask­ing me what my dream was and I told him I want­ed to be a doc­tor and laughed at myself because I thought it was ridicu­lous and ''too big'' for some­one like me. But here I am today liv­ing a hap­py life and work­ing towards my dream… Poet­ry does­n't just show us how much we share, it helps us see the world in an entire­ly dif­fer­ent way. When I heard Kang Pu's poem about how his mom died and the strug­gle that his fam­i­ly had and how the gov­ern­ment didn't even help, I under­stood him bet­ter… Poet­ry is uni­ver­sal. ELLs can learn about or read poet­ry in their pri­ma­ry lan­guage, help­ing them bridge their worlds… I plan on going to a four-year col­lege and I still have that dream of becom­ing a doc­tor, so I can go back home one day and help the sick and the needy.
Has there been an effort made to repli­cate this project in oth­er high schools around the coun­try?
This is a next step that project co-direc­tor and ELL teacher extra­or­di­naire, Car­rie and I have want­ed and intend to accom­plish. Along with the won­der­ful engage­ment and sage advice of John Fox, founder/director of the Insti­tute for Poet­ic Med­i­cine, (we are proud­ly an IPM Poet­ry Part­ner Project) we intend to take the next step and pub­lish a tem­plate of poet­ry prompts and activ­i­ties along with a col­lec­tion of resource mate­r­i­al for repli­cat­ing this poet­ry project.
WHERE TO BUY OUR TABLE OF MEMORIES
The poems in this book are lus­cious but, to tempt you fur­ther, the recipes includes Doro wet: an Ethiopi­an Chick­en Stew (pgs. 120 – 121), Arroz con Leche, (pgs. 130 – 131), Zawng­tah: Burmese Tree Beans with Tilapia (pgs. 136 – 137), Orange Iraqi Teatime Cake (pgs. 154 – 155) and many more. Is your mouth water­ing yet? Every­thing about this book is invit­ing … you will embrace it!
SAMPLE
Here's a sam­ple of one of the heart-touch­ing poems in Our Table of Mem­o­ries:
MY MOTHER'S KITCHEN
Kang Pu, from Bur­ma
When my mom cooked it smelled of sweet win­ter­time cher­ries,
of a soli­tary for­est with rain falling
and it smelled like the mur­mur of a lone­ly bird, singing,
I pic­ture the spher­i­cal smoke ris­ing from her kitchen
it was like the sound of sleep at night,
it was like arriv­ing home safe and sound
the sounds of her kitchen were peace­ful.
I still long for the laugh­ter of those fam­i­ly meals
we all wait­ed for that table, my mom's table,
how she pre­pared every fam­i­ly meal,
this is what I still long for,
so often I remem­ber my moth­er
noth­ing can take her mem­o­ry away from me,
it is tru­ly dif­fi­cult that I have depart­ed
from my moth­er­land,
and from my mother's kitchen.
Kang Pu – MY MOTHER'S KITCHEN
The rea­son I wrote this poem is for mem­o­ries of my mom and her kitchen. It was dif­fi­cult for me to write this poem because I still long for my mother's kitchen. Some­times it makes it hard for me to study. Yet, no mat­ter how far away from my par­ents, I am still hold­ing their lessons and still using what they taught me. With­out lessons from par­ents it's hard to be in com­mu­ni­ty with oth­ers and hard to stand on your own.
And anoth­er sam­ple:
WHERE FOOD IS ART
Nathaly Rosas, from Mex­i­co
I am from a place where
The food is an art and every bite
Is a spicy piece of our cul­ture.
Where the smells call you to enjoy
And the fla­vors take you to your mem­o­ries.
Read more poems like these on Mer­na Hecht's web­site.
RESOURCES
"Sto­ries of Immi­gra­tion and Cul­ture" poet­ry pod­casts are avail­able here, host­ed by the Jack Straw Cul­tur­al Cen­ter.
Insti­tute for Poet­ic Med­i­cine, found­ed by John Fox, where Mer­na and Sto­ries of Arrival are Poet­ry Part­ners.
Sto­ries of Arrival: Immi­grant Youth Voic­es Poet­ry Project