In Absolute­ly Tru­ly, my new mid­dle grade mys­tery set in a book­shop in the fic­tion­al town of Pump­kin Falls, New Hamp­shire, a first edi­tion of Charlotte's Web goes miss­ing. There's a rea­son this par­tic­u­lar book fea­tures so promi­nent­ly in the sto­ry — it's a nod to my lit­er­ary hero, E. B. White.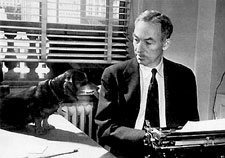 E.B. White and I go way back. He's one of the rea­sons I became a writer, thanks to Charlotte's Web, which was one of my all-time favorites as a young read­er (it still is). It tops a short list of what I con­sid­er per­fect nov­els — a list that includes Harp­er Lee's To Kill a Mock­ing­bird and Jane Austen's Pride and Prej­u­dice, among a hand­ful of others.
The year I turned 12 and declared my inten­tion of becom­ing an author, my dad slipped a copy of Ele­ments of Style into my Christ­mas stock­ing. It was an inspired present, as the book on writ­ing and gram­mar that Mr. White co-wrote with William Strunk, Jr., made me feel both val­i­dat­ed and grown-up. I dis­played it promi­nent­ly on my desk, and if I read it with more enthu­si­asm than com­pre­hen­sion, at least I felt very sophis­ti­cat­ed as I did so. Lat­er, in col­lege, I would dis­cov­er White's col­lect­ed let­ters and essays, which helped inspire my ear­ly career as a journalist.
Of all the gifts that E. B. White has giv­en me, though, the one I trea­sure most are his char­ac­ters. I can't even imag­ine a world with­out Char­lotte and Wilbur, or with­out Fern Arable, and Lurvy, and Tem­ple­ton the rat. Mem­o­rable char­ac­ters such as these are what make for mem­o­rable sto­ries. Sure, set­ting is impor­tant, research is impor­tant, and a sto­ry with­out a plot is a hot mess (any­body sat through Wait­ing for Godot recent­ly?), but for me, mem­o­rable char­ac­ters are the main course, the engine that dri­ves the train, the beat­ing heart of a book.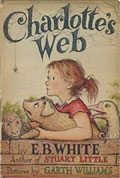 Char­ac­ters like Char­lotte and Wilbur don't just spring full-blown onto the page like Athena from the head of Zeus, how­ev­er. Writ­ing is a delib­er­ate act. It is arti­fice; it is craft; it is inten­tion­al. While the con­cept for a char­ac­ter may come to a writer in a flash, the con­struc­tion of that char­ac­ter is the result of much effort and care.
So how does a writer go about cre­at­ing char­ac­ters that walk off the page and straight into a reader's heart?
It comes down to some­thing I call "bor­rowed fire."
There are oth­er tools writ­ers employ in cre­at­ing char­ac­ters, of course — tools such as descrip­tion, dia­logue, and voice. But all of these ingre­di­ents would be noth­ing with­out bor­rowed fire. With­out this ele­men­tal flame, char­ac­ters remain as life­less and cold as the paper on which they're printed.
I live in the Pacif­ic North­west, just a few miles from the end of the Ore­gon Trail. While read­ing about the ear­ly set­tlers at one point, I learned just how cru­cial fire was to sur­vival. The pio­neers depend­ed on it for warmth, for cook­ing, for light, and for cheer. If a camp­fire or cook stove went out in a log cab­in or along the wag­on train, some­one would be rapid­ly dis­patched to a neighbor's with a lid­ded pan to "bor­row fire" — a few embers or coals with which to rekin­dle their own.
In writ­ing, we, too, need fire. We need the blaze of emo­tion to light up our sto­ries and stir our read­ers, ignit­ing in them a sym­pa­thet­ic response.
But from whom do we bor­row this fire?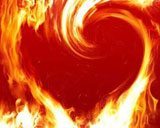 From our­selves. From our own lives, our own expe­ri­ences. Robert Frost once said, "No tears in the writer, no tears in the read­er." Writ­ers have to be will­ing to dig deep. I'm not talk­ing about spilling dark secrets onto the page. I'm talk­ing about tap­ping into your own unique well of emo­tion­al expe­ri­ence and shar­ing it with your read­er. We all know what it's like to be anx­ious about some­thing, to be envi­ous or fear­ful or alight with hap­pi­ness or crazy in love. Invest­ing our char­ac­ters with these emo­tion­al truths cre­ates the point of con­nec­tion. That's the moment at which a char­ac­ter walks off the page and into a reader's heart.
E.B. White was nev­er an eight-year-old girl named Fern. He was nev­er a wor­ried piglet or a lit­er­ate spi­der or a schem­ing rat with a soft under­bel­ly of kind­ness. But he knew about friend­ship, and love, and loss, and he bor­rowed those embers from his own life to kin­dle his char­ac­ters, and the light and warmth they radi­ate have touched the hearts of read­ers down the years.
Bor­rowed fire is where the mag­ic hap­pens in a sto­ry. It's by the light of this fire that mem­o­rable char­ac­ters are made.