Back when my kids were lit­tle, I start­ed work on a non­fic­tion SEL (Social and Emo­tion­al Learn­ing) series called the "Best Behav­ior" series. More than a decade lat­er, these board books and paper­backs are still going strong, I'm hap­py to say. Titles in the series include Teeth Are Not for Bit­ing, Voic­es Are Not for Yelling, and Wor­ries Are Not For­ev­er. The books are about shap­ing behav­ior, but in a deep­er sense, they're designed to help young chil­dren express their feel­ings, get their needs met, and bet­ter under­stand their grow­ing inde­pen­dence. I think of my books as tools in an SEL toolk­it. They can help you bring out the best in chil­dren dur­ing the tod­dler years, all the way through ear­ly ele­men­tary school, and beyond.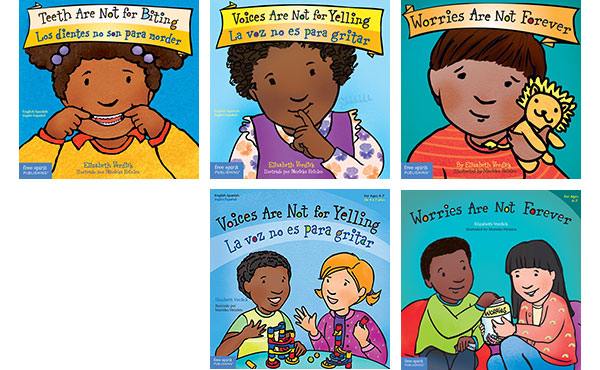 My goal from the begin­ning of the series was to use sim­ple words to teach, encour­age, and reas­sure young chil­dren. But I real­ized that my tod­dler board books — lim­it­ed to 11 spreads, with one full spread devot­ed to tips for par­ents and edu­ca­tors — were too short to ful­ly cov­er the top­ics for a wider audi­ence. What a tod­dler can under­stand from a book called Germs Are Not for Shar­ing is much dif­fer­ent from what a preschool­er or kinder­gart­ner can grasp. So, I've cre­at­ed more in-depth paper­backs for old­er chil­dren, using the same titles as the board books. I have var­i­ous ver­sions of, for exam­ple, Words Are Not for Hurt­ing: the board book, the expand­ed paper­back, and Spanish/English ver­sions of both. It's been a joy­ful chal­lenge for me to adapt my words to the dif­fer­ent ages and stages chil­dren go through. I love aging down and aging up! The process is great prac­tice for any writer, new or expe­ri­enced, espe­cial­ly if you want to write for children.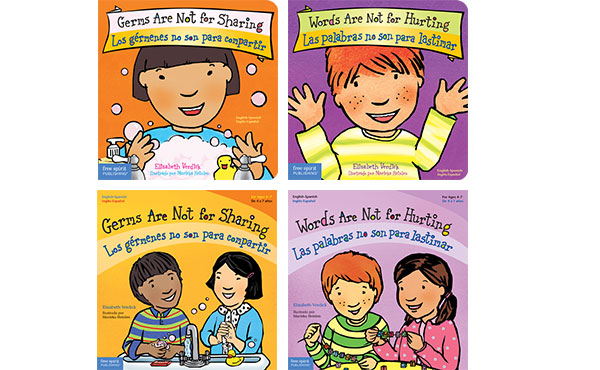 How do you age down your text? First, know that aging down is very dif­fer­ent from "writ­ing down to chil­dren." Our goal as children's writ­ers is not to write to chil­dren in baby­ish lan­guage or to lec­ture our read­ers, even in books that aim to guide a child's behav­ior. Whether you're aging your text down or up, respect young read­ers' intel­li­gence; know that they feel fierce­ly and they care deeply. E. B. White said it this way:
"Chil­dren are … the most atten­tive, curi­ous, eager, obser­vant, sen­si­tive, quick, and gen­er­al­ly con­ge­nial read­ers on earth."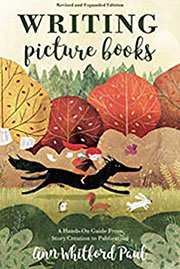 Some children's writ­ers take the approach of get­ting all their ideas and best lines on the page first, so they don't get caught up in edit­ing them­selves too much, too ear­ly. In oth­er words, they write long before writ­ing short. This method feels expan­sive and free­ing; it lets you use the page to explore and brain­storm. Yet, there are some tips to keep in mind so you'll be on your way to cre­at­ing work that's age appro­pri­ate. Expert pic­ture-book writer Anne Whit­ford Paul in her man­u­al Writ­ing Pic­ture Books says there are char­ac­ter­is­tics of chil­dren to keep in mind as you write for them, including:
Chil­dren have had few experiences.
Chil­dren have strong emotions.
Some­times child­hood is not happy.
Chil­dren long to be independent.
Chil­dren are complicated.
Paul's list is actu­al­ly longer, and I high­ly rec­om­mend get­ting a copy of her help­ful man­u­al (recent­ly revised and updat­ed) if you want to write for young kids. Let the chil­dren in your own life inform your writ­ing, too. Spend time lis­ten­ing to them close­ly, soak­ing in their words and cre­ative turns of phrase. Ask chil­dren to read aloud to you — pay­ing close atten­tion to what cap­tures their imag­i­na­tions and res­onates with them emo­tion­al­ly. Invite fel­low writ­ers to read and com­ment on your work: What age group do you think this is for? Is this too wordy? Where might I cut some text?
Sup­pose you've writ­ten a man­u­script for very young chil­dren, but you're not sure if it's age appro­pri­ate. The eas­i­est place to start is with a word count. Gen­er­al guide­lines sug­gest that man­u­scripts should be 500 words or less. If you're writ­ing for tod­dlers, much less. Think of it this way: Good­night Moon by Mar­garet Wise Brown is only 130 words. For fun, I just count­ed the words in my tod­dler board book Voic­es Are Not for Yelling: 131. Fic­tion pic­ture books for young chil­dren, includ­ing Good­night Moon, are often brief, poet­ic texts in which every word mat­ters—some­times described as "Per­fect words in per­fect places." Non­fic­tion books for lit­tle ones are sim­i­lar­ly short but are often designed to give infor­ma­tion or share a mes­sage. In my SEL non­fic­tion, I don't aim to be poet­ic but do hope to share sim­ple phras­es chil­dren can use on their own every day:
"You are big­ger than your worries."
"Teeth are not for bit­ing. Ouch, bit­ing hurts."
"Warm water, lots of soap, scrub, scrub, scrub. Send those germs down the drain."
I adore writ­ing short! It's sat­is­fy­ing for me to pick at my own words like I pick weeds in my gar­den. I'm an edi­tor at heart, and that's where I got my start in pub­lish­ing, help­ing oth­er writ­ers use lan­guage to the best of their abil­i­ties. When writ­ing for the very young, revise and then revise again (and again) to boil down your lan­guage to its sim­plest form. If that sounds dif­fi­cult or bor­ing, remem­ber that illus­tra­tions do half the work in books for lit­tle ones. A sim­ple tip? Get rid of your adjec­tives or over­ly descrip­tive lan­guage. Illus­tra­tions can do that job for you.
When­ev­er I'm start­ing a new book in the "Best Behav­ior" series, I tack­le the board book first. This helps me sim­pli­fy the con­cepts and lan­guage for the youngest audi­ence, while also let­ting me reach the fin­ish line faster. Once I've writ­ten the board book, I feel like I've accom­plished some­thing and want to do more. I then think of the ways in which preschool­ers, kinder­gart­ners, and old­er chil­dren expe­ri­ence behav­ior issues in school and in the com­mu­ni­ty. As they grow old­er, chil­dren spend more time out­side of the home, engag­ing with a wider vari­ety of peo­ple and places. A child's world grad­u­al­ly expands — and so my books have to expand as well. But not by too much. I try to keep that "500 words or less" rule of thumb firm­ly in mind as I write.
Recent­ly, I vis­it­ed a first-grade class­room to share a cou­ple of my pic­ture books, Small Walt (about a lit­tle snow­plow) and Peep Leap (about a baby wood duck afraid to leave the nest). A theme in each of these works is "small can be mighty" and that we all need encour­age­ment, from our­selves and oth­ers. One of my favorite lines in Peep Leap is: "You are braver than you know." To be hon­est, I feel scared every time I start a new man­u­script. It doesn't mat­ter how many books I've writ­ten before — each new one feels like a chal­lenge I have no idea how to take on. I give myself lit­tle pep talks and reach out to fel­low writ­ers who often feel the same way. On that day of the first-grade vis­it, the teacher pulled me aside and con­fid­ed that she had a book idea and want­ed to write for chil­dren and hadn't start­ed yet because it felt too "big." Well, I hope she does start writ­ing soon, and I told her to give it a try. If you work with chil­dren or are rais­ing them, you have an insider's view into what makes kids tick, and how much they grow and change as time rolls on. That's a great start … now you need to put some words on the page.