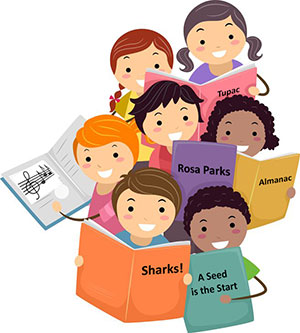 Per­son­al pref­er­ences and expe­ri­ences guide our life choic­es. They impact what we wear, eat, do, even the peo­ple we spend time with. It should come as no sur­prise, then, that per­son­al pref­er­ences also affect what we read— maybe even whether we read.
Stud­ies show that young read­ers who feel a per­son­al con­nec­tion to what they are read­ing demon­strate bet­ter com­pre­hen­sion and derive greater enjoy­ment from their read­ing. They engage more thor­ough­ly when they see ideas con­nect­ing to their own expe­ri­ences and pas­sions. In the case of non­fic­tion, per­son­al con­nec­tions help read­ers see sci­ence, facts, and events as mean­ing­ful to their lives.
Even the youngest read­ers have expe­ri­ences, knowl­edge, opin­ions, and emo­tions they can tap when look­ing for per­son­al con­nec­tions to their read­ing. Good read­ers may find it eas­i­er to see con­nec­tions, but with help, new or strug­gling read­ers can find con­nec­tions, too. Choos­ing strong, well-craft­ed non­fic­tion is a good first step toward build­ing con­nec­tions. Inten­tion­al­ly guid­ing young read­ers to a dis­cov­ery of how books con­nect to their lives com­pletes the process.
Choos­ing good nonfiction
Today's non­fic­tion books are kid-friend­ly and relat­able. They explain dif­fi­cult con­cepts clear­ly, sim­ply, and with­out con­de­scen­sion. They are visu­al­ly appeal­ing, with attrac­tive and accu­rate illus­tra­tions, page lay­outs that break up text, and strong design features.

Some non­fic­tion books are inter­ac­tive and engag­ing. This is incred­i­bly effec­tive at build­ing con­nec­tions. They pose ques­tions or include fun, lit­tle known facts. That's the approach tak­en by Sta­cy Tornio and Ken Kef­fer in The Secret Lives of Ani­mals — 1,001 Tid­bits, Odd­i­ties & Amaz­ing Facts about North America's Coolest Ani­mals.
Some books build on young read­ers' already estab­lished knowl­edge as a way of con­nect­ing to new ideas. Swirl by Swirl: Spi­rals in Nature by Joyce Sid­man is a great exam­ple of this. It explores the ways the spi­ral — a shape already famil­iar to young read­ers — occurs over and over in nature, there­by prompt­ing a greater inter­est in the nat­ur­al world.
Some books just tell a good sto­ryv­some­thing we all tend to remem­ber much bet­ter than abstract rules, for­mu­las, and con­cepts. That's the case with Mary Losure's Isaac the Alchemist. Isaac New­ton may have lived hun­dreds of years ago, but read­ers learn how sim­i­lar some of Newton's expe­ri­ences were to those of kids today. They see New­ton as being just like them and they want to fol­low him on his journey.
Estab­lish­ing per­son­al connections
Con­nec­tion build­ing occurs when young read­ers see books as rel­e­vant to their lives. And there's plen­ty that's rel­e­vant in the world of non­fic­tion. All that's need­ed is a lit­tle prompting.
Teach­ers and librar­i­ans can help young read­ers see con­nec­tions by ask­ing ques­tions like these:
What were your feel­ings when you read this?
Does any­thing in this sto­ry remind you of any­thing in your own life?
Is what hap­pened in this book some­thing you'd like to do? Some­thing you'd like to learn more about?
How is this book sim­i­lar to oth­er things you have read?
How is it dif­fer­ent from oth­er things you have read?
What does this remind you of in the real world?
Are the events in this sto­ry sim­i­lar to or dif­fer­ent from things that hap­pen in the real world?
These ques­tions can be used with any type of text, any age group, and at any stage of the read­ing expe­ri­ence. All young read­ers can ben­e­fit from them.
Find­ing mean­ing­ful con­nec­tions in non­fic­tion helps young read­ers bridge the gap between cur­rent knowl­edge and new mate­r­i­al. It allows read­ers to see them­selves in new roles, have a clear­er pic­ture of his­tor­i­cal events, become more active­ly involved in learn­ing sci­en­tif­ic the­o­ries, and more.
If we give young read­ers a pur­pose for their read­ing, they will be able to bet­ter com­pre­hend and make mean­ing of the ideas pre­sent­ed. But per­haps most impor­tant­ly, they'll enjoy read­ing more. And that's a tremen­dous out­come in and of itself — using per­son­al expe­ri­ence to make read­ing a pos­i­tive expe­ri­ence. Every­one wins!
Resources
Read­write­think: Mak­ing Con­nec­tions Strat­e­gy Guide
Fac­ing His­to­ry: Text-to-Text, Text-to-Self, Text-to-World Hand­out
Mak­ing Con­nec­tions: Text to Self, Text to Text, Text to World