It's mid-Jan­u­ary, I have this Non­fic­tionary dead­line, and all I can think about is Pres­i­dent Trump's lat­est vulgarity.
His recent word choice about cer­tain coun­tries jumped from my phone like an elec­tri­cal charge, lit­er­al­ly and phys­i­cal­ly jolt­ing me back­wards. For the rest of the day and beyond, my soul hurt and my spir­it sagged.
But it was just a word.
Let's be hon­est. I have a pret­ty good vocab­u­lary of inap­pro­pri­ate words and I'm not all that care­ful about using them in adult com­pa­ny. My moth­er was so fond of "damn" that I didn't know it was con­sid­ered a curse word until I got to school. (Some­how, I'm still sur­prised that it's verboten!)
I worked in sev­er­al news­rooms where blue lan­guage was just the way we described events and chat­ted with each oth­er. And my dog is def­i­nite­ly famil­iar with a few four-let­ter exclamations.
Oh please, they're just words.
Still, there's a line. Despite the col­or­ful ban­ter of the work­place, news­pa­pers have a clear stan­dard about what goes into print: Pro­fan­i­ty is allowed only spar­ing­ly, even today. If the offend­ing lan­guage is in a quote, per­haps you para­phrase it into some­thing more print­able or just work around it. Any excep­tions must be impor­tant and usu­al­ly require spe­cial per­mis­sion from the higher-ups.
In the old days, The Wall Street Jour­nal reg­u­lar­ly used what was called a Bar­ney dash, after the paper's arrow-straight keep­er of stan­dards, Bar­ney Calame. That was a first let­ter, fol­lowed by a long dash. It still reserves the Bar­ney dash for espe­cial­ly egre­gious words.
No s — , you knew what it was. But you didn't have to actu­al­ly ingest it along with your Wheaties.
If the pres­i­dent of the Unit­ed States said some­thing coarse, or the VP let some­thing obscene slip out on a hot micro­phone, well, that was a dif­fer­ent sit­u­a­tion. Then, the words might actu­al­ly appear in all their ugliness.
You've got to have some standards.
As a writer of non­fic­tion for young peo­ple, I've run into these kinds of lan­guage issues more than I expect­ed. After all, real peo­ple do use real words. And some­times they have real impact on a subject.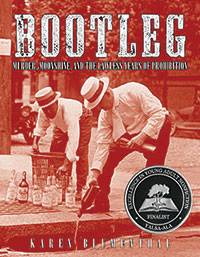 "Hell," for instance, was a big con­cept dur­ing the debate over liquor before, dur­ing, and after Pro­hi­bi­tion. It was impos­si­ble to ignore it in my book Boot­leg: Mur­der, Moon­shine, and the Law­less Years of Pro­hi­bi­tion, though some peo­ple think that word doesn't belong in a children's book. (Appar­ent­ly, the Bible is exempt.)
One review­er called me out for using "damned" in a quo­ta­tion in Mr. Sam, my biog­ra­phy of Sam Wal­ton, and then ques­tioned the appro­pri­ate­ness of the book because of that sin­gle word. (Thanks, Mom!)
Steve Jobs, how­ev­er, posed the biggest chal­lenge. As a col­or­ful entre­pre­neur, he had quite the wide-rang­ing adult vocab­u­lary. Wal­ter Isaacson's long biog­ra­phy for grown-ups is pep­pered with four-let­ter salti­ness. But writ­ing for young adults required a choice.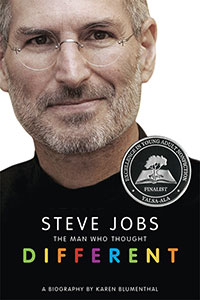 It wasn't too dif­fi­cult to decide what to do in Steve Jobs: The Man Who Thought Dif­fer­ent. I real­ize that teens (and younger kids) know those words and that they use them, too. But I'm in Texas, and I also know there are school libraries that will shy away from a book just because of a pro­fan­i­ty. If I wrote fic­tion, I might choose dif­fer­ent­ly, since avoid­ing those words might make a teen char­ac­ter less authen­tic. But as a teller of true sto­ries, I had access to plen­ty of words that effec­tive­ly made clear what Jobs want­ed to say when he was, for exam­ple, demol­ish­ing someone's hard work.
There was one quote, how­ev­er, where one of those das­tard­ly bombs explod­ed. Some com­menter some­where won­dered aloud why I didn't use the obvi­ous real word.
True sto­ry: the orig­i­nal source had used a long dash — and so did I.
Words mat­ter.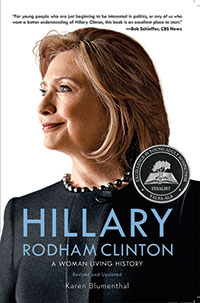 Hillary Rod­ham Clin­ton: A Woman Liv­ing His­to­ry intro­duced me to a new kind of lan­guage. There are cer­tain words I absolute­ly won't use in any con­text, pri­mar­i­ly those that I con­sid­er racist or hate­ful, includ­ing a cou­ple of espe­cial­ly crude ones aimed at women. A few peo­ple found it nec­es­sary to share those words in describ­ing how they felt about the pres­i­den­tial can­di­date I pro­filed. (Thanks, Twitter!)
In tap­ping on my social media, I had the same response I had to Pres­i­dent Trump's Jan­u­ary word choice, a brac­ing, slap-in-the-face reaction.
It was painful and upset­ting — and I think that's okay. We should nev­er lose the abil­i­ty to vis­cer­al­ly feel the impact of lan­guage, good or bad. We should nev­er grow so com­pla­cent that words don't move us. They should spark hor­ror, spur tears, con­vey out­rage, hurt, heal, or pro­pel us to be some­thing better.
Words are pow­er­ful. Choose carefully.