I admit it. I am a his­to­ry nerd.
Like all biog­ra­phers, I am fas­ci­nat­ed by the past. I love learn­ing about the world of long ago: what peo­ple wore, what they ate, the jobs they had, the wars they fought. And noth­ing thrills me more when I am research­ing than to dis­cov­er a first­hand account, a per­son­al writ­ing … a pri­ma­ry source.
How do first­hand accounts help biog­ra­phers? Here are some examples.
Biog­ra­phers put their read­ers "in the moment' when they use a subject's own words.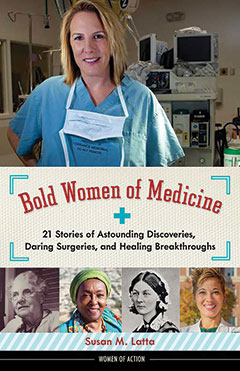 In her book, Bold Women of Med­i­cine, author Susan Lat­ta describes the filthy, rat infest­ed hos­pi­tal Flo­rence Nightin­gale encoun­tered when she treat­ed sol­diers dur­ing the Crimean War. Lat­ta details these des­per­ate con­di­tions for her read­ers, infus­ing her descrip­tion with Flo­rence Nightingale's own words from let­ters writ­ten at the time:
"We have not a basin nor a tow­el nor a bit of soap nor a broom — I have ordered 300 scrub­bing brush­es … one half of the Bar­rack is so sad­ly out of repair that it is impos­si­ble to use a drop of water on the stone floors, which are all laid upon rot­ten wood, and would give our men fever in no time … I am get­ting a screen now for the amputations … "
When Lat­ta includes this can­did account in her writ­ing, she makes read­ers sit up and take notice. There is no dis­put­ing how awful things were. Nightingale's own words make the con­di­tions real.
Biog­ra­phers use per­son­al writ­ings to get a glimpse into their subject's per­son­al­i­ty, which helps with the por­tray­al of the sub­ject.
In my book, Aim for the Skies, I tell the sto­ry of an air race between two women, Jer­rie Mock and Joan Mer­ri­am Smith, in the 1960's. Because the 1960's are fair­ly recent his­to­ry, I was able to find a great deal of infor­ma­tion about the race — from both pri­ma­ry and sec­ondary sources — when I con­duct­ed my research. But I want­ed more. I want­ed to know the pilots. What were they real­ly like? What made them tick?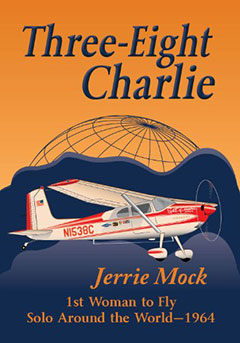 Jer­rie Mock's auto­bi­og­ra­phy, Three Eight Char­lie, gave me the insight I desired. It gave me a much need­ed glimpse into Jerrie's per­son­al­i­ty. News­pa­per accounts por­trayed Jer­rie as busi­ness-like and capa­ble, which she was, but pas­sages from her auto­bi­og­ra­phy revealed more. Not sur­pris­ing­ly, Jer­rie had a keen com­pet­i­tive nature:
"I had just kept qui­et about the burned-out motor, so that no one would try to stop me. And since I couldn't main­tain radio con­tact all of the time, I was care­ful to stay clear of clouds, so I wouldn't run into anoth­er plane. I didn't know how far back Joan Smith might be, and I didn't intend to lose a race around the world because of a stu­pid burned out motor."
But she also was vul­ner­a­ble and sec­ond guessed her­self at times:
"I didn't like to admit it, but I was ner­vous. There must have been an over­cast, because I couldn't see any stars. There was no moon either. The soft red glow from the instru­ment lights was a soli­tary pool of light in the black night. Out­side, Charlie's three nav­i­ga­tion lights and bright, flash­ing-red bea­con would be burn­ing in the emp­ty sky. But they weren't where I could see them. I felt ter­ri­bly alone … I said a prayer. Lots of prayers."
As I researched, I dis­cov­ered arti­cles authored by Joan Mer­ri­am Smith, too. In those writ­ings, Joan pro­vid­ed her own — some­times very dif­fer­ent — account of the race. Talk about inter­est­ing! It was appar­ent from all these per­son­al writ­ings that Jer­rie and Joan were two smart, feisty women.
Biog­ra­phers use per­son­al writ­ings to reveal the fla­vor of the times.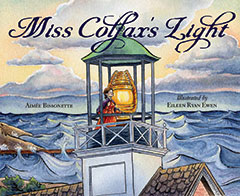 As a biog­ra­ph­er, get­ting a sense of the era and my subject's place in it may be my favorite thing about per­son­al accounts. That cer­tain­ly was the case with Har­ri­et Col­fax, the light­house keep­er I wrote about in Miss Colfax's Light.
As part of her light­house keep­ing duties, Har­ri­et Col­fax had to keep a dai­ly log. Harriet's log entries were a trea­sure trove of infor­ma­tion about her life, her work, and the dan­gers of Great Lakes ship­ping in the late 1800's. They were full of Harriet's mus­ings — and occa­sion­al com­plaints. I read through decades of Harriet's log entries, ulti­mate­ly com­ing to the con­clu­sion that the refrain I used in the book of "I can do this," was some­thing Har­ri­et def­i­nite­ly would have repeat­ed over and over.
In addi­tion to pro­vid­ing great facts, though, Harriet's log entries show­cased the lan­guage of the day: tra­di­tion­al words and phras­es, and an over­all for­mal­i­ty. A num­ber of log entries are includ­ed in the book so young read­ers can get a sense of how dif­fer­ent­ly peo­ple spoke in the late 1800's.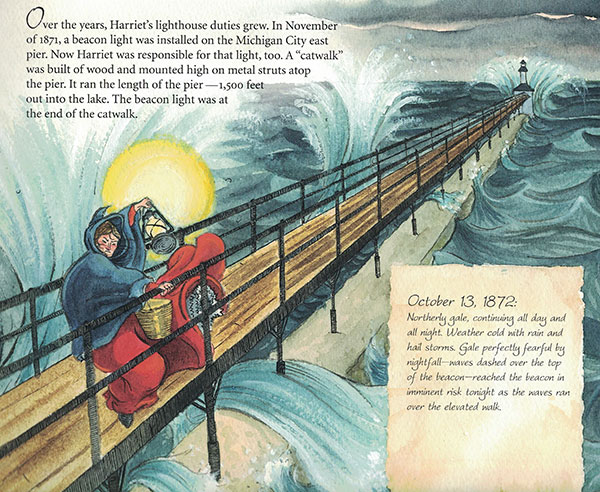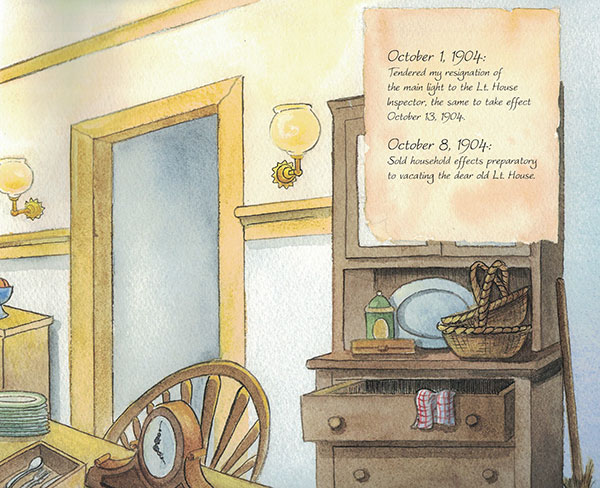 Per­son­al accounts allow biog­ra­phers to add rich­ness and authen­tic­i­ty to their work. They pro­vide a true sense of a subject's view of the world. They pro­vide his­tor­i­cal facts and con­text. All of which makes the biographer's job easier.
And, let's face it, per­son­al accounts are just plain fun to read.
They are a lit­tle gift to the his­to­ry nerd in all of us.
Tips for Students
How can stu­dents learn to mine the rich ter­ri­to­ry of a first­hand account (and expe­ri­ence the thrill biog­ra­phers get when they are lucky enough to dis­cov­er such a source)? Here are some ques­tions stu­dents and teach­ers can ask that will help them glean more than just the facts:
What was the writer's pur­pose for writ­ing this per­son­al account? Does this pur­pose make you think the writ­ing is more or less truthful?
What his­tor­i­cal facts does the writer include in the per­son­al account? How is the writer's world dif­fer­ent from today? How is it the same?
What do the lan­guage, gram­mar, and word usage in the per­son­al account tell us about the writer? Was the writer poor, rich, well-educated?
If the writer is describ­ing an event from his­to­ry, why is the writer's point of view important?
What else can you tell about the writer from this per­son­al account?