My book Pinoc­chio Rex and Oth­er Tyran­nosaurs, is chock­ful of text fea­tures, includ­ing this fun infographic:
The process of design­ing it began with a VERY rough sketch by me.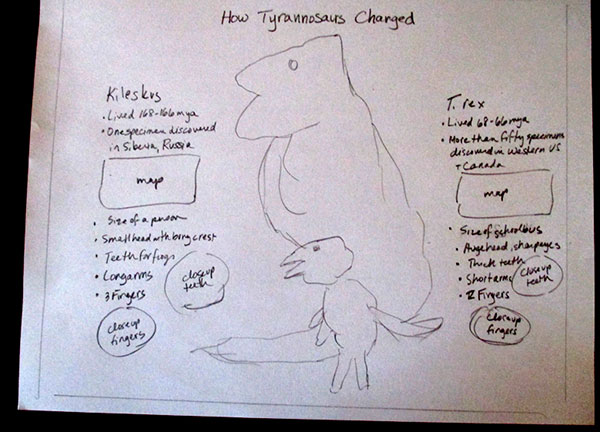 Let's face the facts. My draw­ing skills leave a lot of be desired, but this sketch was enough to give the tal­ent­ed folks in the Harper­Collins art depart­ment an idea of what I had in mind — a group­ing of visu­al ele­ments that work togeth­er to show that the tyran­nosaur fam­i­ly lived on Earth for 100 mil­lion years, and while it's final mem­bers were gigan­tic, fear­some preda­tors, they're ear­li­est ances­tors were about the same size as us.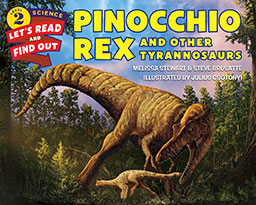 Basi­cal­ly, the info­graph­ic sum­ma­rizes one of the book's cen­tral tenets by draw­ing on infor­ma­tion pre­sent­ed on many dif­fer­ent pages. The process of con­cep­tu­al­iz­ing it was very sim­i­lar to the process stu­dents engage in as they ana­lyze and syn­the­size research notes while prepar­ing to write a report.
In this arti­cle, I dis­cuss the rea­sons stu­dents pla­gia­rize instead of express­ing ideas and infor­ma­tion in their own words and offer some solu­tions. By third grade, chil­dren know that they shouldn't copy their sources, but they strug­gle to eval­u­ate the infor­ma­tion they've col­lect­ed and make it their own. We need to offer stu­dents a vari­ety of ways to think care­ful­ly and crit­i­cal­ly about their research notes, and info­graph­ics is one tool we can offer them.
Here's a ter­rif­ic info­graph­ic that sum­ma­rizes the infor­ma­tion in my book No Mon­keys, No Choco­late.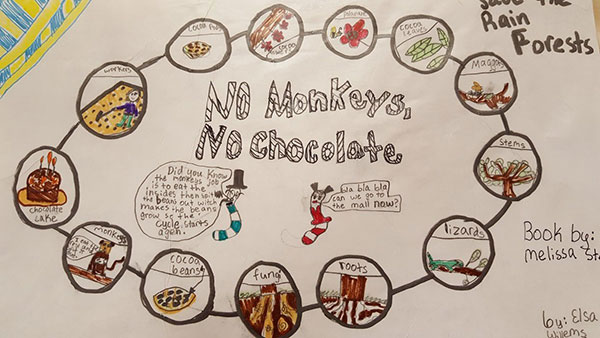 This was­n't a school assign­ment. The stu­dent did it in her own in her free time because she real­ly want­ed to under­stand the process described in the book. I espe­cial­ly love the book­worm dia­logue she wrote. It per­fect­ly cap­tures the voice I used in the book. It also shows that she under­stands the func­tion of these char­ac­ters — to add humor and rein­force the ideas in the main text. In Com­mon Core lin­go, she under­stands my author intent. See how pow­er­ful info­graph­ics can be?
When stu­dents take the time to rep­re­sent their notes visu­al­ly as info­graph­ics (or oth­er com­bi­na­tions of words and pic­tures) dur­ing their pre-writ­ing process, they will find their own spe­cial way of con­vey­ing the infor­ma­tion. Instead of being tempt­ed to pla­gia­rize, they'll write a report that's 100 per­cent their own.