The heavy hush inside my hometown's pub­lic library in Supe­ri­or, Wis­con­sin, felt lush­ly laden with the promise of knowl­edge and sto­ries, all orga­nized in tidy card cat­a­logs and shelved row by row with­in the Carnegie brown­stone. I breathed its vel­vety silence, its rev­er­ence inter­rupt­ed only by muf­fled coughs and mur­mured polite­ness. I loved it from the first moment my moth­er brought me along as a preschool­er while she browsed for books.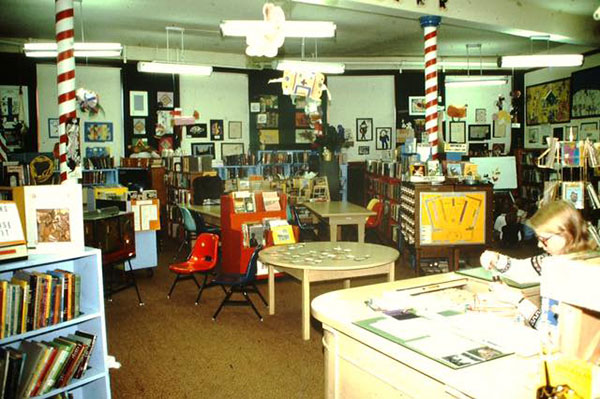 Then one day in 1970, Mom walked me down a long stair­case to the library's base­ment for a sur­prise: the children's sec­tion! When the library was built in 1902, the sec­tion was upstairs, although a ded­i­cat­ed children's librar­i­an wasn't hired until 1909. This was for­ward think­ing for the times. Spaces for young read­ers were rare in America's small towns until well into the 1900s. Our children's library moved down to the base­ment in 1932 due to the grow­ing adult sec­tion. By the time of my first vis­it, it smelled musty and looked shoe-horned into the space. I didn't care. Shelves at my height held more books than I could count — all for young read­ers like me!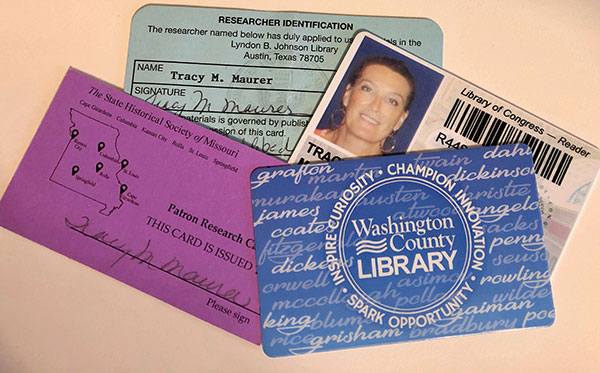 My heart leapt when I learned that I was old enough for my first library card — the key to that vast king­dom of words. I've trea­sured each library card since then. I stud­ied jour­nal­ism at the Uni­ver­si­ty of Min­neso­ta in Min­neapo­lis and spent count­less hours in the libraries there. Earn­ing my master's degree in writ­ing for chil­dren and young adults from Ham­line Uni­ver­si­ty in St. Paul intro­duced to me to spe­cial­ty col­lec­tions, par­tic­u­lar­ly the Ker­lan Col­lec­tion with­in the Children's Lit­er­a­ture Research Col­lec­tions at the Uni­ver­si­ty of Min­neso­ta. Orig­i­nal man­u­scripts and art­work there reveal fas­ci­nat­ing path­ways to pub­li­ca­tion, includ­ing those of inter­na­tion­al­ly famous Min­neso­ta authors like Kate DiCamil­lo and Wan­da Gág.
Writ­ing more than 100 non­fic­tion books for chil­dren over the years has giv­en me won­der­ful oppor­tu­ni­ties to explore rare book and spe­cial­ty col­lec­tions across the Unit­ed States for research.
I reviewed his­toric diaries and per­son­al notes at the Bei­necke Rare Book & Man­u­script Library at Yale Uni­ver­si­ty for my book, Noah Webster's Fight­ing Words.
I vis­it­ed the New York Pub­lic Library Spe­cial Col­lec­tions twice for more book research. The sec­ond time, the librar­i­an greet­ed me as if we were old friends — of course, she had access to all of my appli­ca­tion and iden­ti­fi­ca­tion mate­ri­als required before each vis­it, but I appre­ci­at­ed the gesture.
I saw (and touched!) pages from John J. Audubon's mas­sive folio of Quadrupeds of North Amer­i­ca at the Amherst Col­lege Rare Book Hold­ings in Massachusetts.
At the State His­tor­i­cal Soci­ety of Mis­souri Research Cen­ter at Spring­field, I held cartes de vis­ite, call­ing-card sized pho­tographs pop­u­lar­ly col­lect­ed in the mid 1800s. One card was signed by Pres­i­dent Grant and anoth­er by Pres­i­dent Lincoln.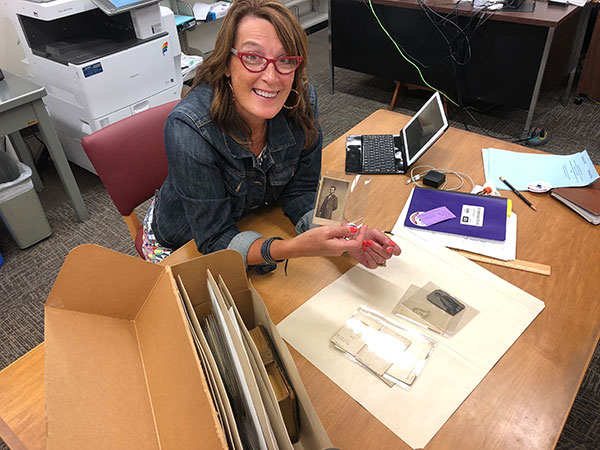 As a side-trip dur­ing a 2019 con­fer­ence in Wash­ing­ton, D.C., my col­leagues and I received the most amaz­ing per­son­al tour by Sybille Jagusch, Chief Librar­i­an of the Children's Lit­er­a­ture Cen­ter of the Rare Book and Spe­cial Col­lec­tions Divi­sion of the Library of Con­gress (THE Library of Congress!).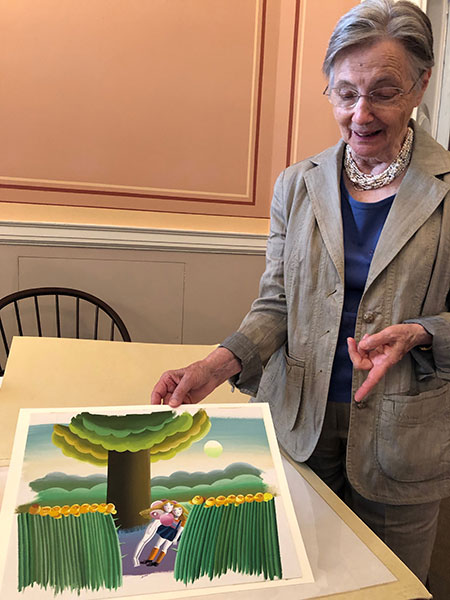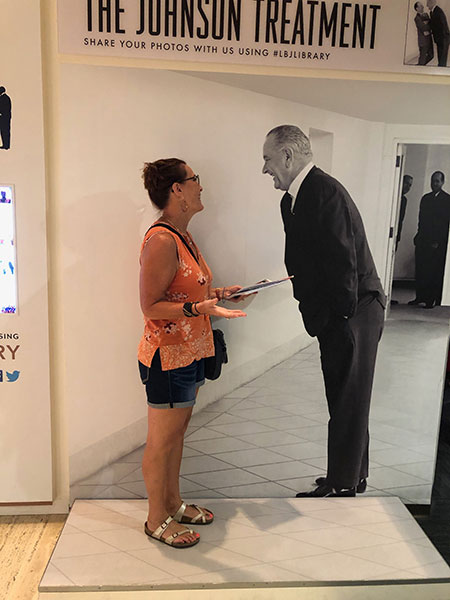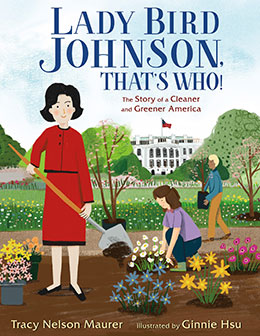 Most recent­ly, I spent a lot of time at the Lyn­don B. John­son Pres­i­den­tial Library in Austin, Texas, to com­plete some research for my newest book, Lady Bird John­son, That's Who! (illus­trat­ed by Gin­ny Hsu, pub­lished Feb. 23, 2021). I read Lady Bird's let­ters and speech­es, stud­ied hun­dreds of pho­tographs, and asked the archivist a bar­rage of ques­tions — even after I was home. For exam­ple, when my edi­tor ques­tioned the illustrator's depic­tion of the John­son wed­ding, I sent the archivist the inquiry. What did Lady Bird real­ly wear? The archivist prompt­ly emailed back with a pho­to­copy of a let­ter (a pri­ma­ry source — the holy grail of research), in which Lady Bird wrote, "My dress was a deep laven­der silk with vio­lets at the shoul­der (not real ones). It was street length, after­noon style." Bingo!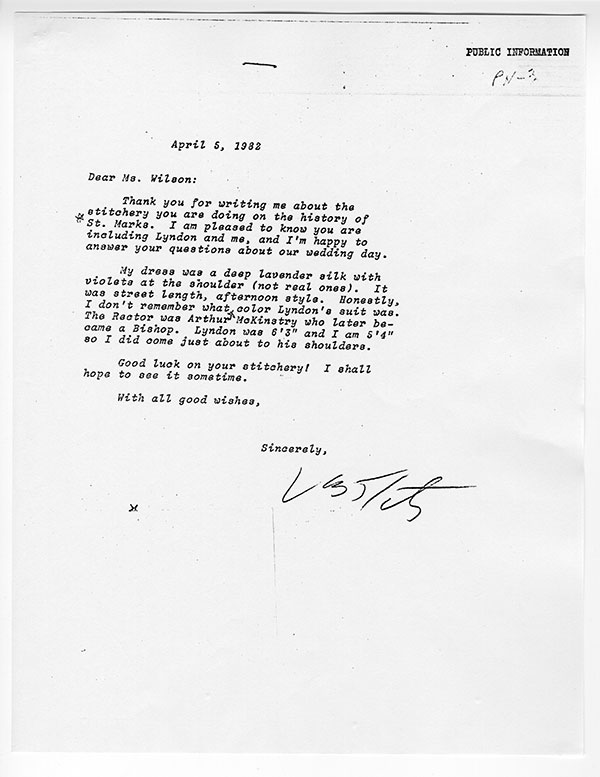 The beau­ty of all these incred­i­ble expe­ri­ences? They hap­pened at libraries, open to any­one with a research ques­tion, at no charge. Trea­sure your local pub­lic library. Sup­port it how­ev­er you can — dona­tions, check-outs, par­tic­i­pa­tion in pro­grams. These hard-work­ing insti­tu­tions and their librar­i­ans wel­come every­one, rarely with the hush-hush I recall from my youth. Whether in-per­son or online in these COVID times, your library reveals infor­ma­tion, opens minds and, some­times, touch­es your heart.