Why write non­fic­tion in verse? If you do, is it still non­fic­tion? Good ques­tions in a time when gen­res are expanding.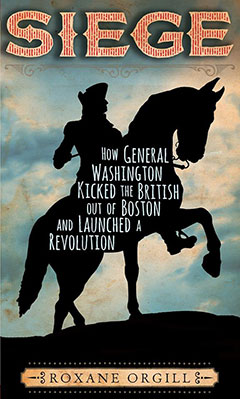 I've used verse in two non­fic­tion sto­ries: a pic­ture book, Jazz Day: The Mak­ing of a Famous Pho­to­graph, and a book for ages ten and up, Siege: How Wash­ing­ton Kicked the British out of Boston and Launched a Rev­o­lu­tion (Can­dlewick Press). As to why I chose poet­ry over prose, read on. And yes, to me, the sto­ry of the Siege of Boston in one hun­dred poems is non­fic­tion (although my pub­lish­er dis­agrees; more on that later.)
First, a word on my tastes as a read­er, and there­fore, writer. I like con­cise writ­ing. I pre­fer acces­si­ble over aca­d­e­m­ic and would rather read a book of man­age­able length than a heavy tome.
It was 1776, by David McCul­lough, that start­ed me on the Rev­o­lu­tion thing. Four hun­dred pages, and it reads like a sto­ry. I'd nev­er heard of the ten-month stand­off between George Washington's mili­tia-turned-army in Cam­bridge and the British in Boston. It seemed to me that the rev­o­lu­tion start­ed there, rather than with the bat­tles in Lex­ing­ton and Concord.
Curi­ous, I dove into Washington's Papers, which, dur­ing the years I spent research­ing Siege, became increas­ing­ly avail­able online, and are now, thanks to an agree­ment between the Nation­al Archives and the Uni­ver­si­ty of Vir­ginia Press, ful­ly acces­si­ble at founders.archives.gov. What a trove! I got into the Gen­er­al Orders, issued as Wash­ing­ton was putting togeth­er the first Amer­i­can army, and I couldn't pull myself out. The Orders are sur­pris­ing­ly read­able, loaded with detail and even, if you read close­ly, feel­ing, includ­ing the Commander's despair over the unruli­ness of his fledg­ling out­fit. "Fill up old nec­es­saries" (out­door toi­lets)… exe­cute prop­er­ly the reveille upon the drum… no fir­ing of guns to start a fire for cooking…."
Won­der­ful, pre­cise, con­cise lan­guage. Washington's words prompt­ed me to con­sid­er how I might take a dif­fer­ent tack. I have long been attract­ed to alter­na­tive meth­ods of telling a true sto­ry: graph­ic nov­els like Perse­po­lis, verse nov­els like Allan Wolf's The Watch that Ends the Night, about the Titan­ic, and the musi­cal Hamil­ton. Impressed as I am by Wolf (the ice­berg is a char­ac­ter! Bril­liant!), I want­ed to stay clos­er to the truth.
Then I hap­pened upon a review of a rev­o­lu­tion­ary-war book for adults which used the phrase "cacoph­o­ny of voic­es." An "ah-ha" moment. I would give an account of the siege from many points of view: major fig­ures such as Wash­ing­ton, his wife, Martha, and the book­seller-turned-artillery­man Hen­ry Knox, but also less­er knowns: The Commander's favorite aide-de-camp Joseph Reed, his ser­vant-slave, William, a pri­vate; a lieu­tenant… while draw­ing on as many pri­ma­ry sources as I could. Rich mate­r­i­al, irre­sistible. Con­sid­er Reed's plain­tive, telling com­ment in a let­ter to his wife: "Events here are very uncer­tain; don't think of me too much or too little!"
Poet­ry brought imme­di­a­cy, and the inten­si­ty of wartime. Verse's loose­ness allowed me choic­es over char­ac­ters and events. I didn't have to find every pri­vate, just one who suit­ed my lit­er­ary pur­pose, like Samuel, whose diary told me of the mun­dan­i­ty of war as he penned, day after day, "noth­ing much hap­pened." I wouldn't need to cov­er every skir­mish, and there were a great many, just the whop­per on Ploughed Hill where they tried to stop a can­non­ball with their feet. I could do the unex­pect­ed, like use an alpha­bet poem to con­vey how much stuff the British Army left behind when it fled.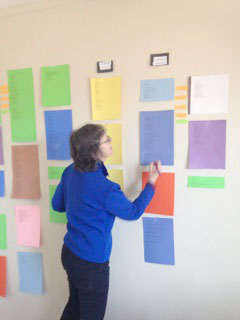 Verse freed me to write my story.
But I was not entire­ly free; I was restrict­ed by the rules of non­fic­tion. It's impor­tant for read­ers to know if a book is true, so I was care­ful to note the sources of every poem. I used quotes where pos­si­ble and where they didn't dis­rupt the poet­ry. Every event, set­ting, num­ber, and char­ac­ter in Siege is real — except one. In a book for chil­dren about adults, I want­ed to include a child. Although I locat­ed sev­er­al accounts of boys who served in the war, none of the them was active in this peri­od. I took a leap across the non­fic­tion divide and cre­at­ed a boy ser­vant who was a com­pos­ite of sev­er­al real boys.
Per­haps that's why my pub­lish­er chose to call the book a nov­el, I don't know. To me it's well-researched non­fic­tion in verse. For­tu­nate­ly for writ­ers and read­ers there is a place called children's books in which writ­ing and pub­lish­ing such a thing — by what­ev­er name — is possible.
[Orgill-Rox­ane-bio]