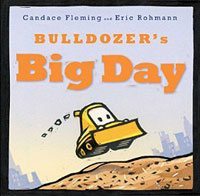 Bull­doz­er's Big Day
writ­ten by Can­dace Flem­ing
illus­trat­ed by Eric Rohmann
Atheneum, 2015
inter­view by Vic­ki Palmquist
What's the illustration tool you turn to more than any other?
Graphite pencil. Simple, efficient, erasable, feels good in the hand, makes a lovely line with infinite possibilities for line variation. Did I mention that it's erasable? Always forgiving!
What illustration technique haven't you tried that keeps calling out to you?
Relief printmaking. The technique gives you so much—the quality of the mark, the layering of color look different than anything I can make with any other technique.
What do you do when you've run out of inspiration? What gets you going again?
Making something. Looking at something others have made. It's a big world out there and there is plenty to see.
Who is your favorite illustrator who is no longer with us? And it could be more than one person.
William Stieg…and Helen Sewell, Wanda Gag, Maurice Sendak, Crockett Johnson, Robert McCloskey, Virginia Lee Burton, James Marshall…just to name a few.
Did winning the Caldecott (medal and honors) change how you think about your work?
Yes. It made me more attentive, more dedicated, more aware of my audience. It also took off the pressure of ever thinking about such things again!
How and where do you and Candy talk over a new project?
Everywhere and anywhere. Bulldozer's Big Day was begun on a car ride from Indianapolis to Chicago. Giant Squid at an ALA hotel room. Oh, No! in Borneo while walking in the jungle.
If you could sit down with four other book artists, living or dead, and have dinner and a conversation, who would they be?
This is not fair! Just four? Hmmm… William Stieg, Beatrix Potter, M.T. Anderson, Maurice Sendak.