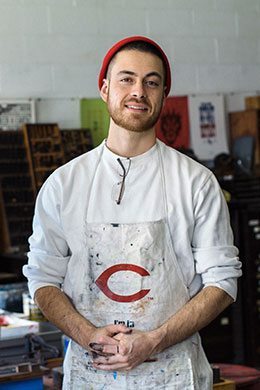 We are pleased to share with you our inter­view with Fran­cis Valle­jo, the illus­tra­tor of Jazz Day: the Mak­ing of a Famous Pho­to­graph, our Book­storm™ this month. This book is so rich with visu­al images that stir read­ers' imag­i­na­tions. You'll feel like you're stand­ing on the street with the oth­er onlook­ers!
The title page says that you used acrylics and pas­tels to cre­ate this art. Are those famil­iar media to you? Did you use any oth­er media or dig­i­tal manip­u­la­tion?
I devel­oped this tech­nique for Jazz Day. Before this book I had exten­sive­ly used acrylics, but had not used pas­tels very much. As I was work­ing on the ear­ly sketch­es and think­ing about how I would paint the final images, I dis­cov­ered the illus­trat­ed books of John Col­lier. He used acrylic and pas­tel (although some­times gouache instead of acrylic). Also, my friend and incred­i­ble artist Jane Rad­strom has been cre­at­ing beau­ti­ful pas­tel works for a while. Her work kept exper­i­men­ta­tion with pas­tel fresh in my mind. So com­bin­ing a wet medi­um (acrylic) and dry draw­ing medi­um (pas­tel) seemed like the best of both worlds. I could cre­ate large wash­es and make big deci­sions, and then detailed mark mak­ing using draw­ing.
I also gen­er­al­ly like to devel­op a new fin­ish­ing process for every project I work on, so the next book will assured­ly have a rad­i­cal­ly dif­fer­ent look. I think it keeps me fresh. Final­ly, yes, I used a lit­tle dig­i­tal manip­u­la­tion in post to add a few details I may have missed in the phys­i­cal stage.
Before you begin cre­at­ing art, do you make sketch­es? Do you keep those sketch­es to refer to through­out your illus­tra­tion process?
My process before cre­at­ing the final image is bor­der­line obses­sive — scratch that — it IS rad­i­cal­ly obses­sive! My process is based on that of Nor­man Rock­well. I spent 3 years work­ing on the art for this book. 2.5 was spent on the sketch­ing and research and stud­ies and pho­tog­ra­phy to pre­pare for the final paint­ing. My pub­lish­er filmed this video of me going over my process:
Grays and blacks are pre­dom­i­nant in this book. There are some allur­ing uses of bright col­or, such as the yel­low taxi, the gold cor­net, and the hot pink on the cov­er. Can you share with us some of the deci­sion-mak­ing you did while you thought through your illus­tra­tions? Or is try­ing a bit of this and a bit of that?
An impor­tant part of design­ing the pages was to look at them as a whole, in one big group, on one sheet (or screen). Since books are sequen­tial projects, the images have to work in sequence and not just by them­selves. The col­ors, val­ues, and mood, has to flow with the emo­tions of the sto­ry. I ref­er­enced col­or keys from movies, par­tic­u­lar­ly Pixar movies, in how I designed the over­all col­or keys for indi­vid­ual paint­ings, and made a strong effort to group togeth­er pic­tures that took place in front of town­homes and sep­a­rate­ly images of the musi­cians at their venues.
Your "per­spec­tive" changes through­out the book. You look at scenes from dif­fer­ent angles, some­times from above, some­times from street lev­el, some­times from far away, some­times close up. When do these per­spec­tives enter into your plan­ning process?
Right at the very begin­ning I knew that that idea was going to be chal­leng­ing. Most of the pic­tures were going to be set in front of the same set of stairs. I had to cre­ate 15 illus­tra­tions all set in the same place and not make it repet­i­tive! So using unique and var­ied per­spec­tives was one of my very first pri­or­i­ties. Believe me, I was very excit­ed when I was able to take a break from the street scene and move into the jazz clubs for a few pic­tures.
Do you choose the fonts that will be used in the book? Why did you choose a sans serif font?
I didn't choose the font out­right, but I was involved in the dis­cus­sion. We thought sans serif was appro­pri­ate­ly mod­ern and avant garde – just as jazz is.
Did you know from the begin­ning that there would be a fold-out of the orig­i­nal pho­to? Did you make the deci­sion to include the word "click" as a direc­tion to open the fold-out?
That was an edi­to­r­i­al deci­sion that was planned out before I was even involved with the project. It is everyone's favorite part and I do think it was a smart design and pac­ing deci­sion!
When you plan an illus­tra­tion, do you con­scious­ly leave room for the poem that will go with it?
Absolute­ly. The text is just anoth­er shape on the page, so it is inte­gral to plan for it from the very begin­ning. It is among my favorite things to do actu­al­ly. I am a nerd like that. I love the puz­zle of fig­ur­ing out how I can design a scene to organ­i­cal­ly allow text to fit so that it seems like the neg­a­tive shape the text is placed in is actu­al­ly a shape that fits into the pic­ture. Many of the most for­ward-think­ing illus­tra­tors from the 1960's would real­ly explore this idea (Al Park­er is king at this) and they were a big influ­ence.
Did you always know the order in which the poems would be includ­ed in the book? Did that change how you thought about these illus­tra­tions?
I did. The order was giv­en to me at the begin­ning and is incred­i­bly impor­tant to con­sid­er. As I men­tioned pri­or, the images have to work sequen­tial­ly. There were numer­ous indi­vid­ual images that I was very fond of that I had to scrap as they did not fit the over­all flow.
Was there an illus­tra­tion that chal­lenged you the most?
Yes! There is an image of a girl look­ing out of a win­dow (appro­pri­ate­ly titled "At the Win­dow") that took maybe 60 hours to sketch out then maybe 10 more to paint. In order to cap­ture the poem I had to cap­ture a pro­file shot of the girl from the side, as well as the top of the peo­ple's heads. To do this I had to use a fish­eye warped per­spec­tive. Fig­ur­ing that out involved a lot of head scratching…and eras­ing!
Which of the illus­tra­tions in the book gives you the most plea­sure when you look at it now?
The one I just men­tioned. I bat­tled that pic­ture to get it right. I don't always win those fights, but this one turned out well and the paint­ing of the girl might be one of my very best!