Per­fect Pairs: Using Fic­tion and Non­fic­tion Books to Teach Life Sci­ence, K‑2
Melis­sa Stew­art and Nan­cy Ches­ley
Sten­house Books, 2014
Authen­tic sci­ence always begins with a ques­tion, with a fleet­ing thought, with a curi­ous per­son. That curi­ous per­son has an idea, won­ders if it is valid, and then tries to find out. Because won­der­ing is at the heart of dis­cov­ery, each Per­fect Pairs les­son starts with a Won­der State­ment that we've care­ful­ly craft­ed to address one Next Gen­er­a­tion Sci­ence Stan­dards Per­for­mance Expec­ta­tion. It is fol­lowed by a Learn­ing Goal, which clear­ly spec­i­fies the new knowl­edge and essen­tial under­stand­ing stu­dents will gain from the les­son. Togeth­er, the Won­der State­ment, Learn­ing Goal, and fic­tion-non­fic­tion book pair launch stu­dents into a fun and mean­ing­ful inves­tiga­tive process. (Per­fect Pairs, pg. 8)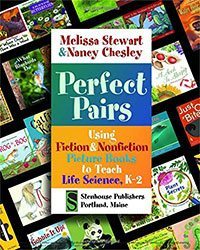 Melis­sa Stew­art, you and edu­ca­tor Nan­cy Ches­ley cre­at­ed Per­fect Pairs for teach­ers because you felt that children's lit­er­a­ture could be a fun and effec­tive start­ing point for teach­ing life sci­ence to stu­dents in grades K‑2.
In your intro­duc­tion, you state that "many ele­men­tary teach­ers do not have a strong sci­ence back­ground. Some even report being intim­i­dat­ed by their school's sci­ence cur­ricu­lum and feel ill-equipped to teach basic sci­ence con­cepts. Build­ing sci­ence lessons around children's books enables many ele­men­tary edu­ca­tors to approach sci­ence instruc­tion with greater confidence."
Why does this matter to you?
Because students can tell when their teachers are comfortable and confident, and when they're having fun. If a teacher has a positive attitude, his or her students are more likely to stay engaged and embrace the content.
So many adults are turned off by or even afraid of sci­ence. They say, "Oh, that's hard. That's not for me." But sci­ence is just the study of how our won­der­ful world works. It affects every­thing we do every day. I hope that Per­fect Pairs will help teach­ers and stu­dents to see that.
What type of science education did you receive that propels you to provide this aid to educators?
I do have a degree in biology, but my science education really began at home with my parents. My dad was an engineer and my mom worked in a medical laboratory. From a very young age, they helped me see that science is part of our lives every day.
As a children's book author, my goal is to share the beau­ty and won­der of the nat­ur­al world with young read­ers. Per­fect Pairs is an exten­sion of that mis­sion. Nan­cy and I have cre­at­ed a resource to help teach­ers bring that mes­sage to their students.
For each lesson, where did you start making your choices, with the topic, the fiction book, or the nonfiction book?
We began with the NGSS Performance Expectations, which outline the concepts and skills students are expected to master at each grade level. Each PE has three parts—a disciplinary core idea (the content), a practice (behaviors young scientists should engage in, such as asking questions, developing models, planning and carrying out investigations, constructing explanations, etc.), and a cross-cutting concept (pattern, cause and effect, structure and function, etc.) that bridges all areas of science and engineering. Here's a sample PE for kindergarten: "Use observations to describe [practice] patterns [crosscutting concept] of what plants and animals (including humans) need to survive. [DCI]"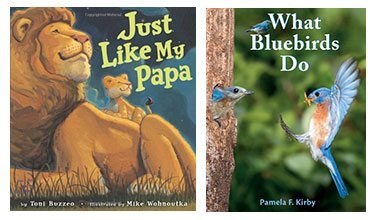 Next, we searched for fic­tion and non­fic­tion books that could be used to help stu­dents gain an under­stand­ing of the tar­get PE. The books became the heart of a care­ful­ly scaf­fold­ed les­son that ful­ly addressed the PE.
In Les­son 1.7, "How Young Ani­mals Are Like Their Par­ents," you paired Toni Buzzeo's fic­tion title Just Like My Papa with Pamela F. Kirby's non­fic­tion title, What Blue­birds Do. For this les­son, the Won­der State­ment is "I won­der how young ani­mals are like their par­ents." Your les­son focus­es on Inher­i­tance of Traits and Vari­a­tion of Traits, look­ing at sim­i­lar­i­ties and differences.
With each lesson, you provide tips for lesson preparation, engaging students, exploring with students, and encouraging students to draw conclusions. What process is this establishing for teachers?
We hope that our three-step investigative process (engaging students, exploring with students, and encouraging students to draw conclusions) is something that teachers will internalize and adopt as they develop more science lessons in the future. The first step focuses on whetting students' appetites with a fun activity or game. During the second step, teachers read the books aloud and work with students to extract and organize key content from the fiction and nonfiction texts. Then, during the final step, students synthesize the information from the books and do a fun minds-on activity that involves the NGSS practice associated with the PE. The practices are important because research shows that children learn better when they actually "do" science.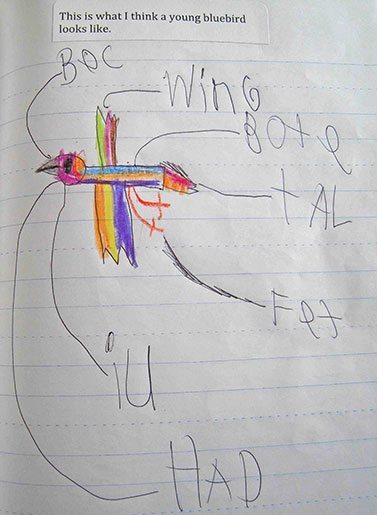 In many cases, you've not only provided questions that teachers can ask their students, but you've included the answers. Is this the only possible answer to the question?
In many cases, we've included answers to help the teacher learn the science before working with his or her class. Many elementary teachers have a limited science background and need the support we've provided.
Our answers may not be the only ones that stu­dents sug­gest, but they are the ones teach­ers should guide their class to con­sid­er because they devel­op stu­dent think­ing in the right direc­tion for the con­cepts we are tar­get­ing in that par­tic­u­lar lesson.
I appreciate the photos and examples and kids' drawings you've included throughout the book. How did you go about collecting these visuals?
Nancy tested all the lessons in the book at Pownal Elementary School in Maine. She took the photographs as she was working with the students, and the student work in the book was created by those children. I love the photos because you can tell that the children are really enjoying themselves.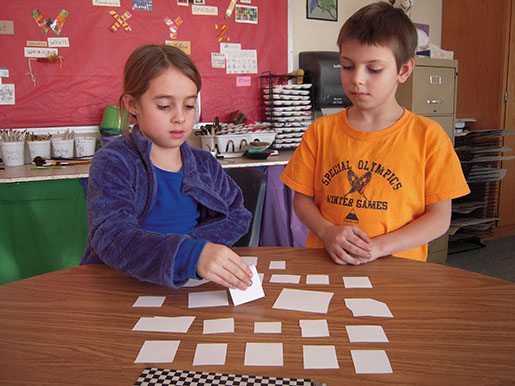 You provide more than 70 reproducibles to accompany the lessons in your book, from Wonder Journal Labels to Readers' Theater Script to sample Data Tables to drawing templates. How did you decide which items to provide to teachers using your book?
Writing can be a challenge for K-2 students. We created the Wonder Journal Labels to minimize the amount of writing the children would have to do. The goal of the other reproducibles was to help teachers as much as possible and reduce their prep time. It was important to us to create lessons that were easy and inexpensive to implement.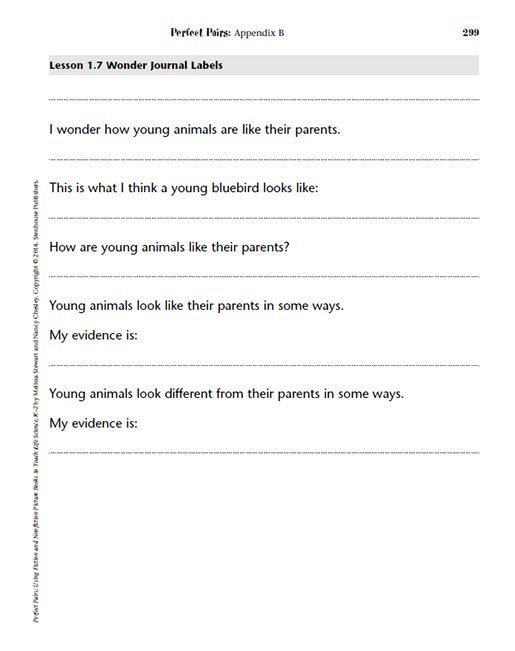 To Melis­sa and Nan­cy, I express my grat­i­tude for thought­ful­ly prepar­ing this guide, Per­fect Pairs, that will make sci­ence lessons an approach­able part of les­son plan­ning. Thank you!