Inter­view by Vic­ki Palmquist
Chas­ing Free­dom
writ­ten by Nik­ki Grimes
illus­trat­ed by Michelle Wood
Orchard Books, 2014
Did you know more about one of your two characters when you conceived of the book?
Yes. I knew a fair amount about Harriet Tubman. Hers was one of the few stories about African Americans brought out every year during what, in my youth, was called Negro History Month. I was far less familiar with the details of the life of Susan B. Anthony, though I certainly had a passing knowledge of her place in history.
How did you decide there was a story to be told about these two women? Together?
In 1988, I was asked to develop dramatic monologues on an assortment of historical figures for a stage production to be done in China later that year. I chose Harriet Tubman, Susan B. Anthony, and Frederick Douglass as my subjects. In the process of researching them individually, I learned that they were all contemporaries, and that their paths frequently crossed one another's. The fact that these historical powerhouses knew one another was exciting, and led me to believe that many new stories were possible, but especially between these two women.
You wrote Chasing Freedom in prose rather than verse, as a fictional story, rather than nonfiction. What led you in those directions for this narrative?
The idea for this book began with the quintessential literary question "What if?" In this case, the question was, "What if Harriet Tubman and Susan B. Anthony sat down together for a long conversation? What would that conversation be like?" The germ of the idea was based on something that, to my knowledge, never actually occurred, so while historical facts shape the bulk of the narrative, the fictional aspect of the conversation itself dictated that this story would be a work of historical fiction. As for the choice of prose, that was dictated by the overwhelming amount of historical material and detail I wished to include in the piece. Poetry would not have given me the room I needed, nor would it have allowed me to work in as many quotes from the subjects, themselves. As it is, the brevity of the picture book format, itself, required a constant paring down of the manuscript. Oh, the stories left untold for lack of space!
When you were collecting quotes from the two women, how did you record them? (e.g., on paper, in the computer, on note cards) What type of notation did you make? How did you organize the quotes so you could find them again?
I made the bulk of my notations on yellow lined pads, in spiral notebooks, and in assorted journals. For the record, I always write in longhand, whether the work is historically based or not. In any case, I did not keep quotations separate from other notes. When I was ready to move from research to writing, I read back through my notes, and marked quotations with colored post-it notes so that I could find them as I needed to.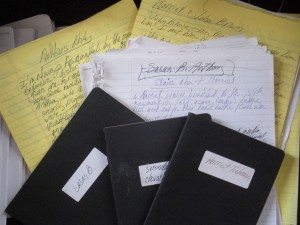 Did you include travel in your research? Which sites did you find most useful?
The story is set against the backdrop of the Underground Railroad, the Civil War, and the early suffrage movement. As such, I began research with a trip to Cincinnati, Ohio to explore the National Underground Railroad Freedom Center, there. I also spent time in Cincinnati's main library, which houses one of the best collections of literature related to the Underground Railroad, as well as substantial material by and about Susan B. Anthony. Afterwards, I visited Ripley, OH where several homes on the Underground Railroad have been preserved. The library in Ripley was a worthwhile stop, as well. I developed my list of reference materials as a result of visiting these sites, but more than that, they put me in the frame of mind to dig deeper into the life stories of these two women.
Are you able to soak up "the vibes" of a visited site in a way that informs your writing?
Always. In this case, the experiences with the greatest impact were two. First, stepping into the reconstructed slave pen, shackles in full view, at the National Underground Railroad Freedom Center. Second, a few days later, descending into a root cellar at The Rankin House, one of the stations of the Underground Railroad in Ripley, where runaway slaves were frequently hidden. Had I been alive in the 1800's, I could have been one of those slaves, the realization of which was enough to make me shudder in that moment, and even now. I drew on those visceral feelings as I wrote the stories of Harriet's harrowing journeys to and from the South to rescue slaves desperate for freedom. As an African American author, these stories are close to the bone.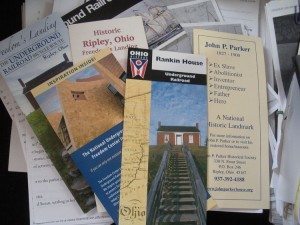 Did you have anything to say about the choice of illustrator?
Yes. I felt strongly that, as this was a book about women, written by a woman, a female artist should be tapped for the illustrations. Michele Wood was first on my list, specifically for her attention to historical detail. I conveyed my thoughts to my editor, who took them into account. Neither of us was disappointed with the final choice, or the stunning work that resulted.
What type of input did you have on the illustrations or the design of the book?
In this book, I had very little to do with either, although I occasionally commented on something in the sketches, which were sent to me early on.
Do you write the back matter or does the publisher have someone to do this?
I research and write all of my own back matter.
If you write the back matter, are you taking notes for this as you do your research or how do you prepare for this part of the book?
I planned to prepare substantial back matter for this book from the very beginning, though I did not assemble this information until the very end. As I went along, I made notations about historical figures or important historical events, or legislation that I might want to include in the back matter. Further research into those subjects came at the end of the project when I was ready to draft that section of the book.
Are there any questions I didn't ask that you wish I had asked you?
How long did it take me to create this book? The idea first came to me in 1988. I took my initial research trip in early 2008. Chasing Freedom was finally published in 2015. My point? It's important to remember that some books take time!