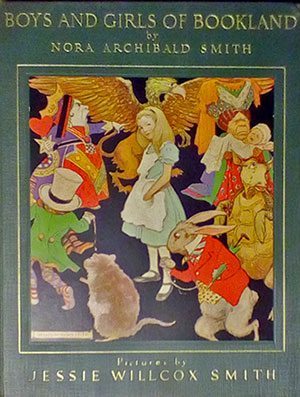 This is how book col­lect­ing goes. You see some­thing that piques your curios­i­ty. You won­der: "Why did this book get pub­lished?" "Who would have bought this book?" "On whose shelves did this book rest and why did they let it go?" "Was it a gift, nev­er opened, or was it cher­ished and read over and over again?"
Some­times you're curi­ous about the text or the illus­tra­tions or the bind­ing or the publisher.
When I first began col­lect­ing books, sat­is­fy­ing my curios­i­ty was hit or miss. I would go to the library and look up some of the things I won­dered about in the Reader's Guide to Peri­od­i­cal Lit­er­a­ture or in the card cat­a­logue (I know I'm dat­ing myself, but that's the point). Usu­al­ly, I had to keep wondering.
Book col­lect­ing today is entire­ly dif­fer­ent. Many of the anti­quar­i­an book­stores I fre­quent­ed are gone because it became too expen­sive to main­tain a phys­i­cal store. They sell on the inter­net where one entire­ly miss­es the smell and ran­dom­ness and hap­py acci­dents of book col­lect­ing. And yet I have access to used book­stores across the coun­try. One comes to appre­ci­ate the buy­ers in these stores, their par­tic­u­lar tastes.
A cou­ple of my favorites? Cat­ter­mole 20th Cen­tu­ry Children's Books in Ohio. The Her­mitage Book­shop in Den­ver. Old Children's Books in Ore­gon. Do you have a favorite? Please share in the comments.
Some­time last year, I pur­chased Boys and Girls of Book­land from Bob Topp at The Her­mitage Book­shop. I did this because it was illus­trat­ed by Jessie Wilcox Smith and I hadn't ever heard of the book. I admire Miss Smith's work a lot. And I admire the sto­ry of her life.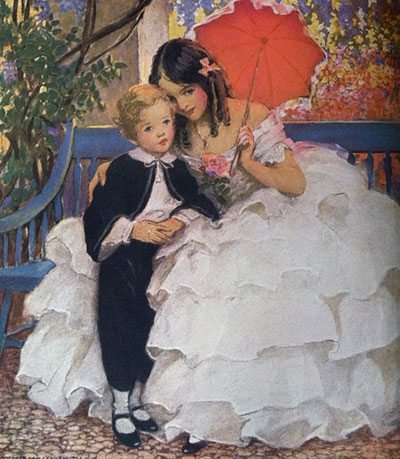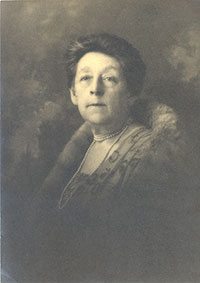 The book is writ­ten by Nora Archibald Smith. I'd nev­er heard of her before. Because of the inter­net, I quick­ly dis­cov­ered she was Kate Dou­glas Wiggin's sis­ter. You remem­ber Ms. Wig­gin: Rebec­ca of Sun­ny­brook Farm. I also learned that the two sis­ters were instru­men­tal in found­ing the Kinder­garten move­ment in San Fran­cis­co in 1873. They wrote 15 books togeth­er. I'll have to hunt for more about this author.
The book's copy­right is with the Cos­mopoli­tan Book Cor­po­ra­tion which, with a lit­tle dig­ging, I learned was owned by William Ran­dolph Hearst. Why would he pub­lish this book?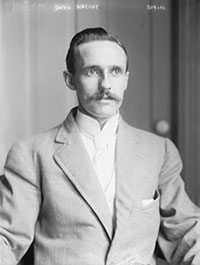 The pub­lish­er of this book is David MacK­ay. I learned that he was born in Scot­land in 1860. He immi­grat­ed to the USA in 1871, when he was 11. At age 13, he start­ed work­ing for J.B. Lip­pin­cott, learn­ing the book­selling trade. A rival pub­lish­er, Rees Welsh, offered him a job. Dur­ing his tenure, he pub­lished Walt Whitman's Leaves of Grass before he was 21, even though the attor­ney-gen­er­al of Mass­a­chu­setts did­n't want it pub­lished for its "alleged immoral­i­ty." At age 22, MacK­ay opened his own pub­lish­ing com­pa­ny, epony­mous­ly named. Will I be able to find out more about him?
You see, the author wrote rough­ly nine pages each about famous books such as Lit­tle Women, The Jun­gle Book, David Cop­per­field, Jack­anapes, and more. They're sum­maries of the sto­ries, hop­ing you will read the full book. I guess you could say they're lengthy book­talks in writ­ing. And Jessie Wilcox Smith did a paint­ing for each sto­ry in full col­or. What an inter­est­ing for­mat. Were oth­er books like this published?
I even searched online to find the name of the woman who was giv­en this book as a gift, Susan Class House, from Uncle Thad and Aun­tie "B" Lawrence. I would like to know more about their lives.
There are often objects inside a book. This one did not dis­ap­point. I found a plas­tic book­mark, a Yahtzee® score­card with a 1996 copy­right date, and a "Thank you!" card from Bob Topp.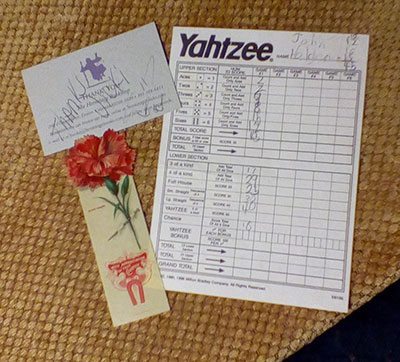 Book col­lect­ing isn't just buy­ing a book to read the sto­ry. It's about dis­cov­er­ing the sto­ries that swirl around the book.