Tending to Anxiety in Children
Ellie: When I was lit­tle, I saw some­one on tele­vi­sion sink­ing in sand and asked my mom what was hap­pen­ing. She explained quick­sand to me. My imag­i­na­tion took over, and I was over­come with fear. What a hor­ri­ble way to die, I thought. My inner peace was off kil­ter. Each night dur­ing bed­time prayers, I'd pray to not get stuck in quick­sand. My mom assured me there was no quick­sand in Min­neso­ta, but it took a while to be able to approach a sand­box with­out feel­ing my chest tightening.
I thought of my quick­sand phase the oth­er day when my four-year-old asked a series of ques­tions about rob­bers, thieves, and crooks dur­ing bed­time. A library book pre­sent­ed the idea of bur­glary to him, and he had seri­ous ques­tions about the safe­ty of our house and our fam­i­ly dur­ing the night. This same day he had pre­cious­ly remind­ed me of his age and lev­el of under­stand­ing when had asked me, "Mom­ma, is the future a dif­fer­ent world or a spice?"
I tried to val­i­date his fear of rob­bers with­out feed­ing it. I lis­tened care­ful­ly to what he was ask­ing and what was behind the ques­tions. We talked through the library book and point­ed out dif­fer­ences in our real­i­ty. I reas­sured him that he was safe, remind­ed him we were in the next room, and gave him extra snuggles.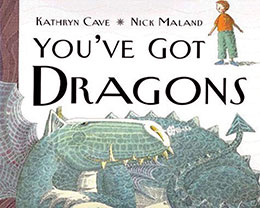 You've Got Drag­ons by Kathryn Cave and illus­trat­ed by Nick Maland is a sto­ry about a boy named Ben who wor­ries came in the form of drag­ons. The drag­ons show up when you least expect them, and they are scary. Drag­ons make your heart thud; your knees shake and your tum­my ache. You can pre­tend they are not there, or pre­tend they are some­thing else, which is exhaust­ing, but they are always there. Some adults don't under­stand, and oth­er adults want to talk about their drag­ons instead of lis­ten­ing. An expert on drag­ons, Ben reminds us to talk to some­one about our drag­ons, name them, laugh with them and get lots of hugs. In the end, we can learn from our drag­ons, trust­ing that they don't mean us harm. Ulti­mate­ly, the drag­ons are not as pow­er­ful as we are.
This book, if processed well with kids, can be an empow­er­ing relief for chil­dren who live with wor­ries. It is a tool to pro­mote inner peace. It names how things like trau­ma, inse­cu­ri­ty and anx­i­ety man­i­fest them­selves in our bod­ies and also offers effec­tive cop­ing strate­gies we can all learn. The illus­tra­tions are real­is­ti­cal­ly daunt­ing with­out being over­whelm­ing. And Ben assures us that drag­ons do not stay forever.
Digging Deeper: Dispelling Shame
It can be easy to dis­miss the wor­ries of a child, but to that child, they may feel con­sum­ing. When we do not name and talk about our anx­i­eties, or when we do share them and they are dis­count­ed, shame around them can grow. I remem­ber the first time I went to see the school coun­selor in high school, I was ashamed. I felt like my anx­i­eties were not big enough or real enough to be sit­ting in a counselor's office. He sat and lis­tened for a long time. The first thing he said was, "Wow. That must be real­ly hard." The shame lift­ed imme­di­ate­ly. I was able to admit that yes, what I was going through felt hard. Tend­ing to it and fos­ter­ing inner peace was worth my time.
Brené Brown, in her TED talk on lis­ten­ing to shame, says we have to talk about shame. Every­thing she learned about vul­ner­a­bil­i­ty, cre­ativ­i­ty, courage and inno­va­tion came from study­ing shame. Shame tells us that we are bad. That we are a mis­take. That we aren't good enough. That some­how we deserve the drag­ons and that they are nev­er going away. My friend's ther­a­pist had her name her shame grem­lin and draw it to exter­nal­ize it. Now when she is feel­ing shame about her wor­ries, she can point to her shame grem­lin and call it out, which reminds her she is more pow­er­ful, and it too will not stay forever.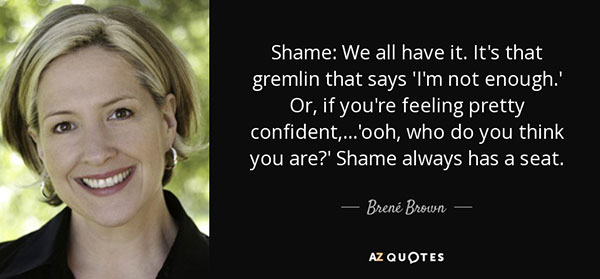 Res­maa Menakem, a trau­ma ther­a­pist, loose­ly explains trau­ma as some­thing that hap­pens to your body that feels like too much too fast too often until the sys­tem is over­whelmed and there is not enough room to process. In heal­ing, then, we cre­ate room for that body pro­cess­ing to hap­pen. Ani­mals will often shake when they get hurt, but humans tend to freeze and get more rigid.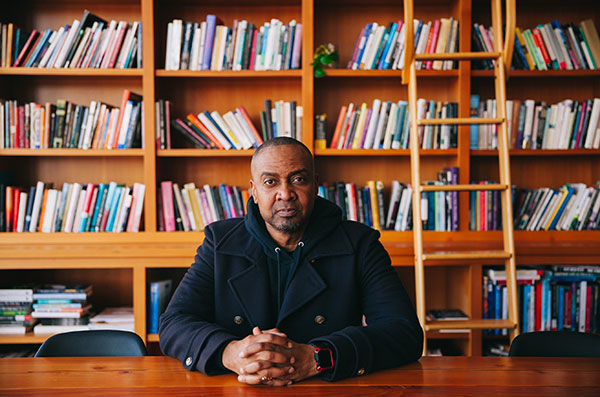 In his book, My Grandmother's Hands, Menakem rec­om­mends start­ing in a safe place alone, engag­ing in ancient sooth­ing activ­i­ties to set­tle our bod­ies when we notice a stress response that feels like fight, flight or freeze. These are things chil­dren often do nat­u­ral­ly, as do par­ents with babies:
Hum­ming
Bel­ly Breathing
Buzzing
Slow Rock­ing
Rub­bing Your Belly
Chant­i­ng
Singing
We can mod­el these self-sooth­ing activ­i­ties and help young peo­ple explore which feel intu­itive to them when the drag­ons show up.
Nam­ing emo­tions reduces anx­i­ety. It is so impor­tant to val­i­date the wor­ries of chil­dren with­out dis­miss­ing them or feed­ing them. By lis­ten­ing close­ly to chil­dren about their fears and anx­i­eties, and offer­ing them tools to soothe and cope, to live with the drag­ons until they go away. We can also remem­ber to be kind in ten­der to our­selves in our wor­ries. When we tame our drag­ons, we can grow inner peace for our­selves and extend peace to others.
_________________________
For each Peace-olo­gy post, Caren and Ellie part­ner to learn and explore the mean­ing of peace by talk­ing and lis­ten­ing with each oth­er. If you'd like to share your ideas about peace, books, and chil­dren, please share your com­ments here, or vis­it our websites.