You know the young read­ers, and striv­ing read­ers, who will love all three of these books. They're a col­lec­tion of biogra­phies, two of the books focused on women, and one of the books choos­ing among chil­dren across the cen­turies and around the world. Whether you're look­ing for your home book­shelves or your library's these three books are high­ly recommended.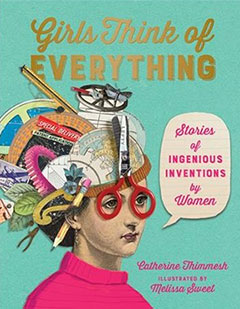 Girls Think of Everything:
Sto­ries of Inge­nious Inven­tions by Women
writ­ten by Cather­ine Thimmesh
illus­trat­ed by Melis­sa Sweet
Houghton Mif­flin Har­court, 2000 and 2018, 112 pages
One of my favorite books for young peo­ple, Girls Think of Every­thing: Sto­ries of Inge­nious Inven­tions by Women has just been reis­sued with many new pro­files of clever, ded­i­cat­ed women.
I had a book when I was young (and I don't remem­ber the title) that was filled with short biogra­phies of women who had made impor­tant con­tri­bu­tions. Their names are famil­iar to us now, Flo­rence Nightin­gale, Clara Bar­ton, Joan of Arc. I was inspired. I read that book over and over.
When Cather­ine Thimmesh and Melis­sa Sweet cre­at­ed the first Girls Think of Every­thing, those short biogra­phies res­onat­ed with me in the same way. These were women and girls that I (most­ly) did not know about and they were mak­ing impor­tant, life-sav­ing con­tri­bu­tions (I will defend my posi­tion that Toll House Cook­ies are life­sav­ing) against many odds. Here was proof that women could be smart and defy convention.
The new edi­tion retains most of the pri­or biogra­phies (good­bye Bette Nesmith Gra­ham, inven­tor of Liq­uid Paper) and adds sev­en awe-inspir­ing snap­shots of the women who cre­at­ed impor­tant prod­ucts like Dr. Patri­cia Bath's Laser­pha­co Probe, used for remov­ing cataracts, and Anna Stork and Andrea Sreshta's Lumi­nAID, a portable light that increas­es safe­ty. I can't help myself: I eager­ly turn the page to read about each new inventor.
I par­tic­u­lar­ly enjoy the dia­logue bub­bles filled with facts such as this one about Pat­sy O. Sher­man, "Nine years before her inven­tion of Scotch­gard, Pat­sy took a gen­er­al inter­est test in high school. In 1947, girls and boys took sep­a­rate tests. Despite the fact that she want­ed to be a sci­en­tist, her test indi­cat­ed that she was well suit­ed to be a house­wife. Unsat­is­fied, she demand­ed to take the boys' test. The results? A career in den­tistry or chemistry.
Melis­sa Sweet's art has been updat­ed as well. Even the art accom­pa­ny­ing retained biogra­phies has been made more vibrant. The water­col­or por­traits of each woman are worth study­ing. My favorite illus­tra­tion might be the leaves sur­round­ing a young woman's head for ReThink, an app invent­ed by Trisha Prab­hu. Or maybe it's the retained but mod­i­fied illus­tra­tion for Jeanne Lee Crews' Space Bumper. Each one adds dimen­sion to the book.
The addi­tion of a Table of Con­tents and more back mat­ter, includ­ing a glos­sary of unfa­mil­iar terms, and a six-page time­line (with select­ed items) of women's inven­tions from the time before 1800 up to today, make this the book to give to every child as a gift this year. It's sim­ply delight­ful. (And it goes with­out say­ing that class­room, school, and pub­lic libraries will want this book.)
________________________________________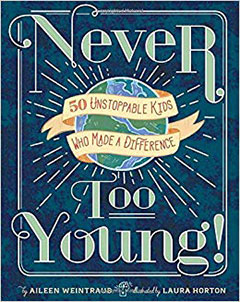 Nev­er Too Young!
50 Unstop­pable Kids Who Made a Difference
writ­ten by Aileen Weintraub
illus­trat­ed by Lau­ra Horton
Ster­ling Children's Books, 2018, 111 pages
Here's a trim vol­ume con­tain­ing 50 one-page biogra­phies of young peo­ple, a sur­vey of chil­dren that will lead most read­ers to do their own research to find out more about the kids who raise their curiosity.
These are all young peo­ple who are "famous musi­cians, writ­ers, sci­en­tists, ath­letes, and activists who accom­plished great things by the time they were eigh­teen." Rang­ing from Joan of Arc (born in 1412) to Mar­ley Diaz (born in 2005), these four or five para­graphs will engage avid and striv­ing read­ers alike.
You'll find Ryan Hrel­jac who, in first grade, had a pen­pal in Ugan­da. Ryan learned that water was hard to come by in his friend Jimmy's vil­lage, so Ryan set out to raise $2000 to dig Jimmy's vil­lage well. Even­tu­al­ly, Jim­my came to live with Ryan's fam­i­ly. How did that hap­pen? Ryan's Well Foun­da­tion con­tin­ue to raise mon­ey to pro­vide clean water to peo­ple around the world.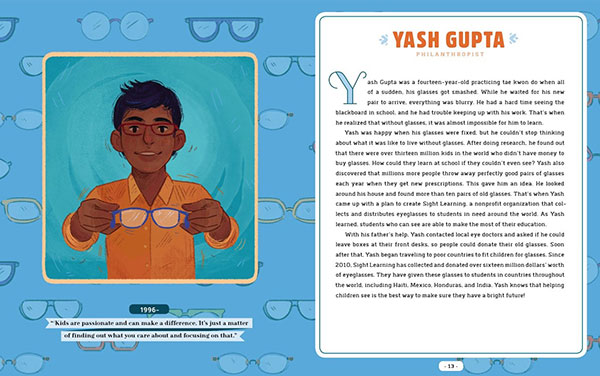 Elvis is here. So are Louis Arm­strong, Bob­by Fis­ch­er, Nadia Comaneci, S.E. Hin­ton, and Malala.
Read­ers will enjoy learn­ing about Nicholas Lowinger, who began a foun­da­tion at age twelve "called Got­ta Have Sole to pro­vide brand-new shoes for home­less children."
I was par­tic­u­lar­ly inspired by Muzoon Almelle­han, who is an activist for girls' rights and edu­ca­tion in Syr­ia, Jor­dan, and Eng­land. A quote from Muzoon, "I believe that the most pow­er­ful tool we have to over­come the inequal­i­ties and chal­lenges chil­dren and young peo­ple — espe­cial­ly for those affect­ed by con­flict — face today is knowl­edge and education."
The one-page por­traits for each young per­son are icon­ic, rep­re­sent­ing their lives in easy-to-under­stand illus­tra­tions. The col­or palette is warm and encour­ag­ing. Tavi Gevin­son, fash­ion icon, might be pinned to my wall.
________________________________________
Brazen: Rebel Ladies Who Rocked the World
writ­ten and illus­trat­ed by Péné­lope Bagieu
First Sec­ond, 2018, 300 pages
This book is a good choice for mature read­ers, to intro­duce them to awe­some, accom­plished, and weird women around the world. The biogra­phies are drawn in frames, com­ic-book style, with a great deal of sophis­ti­ca­tion and humor. There are sex­u­al sit­u­a­tions here which may be dif­fi­cult for younger read­ers to under­stand — you'll be the best judge of that. Read the book first — you'll enjoy the heck out of it.
It is a humor­ous book: the author's voice comes through strong­ly. Her per­spec­tive on these women's lives is com­pelling. At our children's lit­er­a­ture book club, we all agreed this is one of the best books of the year.
These are some of the sto­ries you'll find with­in these covers:
Agn­odice, born in fourth cen­tu­ry Athens, who secret­ly trains to become a gyne­col­o­gist when she real­izes too many women are dying in childbirth.
One of the weird­est sto­ries is about The Shag­gs, "rock stars," three sis­ters who had absolute­ly no tal­ent as musi­cians but who per­formed for years because their father had been told by a palm read­er that he would be a father to rock stars.
Nel­lie Bly, jour­nal­ist, may be famil­iar to you, but are you aware of the time she spent in men­tal asy­lums, dan­ger­ous­ly con­duct­ing investigations?
How about Katia and Mau­rice Kraft, vol­ca­nol­o­gists who spend their hon­ey­moon col­lect­ing sco­ria sam­ples? They live their lives on the edges of vol­ca­noes, gath­er­ing sci­en­tif­ic infor­ma­tion that has helped count­less people.
It's a ter­rif­ic book. It'll piqué your inter­est and that of the teens with whom you share it, gen­er­ate good dis­cus­sions. And, who knows, maybe it will inspire brazen behavior!