Nan­cy Pearl once trav­eled in the back­seat of our car to a con­fer­ence in the north­ern Wis­con­sin woods. Sev­er­al years lat­er, she intro­duced us to Karen Hen­ry Clark, who had just moved to Min­neso­ta. Nan­cy and Karen met work­ing in a book­store in Oklahoma.
I was eager­ly wait­ing for this book, Library Girl: How Nan­cy Pearl Became America's Most Cel­e­brat­ed Librar­i­an.
I wasn't pre­pared to fall in love with this book, which I most def­i­nite­ly have.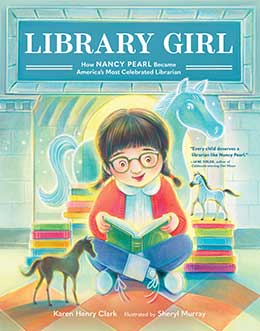 A bright palette lifts the reader's mood toward joy, con­trast­ing well with the white chalk out­lines that depict young Nancy's imag­i­na­tion. Illus­tra­tor Sheryl Mur­ray draws Nancy's expres­sive eyes in such an engag­ing way that we are root­ing for her. Peri­od details like sad­dle shoes, milk trucks, and Nancy's bike Charg­er set the time peri­od. The imag­i­nary Charg­er, Nancy's horse, makes me feel five years old again. I want a ride on that horse!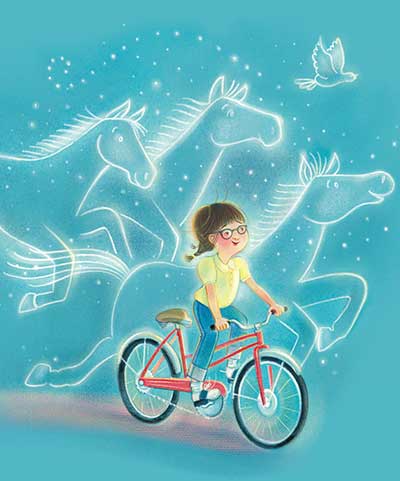 When books show young Nan­cy "I can be any­thing when I grow up," my heart melt­ed. Yes! This is what books do. They make every­thing seem possible.
Karen Hen­ry Clark's spare but descrip­tive text tells Nancy's sto­ry with con­vic­tion. As always with Ms. Clark, word choice is spot on.
The ten­sion in the book occurs when the two librar­i­ans at Fran­cis Park­man Branch Library in Detroit, Michi­gan, ask Nan­cy to give a book­talk to oth­er young readers.
"Brave was nev­er how she felt around oth­er kids." Have you or your young ones felt that way? I cer­tain­ly did.
This is a book for all of us: the library lovers, the horse lovers, the read­ers, the shy ones. Dream big.
High­ly recommended.
Library Girl: How Nan­cy Pearl Became America's Most Cel­e­brat­ed Librar­i­an
writ­ten by Karen Hen­ry Clark
illus­trat­ed by Sheryl Mur­ray
Lit­tle Big­foot / Sasquatch Books, 2023
ISBN 978−1−63217−318−8
sug­gest­ed for ages 4 and up