I don't know about you, but I've been wish­ing for an hon­est-to-good­ness super­hero to save the day.
If adults are feel­ing that way, kids, who pick up all of our emo­tions, are wish­ing for the same thing. Bat­man and Won­der Woman led the list of most pop­u­lar Hal­loween cos­tumes in 2016. The pro­lif­er­a­tion of super­hero movies is hard to ignore. But there are very few books about super­heroes that are appro­pri­ate for the 3 – 7 year age range.
With rhyming text and a car­toon illus­tra­tion style that has a sophis­ti­cat­ed palette and deli­cious details, Even Super­heroes Have Bad Days is a book every­one can use right NOW. For kids of that cer­tain age, Shelly Beck­er and Eda Kaban have teamed up to give us a row­dy, exu­ber­ant book filled with images of super­heroes in action.
We first learn what they could do when they're hav­ing a bad day: kick­ing, punch­ing, pound­ing, shriek­ing. They could be quite destruc­tive with their superpowers.
"But upset heroes have all sorts of choices …
Instead of destruc­tion and loud, livid voices
They burn angry steam off with speed-of-light hiking
Or super-Xtreme out­er space moun­tain biking. "
They clean up oth­er people's mess­es, they pro­tect peo­ple from harm.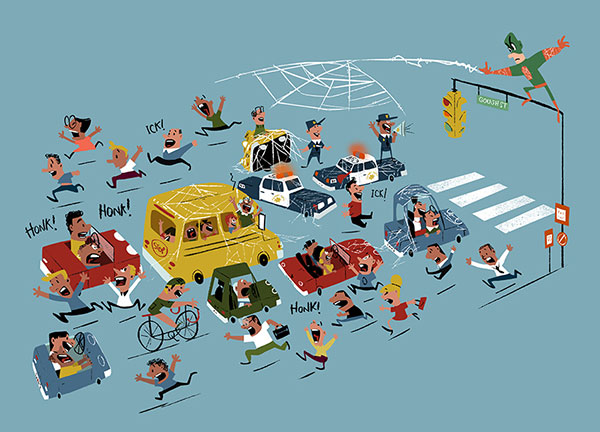 There's no deny­ing that super­heroes could use their pow­ers to wreak hav­oc, make may­hem, but:
"Instead they dig down to their super-best part,
The strong super-pow­ers con­tained in their heart!"
There are lots of images to look at while you read togeth­er, includ­ing eight super­heroes cre­at­ed just for this book. Beast­ie, Zing, Thrash, Laser­man Mag­nifique, Screech­er, Typhoon, and Icky are good writ­ing prompts, espe­cial­ly for dif­fi­cult days.
Every sin­gle one of us has those crab­by days, down days, exas­per­at­ed days. How are we sup­posed to act? We can look to these super­heroes for inspi­ra­tion to be our best selves.
Cap­tain Amer­i­ca and Avengers star Chris Evans chose to read this book on the CBee­bies 'Bed­time Sto­ry' on the BCC!
Fun and emo­tions and resilien­cy and good read­ing all in one pack­age! It's a mes­sage book but one that will res­onate with many kids. Rec­om­mend­ed for school libraries, pub­lic libraries, and exu­ber­ant book­shelves everywhere.
Even Super­heroes Have Bad Days
writ­ten by Shelly Becker
illus­trat­ed by Eda Kaban
Ster­ling Chil­dren's Books, 2016