Cel­e­brat­ing Nature's Nightlight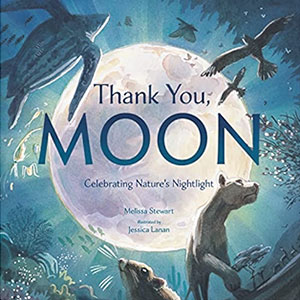 Night is my favorite time of day. Dusk is excit­ing, roman­tic, and sooth­ing. I remem­ber it as a sig­nal that it was prob­a­bly time to stop play­ing out­side and head indoors. When the last bit of day­light dis­ap­pears, every­thing looks dif­fer­ent. This book is about the many ways in which moon­light affects ani­mal behav­ior … includ­ing humans.
Our home, Earth, depends upon the Moon. The book opens,
"Thank you, Moon, for being Earth­'s con­stant com­pan­ion in space
and mak­ing life on our plan­et possible."
In short, eas­i­ly read­able, and fas­ci­nat­ing para­graphs on each spread we learn new infor­ma­tion about ani­mal behav­ior. Var­i­ous crea­tures, includ­ing tur­tles and bee­tles and birds, are active at night, depen­dent on the light of the moon.
We learn that the Moon's light pro­tects. The wan­ing moon trig­gers migra­tion. Coral spawn when the Moon is full to increase "the odds that plen­ty of coral lar­vae will form and grow into adults." I learned so much I did not know through­out this book.
Back mat­ter sets us straight on where the Moon's light comes from and depicts the phas­es of the moon.
In the book's final pages, each enti­ty men­tioned in the text is described with short, fac­tu­al sta­tis­tics and a close-up.
Melis­sa Stew­art's writ­ing is con­fi­dent, con­cise, and engag­ing. When writ­ing short para­graphs, word choice is essen­tial, and she writes with such beguil­ing descrip­tion that the read­er is drawn deeply into each illus­tra­tion, look­ing for con­fir­ma­tion and find­ing it.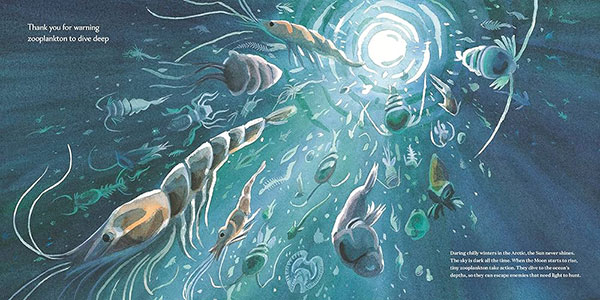 Jes­si­ca Lanan's illus­tra­tions are deep, stun­ning shades of blue with warm tones of pur­ple, orange, and green where the habi­tat is best con­veyed in those col­ors. Many of the crea­tures are por­trayed mid-action, giv­ing a vibran­cy to the text.
The text and illus­tra­tions invite mul­ti­ple read­ings to savor every­thing we learn about the many ways the Moon is an essen­tial part of life on Earth.