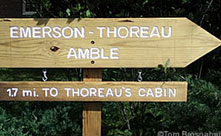 We have just returned from a trip to the Boston/Concord area and Maine. It was a bit of a lit­er­ary trip. Three days in Con­cord, Mass­a­chu­setts set the stage as we toured Louisa May Alcott's house and Ralph Wal­do Emerson's, too. We fol­lowed The Amble, which became more of A Ram­ble, between Emerson's home and Thoreau's cot­tage at Walden Pond. We vis­it­ed muse­ums and archives, book­shops and the library. It all made this Eng­lish major very hap­py — I've want­ed to vis­it Con­cord since my Walden obses­sion in high school.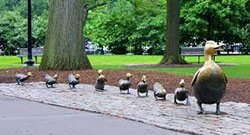 We made sure to see The Duck­lings in Boston Pub­lic Gar­den, of course. #1 Son had refused to pose with them, as oth­er small chil­dren do, when he was four. He loved Make Way for Duck­lings, how­ev­er, and insist­ed we buy it in Boston since "we only have the library book." So, of course, we did. (Side Note: If you don't know the sto­ry about Robert McCloskey's atten­tion to his art with regard to this book, check out Ani­ta Sil­vey's telling of it on Chil­dren's Book-A-Day Almanac.) Dar­ling Daugh­ter was game to pose with The Duck­lings on this trip, but she didn't want to get in the way of the lit­tle ones who climbed all over them, so we have no pic­tures of either child with this mon­u­ment. But the mere thought of those bronze ducks makes me smile.
What I didn't real­ize as we stood watch­ing the kids on the ducks, is that we were mere­ly start­ing our Robert McCloskey tour. Our next stop after Boston was Deer Isle, Maine, an island in Penob­scot Bay reached by a stun­ning sus­pen­sion bridge from the main­land. Deer Isle was home to Robert McCloskey, who moved to the idyl­lic island in search of peace after World War II. I had no idea, though I knew he was a Main­er, of course. (So many of my favorite writ­ers are.) Turns out, The McCloskeys raised a fam­i­ly on Deer Isle and we rec­og­nized the place from Blue­ber­ries for Sal, Time of Won­der, and One Morn­ing in Maine.
We had a love­ly stay and enjoyed perus­ing Maine authors in every library, book­store, antique store, and even one gas sta­tion. The McCloskey sec­tions were espe­cial­ly large. It was in an antique store in Ston­ing­ton that I had the delight­ful sur­prise of com­ing across the Hen­ry Reed books in the McCloskey sec­tion. I reached for Hen­ry Reed's Babysit­ting Ser­vice as if in a dream — it was like time slowed…the sounds around me became distorted…and the movie of my life rewound itself to Parson's Ele­men­tary school. There was the Hen­ry Reed sec­tion, right in the cor­ner where the shelves came togeth­er in our school's library….. Hen­ry Reed, Inc., Hen­ry Reed's Jour­ney, Hen­ry Reed's Babysit­ting Ser­vice, Hen­ry Reed's Big Show, Hen­ry Reed's Think Tank—we had them all! I read them all — many times!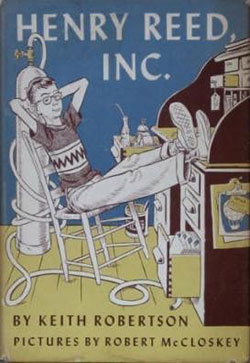 I'd wager I haven't thought about Hen­ry Reed in near­ly 40 years, how­ev­er. I know I didn't read these delight­ful books by Kei­th Robert­son with our kids—how could I not have read these with them?! Oh, how I loved Hen­ry and his friend Midge! I can't remem­ber much about the plots of the books — I paged through Hen­ry Reed's Babysit­ting Ser­vice stand­ing there in the store and remem­bered it vis­cer­al­ly but with almost no detail. Robert McCloskey illus­trat­ed them — and you can rec­og­nize his style imme­di­ate­ly. I have the Hen­ry Reed books all mixed in with the Ramona Quim­by books — same look and feel (dif­fer­ent illus­tra­tors, as well as authors) and sim­i­lar sto­ries about won­der­ful­ly ordi­nary kids. These books were my childhood.
Our kids are twen­ty and almost fif­teen now. I won­der if I could con­vince them the Hen­ry Reed series would make for great porch read­ing this sum­mer…? We used to drink lemon­ade and eat pop­corn while we read books on the porch in the hot after­noons of sum­mer wait­ing for Dad to come home from work. I miss this. Maybe they do, too? I feel like I've left a ter­ri­ble hole in their read­ing lives by inad­ver­tant­ly skip­ping Hen­ry Reed! I shall pro­cure the books and then sug­gest it. Maybe some­one will join me out on the swing…..
SaveSaveSaveSaveSaveSave
SaveSaveSaveSave
SaveSave