by Melanie Heuis­er Hill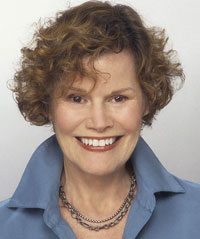 I had the extra­or­di­nary for­tune of see­ing Judy Blume a few weeks ago. I was going to say "see­ing Judy Blume in con­cert" — that's sort of what it felt like, actu­al­ly. She's a rock-star in my world. And she was inter­viewed by Nan­cy Pearl, no less, so the whole event felt like I'd won a prize and been dropped in A Dream Come True. Both were won­der­ful — pro­found, hon­est, fun­ny. It was such a treat.
Judy Blume played a large role in my childhood/adolescence. My fourth grade teacher read us Tales of a Fourth Grade Noth­ing, of course, and from there I went on to Freck­le Juice and Oth­er­wise Known As Sheila the Great. By fifth grade I was read­ing Star­ring Sal­ly J. Freed­man As Her­self and learn­ing about anti-semi­tism, which I knew noth­ing about; and racism, which was a dai­ly part of life where I was grow­ing up; and lice, the rea­son we spent hours with our whole class in the nurse's office being picked over. (If we'd spent as much time learn­ing as we did hav­ing our hair picked through, I prob­a­bly could've skipped a cou­ple of grades.)
I think it was prob­a­bly Sal­ly J. that got me active­ly look­ing for Judy Blume books. She's the first author I remem­ber search­ing for at the library cat­a­log. I read Are You There God, It's Me Mar­garet? many times in fifth grade. I was stunned to learn that a girl could wish for the changes brought on by puber­ty. Puber­ty hit me ear­ly, hard, and fast and I hat­ed the changes it brought. It was fas­ci­nat­ing to read about a girl who yearned for her peri­od, did exer­cis­es in hope of increas­ing her bust line ("We must! We must! We must increase our bust!"), and prayed to God to make her a woman.
My daughter's fifth grade Eng­lish teacher hand­ed her Margaret's sto­ry. Per­haps I gushed too much about how I loved it, because Dar­ling Daugh­ter cared for it not. Our Moth­er-Daugh­ter Book­club tried a cou­ple of times to sug­gest the book — we moth­ers who came of age in the sev­en­ties had fond mem­o­ries. But as it turned out, the moth­ers (re)read it, and the daugh­ters refused. Not inter­est­ed. Not even about the reli­gious stuff, which I was sur­prised to find was real­ly the main con­flict in the sto­ry! I'd for­got­ten all about it — it was all bras and "san­i­tary nap­kins" in my memory.
We moth­ers won­dered: was it because we were encour­ag­ing the girls to read Mar­garet that they didn't want to? Our own moth­ers were not so keen on the book — Judy Blume's books didn't have a great rep­u­ta­tion among moth­ers in the 1970s. Ms. Blume cov­ered all kinds of top­ics quite frankly and some of those top­ics our moth­ers either want­ed to cov­er them­selves, or leave as a "mys­tery." (Prob­a­bly most­ly the latter.)
But I read a lot of Judy Blume, not hav­ing a cen­sor­ing moth­er, and I learned a lot from her books. I learned about sco­l­io­sis and bad deci­sions and wet dreams and peri­ods and inse­cu­ri­ties and mean­ness and kind­ness and fam­i­ly issues/secrets and mas­tur­ba­tion and gen­der and crush­es and sex. Well, actu­al­ly, I didn't learn much about sex. The "key pages" from For­ev­er were passed around the sixth grade, but I was too ner­vous to actu­al­ly read them, which left things a lit­tle vague, giv­en that the play­ground dis­cus­sion around said pages was…a lit­tle vague.
Ms. Blume told us that those of us who grew up read­ing Are You There God, It's Me, Mar­garet often ask her for a "sequel" bring­ing our friend Mar­garet full cir­cle as she goes through menopause. I would love this book, I must say. But Margaret's author said, "Mar­garet is always twelve! Menopause is not her story."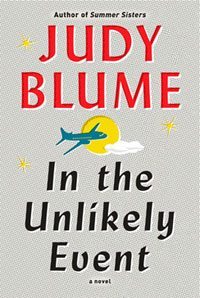 And indeed — the book is pret­ty time­less (with a lit­tle vocab­u­lary updat­ed) because being twelve has a time­less­ness about it. Twelve (and the years just on either side of twelve) is a time of tremen­dous tran­si­tion and change, hopes and prayers, inse­cu­ri­ty and deci­sion. The details change a lit­tle gen­er­a­tion to gen­er­a­tion, but the impor­tant stuff — the stuff of cre­at­ing and dis­cov­er­ing your­self, of grow­ing up — stays remark­ably the same.
I'm so grate­ful to Judy Blume and grate­ful for the work she still does — the writ­ing and speak­ing and the stand she has tak­en on cen­sor­ship. Her newest book (for adults), In the Unlike­ly Event, is ter­rif­ic. I can hear her voice as I read it, which is a tremen­dous treat as both a read­er and a writer. Huz­zah to Judy! I say. Huz­zah!