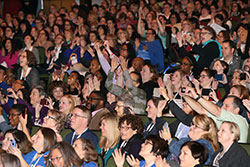 In the children's lit­er­a­ture world, awards hap­pened this week. They don't receive quite the press or air­time (which is unfor­tu­nate) as The Tonys and Oscars, but they're impor­tant and excit­ing all the same. Dar­ling Daugh­ter and I have just dis­cussed them at some length over supper.
I love the awards. I love feel­ing like I pre­dict­ed a few of them. I love that there are always a cou­ple of sur­pris­es to put on my read­ing list. I even love that I can dis­agree with the selec­tions, at times — I mean, real­ly, that's kind of fun. Most of all, I love that some of those that win feel extra spe­cial, whether it's because I know the author, or because the award rec­og­nizes a deep spe­cial­ness that real­ly needs to be rec­og­nized in a book or an artist's work over time.
I once heard a well-known New­bery author say that you can only receive some­thing like the New­bery award as a gift. You can't pre­tend for a sec­ond, this author said, that you earned it some­how. The rea­son? It sits on the shelf with so many oth­er tru­ly awe­some books. The author/illustrator has cer­tain­ly done some­thing astound­ing — written/illustrated a spec­tac­u­lar book — and to have that rec­og­nized, well…that's about as won­der­ful as it gets. But it's grace. It's gravy. It's gift. I like that — it strikes me as being True.
One of the oth­er things I love about the awards is the amaz­ing work teach­ers and librar­i­ans do with kids to get them ready and drum up some excite­ment — the Mock-New­berys, Sib­ert Smack-downs, The Bearde­cotts etc. These lucky stu­dents learn how to appre­ci­ate illus­tra­tions crit­i­cal­ly, learn­ing about and some­times try­ing var­i­ous art tech­niques. They read mul­ti­ple nov­els and study mul­ti­ple sub­jects in the weeks and months lead­ing up to the awards. They learn about the process of book­mak­ing. They make nom­i­na­tions, they argue, they vote, they declare their undy­ing love for cer­tain authors and illus­tra­tors….. I learned none of this as a child — I'm so grate­ful kids do now. What an edu­ca­tion! And what fun!
So, con­grat­u­la­tions to all the award win­ners. Huz­zah! to teach­ers and librar­i­ans every­where. Hur­ray for the read­ers! And thank you to all of the authors and illus­tra­tors, edi­tors and design­ers, agents and pub­lish­ers, some of whom are nev­er rec­og­nized with a spe­cial award. But we are grate­ful—so very grate­ful!—for your work. Our book­shelves groan in appre­ci­a­tion. Our minds are opened, our hearts touched. Thank you for all you do.