by Melanie Heuis­er Hill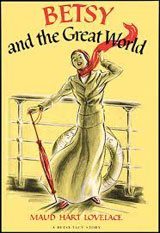 My daugh­ter and I are fin­ish­ing what we call "The Bet­sy Books" — the won­der­ful series of books by Maud Hart Lovelace that fol­lows Bet­sy Ray and her friends as they grow up in Deep Val­ley, Minnesota.
When I first read the Bet­sy Series, I start­ed with Bet­sy and the Great World and Betsy's Wed­ding and did not dis­cov­er the ear­li­er books until we moved to Min­neso­ta, where they were all gath­ered togeth­er on a shelf in the library. My daugh­ter was intro­duced to the books in order, how­ev­er — we've read them togeth­er, and she lis­tened to the first two books over and over again because my moth­er record­ed them for her.
[A Small Aside: Record­ing books is a won­der­ful thing for grand­par­ents to do! Most computers/phones are equipped to make a pret­ty decent record­ing of a sin­gle voice. Doesn't have to be fan­cy — my Mom just read the books aloud as if she were in the room read­ing to her grand­kids. Some­times she makes com­ments and asks ques­tions etc. When she's fin­ished, she sends the book and the CD along in the mail — half of her grand­girls live far away, but all of them get the books and record­ings. What a gift!]
This week, daugh­ter and I are fin­ish­ing Emi­ly of Deep Val­ley—then on to Bet­sy and the Great World and Betsy's Wed­ding. I can't wait! I have such fond mem­o­ries of read­ing these books over and over again — I can remem­ber where I was sit­ting when read­ing many of them. We've had a won­der­ful time this last year or so read­ing the high school antics and angsts of Bet­sy and "The Crowd". The details of shirt­waists and pom­padours, par­ties and danc­ing, train trips and con­tests are a hoot. We've had to look up vocab­u­lary, ref­er­ences, and songs (there's a Bet­sy-Tacy Song­book!) here and there, and we've learned a lot.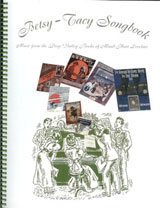 This is a great series to read over sev­er­al years — fun to read about the five year old Bet­sy, Tacy, and Tib when your read­ing part­ner is five. (The books are writ­ten at age appro­pri­ate lev­els, as well — the ear­ly books are great "ear­ly chap­ter book" reads.) Now that my read­ing part­ner is about to enter her teens, we've been read­ing about The Crowd in their high school years. As the Deep Val­ley friends head off to col­lege, we mar­vel at how dif­fer­ent and how sim­i­lar her brother's expe­ri­ence of head­ing out will be. He won't be tak­ing a trunk on a train, that's for sure.
We live in Min­neso­ta, home of the fic­tion­al­ized Deep Val­ley, which is real­ly Manka­to, Min­neso­ta. My Mom, daugh­ter, and I have vis­it­ed the sites in Manka­to — tremen­dous fun can be had there. There are cel­e­bra­tions held every year — the Bet­sy-Tacy Soci­ety does a valu­able and tremen­dous job of keep­ing the sto­ries and the lit­er­ary land­marks from the books alive and well.
I did not read this series with our son. Maybe we read the ear­li­est books when he was very young; but I don't think he would find the tales of Mag­ic Wavers and house par­ties all that inter­est­ing. Although I despise the notion of "girl books" and "boy books," I don't know many men enam­ored with this series. Prove me wrong, dear read­ers! Tell me you read Bet­sy Tacy and Tib each year. Tell me your broth­er per­pet­u­al­ly reads the high school books, or your hus­band slips a vol­ume in his suit­case when he trav­els. Per­haps you have a co-work­er who keeps his child­hood set on his office credenza?
Should these men not be in your life, grab a girl­friend and take in this year's Deep Val­ley Home­com­ing! Or, if you're male and intrigued, take your wife/sister/daughter. Maybe I'll see you there.