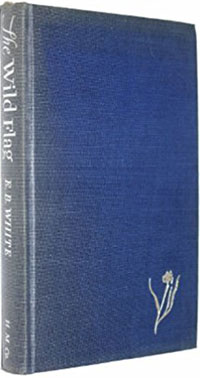 Fif­teen years ago this sum­mer, I stood weep­ing in our local pub­lic library while mak­ing copies of let­ters on the pub­lic pho­to­copy machine, dimes in one hand, fold­ed linen sta­tion­ary in the oth­er. I remem­ber it was fif­teen years ago because I was enor­mous­ly preg­nant with Dar­ling Daugh­ter. Peo­ple walked a wide cir­cle around me with­out mak­ing eye con­tact. Which was just as well.
The let­ters I copied through my tears were from my beloved Dr. Brown, my favorite col­lege pro­fes­sor. They were typed on an old type­writer and they con­tained wis­dom and poet­ics on mar­riage and fam­i­ly, books and writ­ing, life and love. I want­ed to send them to his recent­ly wid­owed wife, who had just writ­ten to tell me he'd died; but I couldn't bear to part with them, hence the copies.
Dr. Brown was my advi­sor in col­lege. He was an Eng­lish pro­fes­sor — not the clichéd silk scarf wear­ing pro­fes­sor hold­ing court in enor­mous lec­ture rooms, but rather, a dear man with a small office crammed floor to ceil­ing with books who gen­uine­ly enjoyed talk­ing with his stu­dents one-on-one.
In the bot­tom draw­er of his desk, Dr. Brown had a tin of cook­ies. He was a severe dia­bet­ic, but he enjoyed cook­ies immense­ly and didn't con­sid­er life worth liv­ing with­out them. He and I ate a lot of cook­ies togeth­er the semes­ter I took an inde­pen­dent study with him on essay writ­ing. It was a sweet semes­ter, not because of the cook­ies so much as what we talked about. Dr. Brown intro­duced me to E.B. White, whose books he kept in the draw­er with the cook­ies. The two just…went together.
I knew E.B. White for his children's lit­er­a­ture, of course, but not, I'm ashamed to admit, for his essays, arti­cles, and let­ters — until I met Dr. Brown, who intro­duced me to many small plea­sures in life, cook­ies in the desk draw­er and the art of buy­ing used books among them. Under his tute­lage, I man­aged to pro­cure most of the col­lec­tion of Mr. White's essays and let­ters. Ser­vice­able copies already marked up by another's hand, and so I had no prob­lem mak­ing my own nota­tions in them, as well. I was tasked with study­ing them, attempt­ing emu­la­tion (Dr. Brown thought I might ben­e­fit from White's suc­cinct­ness — go fig­ure!), and just gen­er­al­ly absorb­ing their won­der­ful­ness. My dear friend was a firm believ­er in osmo­sis. He want­ed me to absorb — brevi­ty, style, wit — before I put my own words on paper.
While on vaca­tion in Maine ear­li­er this sum­mer, I found a used copy of The Wild Flag by E.B. White in an antique store. I'd nev­er seen it or heard of it. I could hard­ly get the mon­ey out of my purse fast enough. This book is a col­lec­tion of edi­to­ri­als he wrote for The New York­er "on Fed­er­al World Gov­ern­ment and Oth­er Mat­ters." Copy­right 1943. It is unbe­liev­ably time­ly. And ever so help­ful. It could be that these edi­to­ri­als are inter­spersed in my oth­er White vol­umes — I haven't checked — but this sweet lit­tle book is dog-eared, worn, and "purse sized," and I love it with every fiber of my being.
I've decid­ed the kids need to hear some of it. I intend to bake some cook­ies in Dr. Brown's hon­or and read aloud to them from The Wild Flag in these wan­ing days of sum­mer. I want them to take it in — osmo­sis! — before head­ing back to their busy school year lives. Before tak­ing in any more headlines.
I love being able to share "grown-up" writ­ing with them now that they're get­ting so…grown-up. Maybe they'll sit on the porch swing with me like we used to? I bet if I bring the cook­ies, they will….
SaveSave
SaveSave