What do a uni­ver­si­ty pro­fes­sor from Dal­las and a lawyer from Prince­ton have in common?
Both are pas­sion­ate about poet­ry, specif­i­cal­ly, poet­ry in the class­room for every­one, every­day, and about any­thing, even alge­bra. Sylvia Vardell, pro­fes­sor and author of edu­ca­tion­al books for teach­ers, and Janet Wong, lawyer and author of sev­er­al dozen books for chil­dren, com­bined their knowl­edge and poet­ry pas­sion and cre­at­ed Pome­lo Books. Their goal was to pub­lish books that make poet­ry avail­able and acces­si­ble — and fun — in the classroom.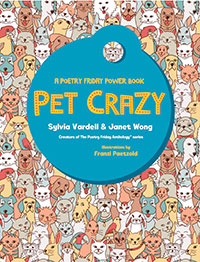 Each book (twelve books so far and more on the way) has a unique focus. The books in The Poet­ry Fri­day Anthol­o­gy series offer a vari­ety of verse and also short edu­ca­tion­al guides, resources, "Take 5 lessons," and oth­er appli­ca­tions that cross cur­ricu­lum lines. Each verse entry in the Poet­ry Fri­day Pow­er Book series pro­vides white space for reluc­tant writ­ers, prompts for writ­ing, and sug­ges­tions of places where stu­dents can sub­mit their own poems for publication.
In their own words, Pome­lo Books are unique books "that will puck­er your lips, reduce cho­les­terol, cure scurvy, curb glob­al warm­ing, and make young peo­ple hap­py while teach­ing them lots."
What is most rewarding about being a publisher?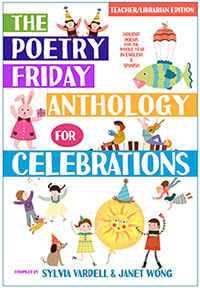 Sylvia Vardell: There have been so many rewards in this ven­ture: col­lab­o­rat­ing with the ener­getic Janet Wong and 100+ poets across the globe, see­ing a project come to fruit in print, and watch­ing teach­ers thumb through the book and say, "Yes, I can DO this!"
But prob­a­bly my favorite thing is how much I have learned along the way! I love try­ing new things and cre­at­ing Pome­lo Books has pushed me to try many, many new things such as the ins and outs of soft­ware pro­grams, exper­i­ment­ing with book design, cre­at­ing pro­mo­tion­al graph­ics, and pre­sent­ing to all kinds of audi­ences. And that doesn't even include all the new things I've learned about poet­ry!
Who do you hope is reading and talking about your books?
Janet Wong: Recent­ly Sylvia and I have been booked at sev­er­al uni­ver­si­ty con­fer­ences to speak to pre-ser­vice teach­ers, as well as recent grads. This, to me, is the ide­al audi­ence: new teach­ers who are eager to find their own best ways of reach­ing all kinds of kids. They under­stand that time is tight, and a five-minute poet­ry les­son can be used to teach mul­ti­ple con­tent areas. It's so great to see them snap­ping tons of pho­tos of Sylvia's Pow­er­Point slides!
Tell us about a few of your recent publications and why they are unique.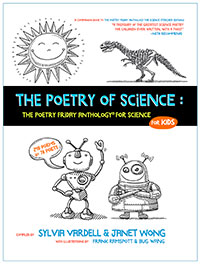 Janet Wong: One of the most dis­tinc­tive things about our books in The Poet­ry Fri­day Anthol­o­gy series is the sheer size of them: in 4 books (our orig­i­nal K‑5 book, the Mid­dle School book, the Sci­ence book, and the Cel­e­bra­tions book) we have 700+ poems by 150 poets. That's a whole lot of diver­si­ty (of all kinds) — diverse voic­es, diverse top­ics, and diverse approaches.
And in our recent Poet­ry Fri­day Pow­er Book series (You Just Wait, Here We Go, and Pet Crazy), we're pro­vid­ing Pow­er­Packs that are filled with pre-writ­ing activ­i­ties, men­tor poems, and writ­ing prompts—plus the poems, woven togeth­er, tell a sto­ry, Plus there are exten­sive back mat­ter resources on where kids can get pub­lished and a whole lot more. Our mot­to is "Pome­lo Books = Poet­ry Plus!" and we're doing our best to live up to it!
As an educator, what do your books add to my students' classroom experience?
Sylvia Vardell: This is where Pome­lo Books is unique. As Janet point­ed out, we are so proud to fea­ture 700+ poems by 150 poets in our var­i­ous antholo­gies, but added to that are "Take 5" activ­i­ties or mini-lessons for every sin­gle one of those 700+ poems. We pro­vide the short­cut that a busy teacher can use to pause, share a poem, and pro­vide a tiny lit­er­a­cy les­son that is engag­ing and mean­ing­ful. For the busy edu­ca­tor, our books are very search­able and prac­ti­cal, offer­ing poems on top­ics that are rel­e­vant to children's lives and con­nect­ed with cur­ric­u­lar areas. We make it easy for the novice teacher to begin as well as for the expe­ri­enced edu­ca­tor to add vari­ety and cre­ativ­i­ty to poem sharing.
Pome­lo Books twelve pub­li­ca­tions are:
The Poet­ry Fri­day Anthol­o­gy (K‑5 Com­mon Core)
The Poet­ry Fri­day Anthol­o­gy (K‑5 TEKS)
The Poet­ry Fri­day Anthol­o­gy for Mid­dle School (Com­mon Core)
The Poet­ry Fri­day Anthol­o­gy for Mid­dle School (TEKS)
The Poet­ry Fri­day Anthol­o­gy for Sci­ence (K‑5 Teacher/Librarian Edition)
The Poet­ry of Sci­ence: The Poet­ry Fri­day Anthol­o­gy for Sci­ence for Kids
The TEKS Guide to The Poet­ry Fri­day Anthol­o­gy for Science
The Poet­ry Fri­day Anthol­o­gy for Cel­e­bra­tions (Teacher/Librarian Edi­tion)
The Poet­ry Fri­day Anthol­o­gy for Cel­e­bra­tions (Chil­dren's Edition)
You Just Wait: A Poet­ry Fri­day Pow­er Book
Here We Go: A Poet­ry Fri­day Pow­er Book
Pet Crazy: A Poet­ry Fri­day Pow­er Book