by Jacque­line Brig­gs Mar­tin and Phyl­lis Root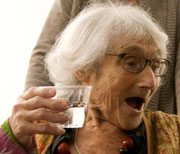 Jacque­line Brig­gs Mar­tin: Some writ­ers teach us craft. Some writ­ers inspire us. Vera B. Williams does both. As part of cel­e­brat­ing her won­der­ful life and career we want to take anoth­er look at her love­ly sto­ries and her busy life. One of the many remark­able things about her books is that they "erupt" (as she said) from the activ­i­ties of her life.
Three Days on the Riv­er in a Red Canoe was based on Williams' own 500-mile jour­ney down the Yukon Riv­er. It starts when a kid notices a canoe for sale in a neighbor's yard. His mom and her sis­ter and his cousin pool their mon­ey and buy it. This is a fam­i­ly that thinks about buy­ing some­thing. There is not a lot of cash lying around. Amber Was Brave Essie Was Smart gives read­ers a lov­ing fam­i­ly (based on Williams and her sis­ter) whose father is in prison.
One of her best-loved sto­ries, A Chair for My Moth­er, grew out of her expe­ri­ence grow­ing up "in a fam­i­ly that had a lot of trou­ble mak­ing a liv­ing." She nev­er for­got that. In a Green­wil­low pub­lic­i­ty inter­view she recount­ed that her moth­er worked very hard, just as Rosa's moth­er, and actu­al­ly did buy her­self a chair so she would have a place to sit when she was tired. Williams said, "I'm very proud of hav­ing intro­duced a kind of char­ac­ter and fam­i­ly and expe­ri­ence to children's books… peo­ple who work for a liv­ing in very ordi­nary professions."
Phyl­lis Root: Yes, one of the many things I love about Vera B. Williams is how both her work and her life cel­e­brate every­day peo­ple, work­ing class peo­ple, peo­ple with prob­lems, fam­i­ly, community.
Jacque­line Brig­gs Mar­tin: And that focus on com­mu­ni­ty comes from her life, too. Her moth­er was very com­mu­ni­ty-mind­ed. She was one of a group of peo­ple who would gath­er on the side­walk dur­ing the Depres­sion when a family's fur­ni­ture was being repos­sessed and "defy the bailiff" by car­ry­ing that fur­ni­ture back to the family's apart­ment. I love pic­tur­ing that and think the two page spread in A Chair for My Moth­er in which neigh­bors bring pieces of fur­ni­ture to Rosa's fam­i­ly after the fire must be part­ly inspired by William's ear­ly neigh­bors car­ry­ing fur­ni­ture back upstairs.
Phyl­lis Root: Williams said that as a child she didn't under­stand her mother's need for "new cush­iony chair." In A Chair for my Moth­er Rosa, her moth­er, and grand­moth­er all work togeth­er sav­ing nick­els and dimes and quar­ters in a jar to buy a chair for the whole fam­i­ly. Williams trans­forms her child­hood expe­ri­ence, just as she worked to trans­form the world — she was a mem­ber of the War Resistor's League and went to prison for protest­ing the Viet­nam War. She not only wrote about what she believed, she lived those beliefs.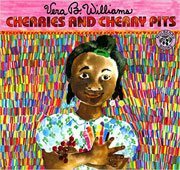 Cher­ries and Cher­ry Pits, too, is about trans­for­ma­tion. As a child, Vera drew pic­tures and told sto­ries about them, just as Bidem­mi does in Cher­ries and Cher­ry Pits. In each sto­ry Bidem­mi tells, some­one shares cher­ries — a father with his chil­dren, a grand­moth­er with her par­rot, a boy with his lit­tle sis­ter. And all of them are "eat­ing cher­ries and spit­ting out the pits." In the last sto­ry she tells, Bidem­mi, too, has a bag of cher­ries. She eats the cher­ries and plants the pits in her "junky old yard," where they grow into trees full of cher­ries, and peo­ple come from "Nairo­bi and Brook­lyn, Toron­to and Saint Paul" to eat those cher­ries and spit out the pits, which grow "until there is a whole for­est of cher­ry trees right on our block."
Jacque­line Brig­gs Mar­tin: And we can learn craft from this sto­ry, too. Look at this char­ac­ter description:
This is the door to the sub­way and THIS is a man leaning

on the door… His face is a nice face. But it is also not so

nice. He has a fat wrin­kle on his fore­head. It's like my

mother's wrin­kle. It's from wor­ry­ing and wor­ry­ing, my

moth­er says. And his neck is thick and his arms are thick

with very big, strong mus­cles. His shirt is striped blue and

white and his skin is dark brown and in his great big hands

he has a small white bag. This man looks so strong I think

he could even car­ry a piano on his head. But he is only

car­ry­ing this lit­tle white bag…
What great infor­ma­tion we get about the Bidem­mi and her moth­er from the descrip­tion of this man who has a fat wrin­kle "from wor­ry­ing and wor­ry­ing." Who could ever for­get a man strong enough to car­ry a piano on his head?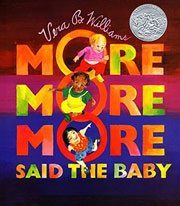 Phyl­lis Root: Williams believed that if children's needs are met in "the way of love and adven­tures, we would have a lot more hap­pi­ness in the world." Her book "More, More, More," Said the Baby: Three Love Sto­ries joy­ous­ly cel­e­brates three babies whose needs are met, (and includes a white grand­moth­er and her brown grand­child, one of the first times such a fam­i­ly was shown in a pic­ture book).
In an inter­view in Show Me a Sto­ry, Con­ver­sa­tions with 21 of the World's Most Cel­e­brat­ed Illus­tra­tors com­piled and edit­ed by Leonard S. Mar­cus, Williams talks about luck, a word that shows up not only in Lucky Song but also in A Chair for My Moth­er when the grand­moth­er thanks the neigh­bors for all their help mov­ing into and fur­nish­ing their new apart­ment. "It's lucky we're young and can start all over," she says. Even the gro­cery whose own­ers give away water­mel­ons in The Great Water­mel­on Birth­day is named Fortuna's Fruits.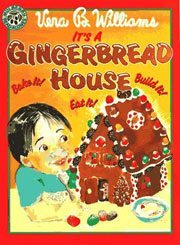 Our fam­i­ly has been lucky to know Williams's books for many years. Since we dis­cov­ered her first—It's a Gin­ger­bread House: Bake It, Build It, Eat It! — we've been mak­ing gin­ger­bread hous­es and delight­ing in her stories.
Here's hop­ing many, many more chil­dren will be lucky enough to read and enjoy her books and to grow up in a peace­ful world where the grown-ups make sure that every child's needs are met. A world Vera B. Williams envi­sioned, worked for, and made into beau­ti­ful, deeply felt books.
Here's a list of her books, all pub­lished by Greenwillow:
Amber Was Brave, Essie Was Smart: The Sto­ry of Amber and Essie Told Here in Poems and Pic­tures (2001)
A Chair for Always (2009)
A Chair for My Moth­er (1982)
Cher­ries and Cher­ry Pits (1986)
It's a Gin­ger­bread House: Bake It, Build It, Eat It! (1978)
Lucky Song (1997)

"

More, More, More," Said the Baby: Three Love Sto­ries (1990)
Music, Music for Every­one (1984)
Scoot­er (1993)
Some­thing Spe­cial for Me (1983)
Stringbean's Trip to the Shin­ing Sea, with Jen­nifer Williams (1988)
And here's where you can order a 1989 Peace Cal­en­dar (365 rea­sons not to have anoth­er war) by Grace Paley and Vera B. Williams. (Extra bonus: the 1989 cal­en­dar repeats in 2017, but even if it didn't, it's well worth buy­ing for the art and writ­ing and to sup­port the War Resisters League.)