"When a whole school reads a book, there is a lot to talk about."
Mod­eled after the One School, One Book premise, Phillips­burg School Dis­trict Ele­men­tary ELA & Social Stud­ies Cur­ricu­lum Direc­tor Dar­lene Noel cre­at­ed a school-wide event called #OneS­tate­lin­er­Sto­ry: Every Class­room. Every Stu­dent. Every Fam­i­ly. The fun­da­men­tal pur­pose of this event is to build a com­mu­ni­ty of read­ers through a shared read­ing expe­ri­ence. Think of it as a real­ly large book club!
Dar­lene worked close­ly with Ele­men­tary Math & Sci­ence Cur­ricu­lum Direc­tor Stephanie Con­don to plan mean­ing­ful cross-cur­ric­u­lar lessons and expe­ri­ences that address grade lev­el stan­dards and enrich our stu­dents' learn­ing for the PES whole-school read of Pop­py by Avi.
As the lead­ers of the ini­tia­tive, we built excite­ment for and antic­i­pa­tion of the event by Tweet­ing and shar­ing mes­sages on Class Dojo, which many par­ents fol­low. We cre­at­ed a par­ent let­ter, estab­lished a school dec­o­rat­ing team called The Pop­py Squad, and worked in close col­lab­o­ra­tion with our dis­trict food ser­vice leader to cre­ate a book-themed boxed lunch on the day of the reveal. Every stu­dent who ordered the spe­cial boxed lunch was sur­prised with a note from Pop­py, the main char­ac­ter, inside their box! The lunch had a for­est theme which fit the set­ting of the sto­ry and includ­ed snail sand­wich­es (ham & cheese roll ups), twigs (pret­zels), ants on a log (cel­ery with cream cheese and raisins), berries (fruit), and some pond punch (fruit punch).
The sur­prise book selec­tion was revealed dur­ing school with a movie trail­er cre­at­ed just for this event. Take a look at the one-minute video:
When the stu­dents arrived at school, they were shocked to see PES trans­formed into Dim­wood For­est, the set­ting of the sto­ry. Teach­ers stayed late on the pre­vi­ous Fri­day night to dec­o­rate. Each stu­dent received their very own copy of Pop­py to take home, along with a fam­i­ly read­ing sched­ule. At school each day, teach­ers rein­forced the pre­vi­ous night's chap­ter by re-read­ing it and engag­ing our learn­ers in a cre­ative, shared learn­ing experience.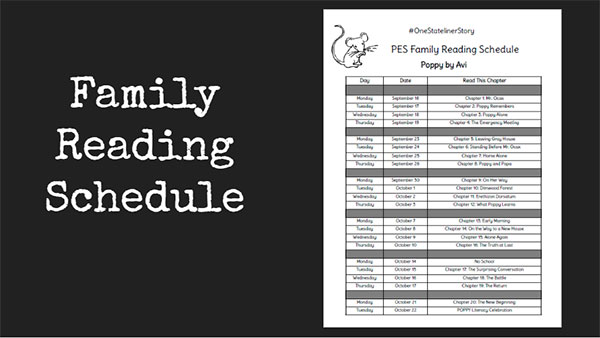 Once it was announced, Pop­py was every­where! We shared pho­tos of every­one read­ing the book: Our Dis­trict Super­in­ten­dent and Assis­tant Super­in­ten­dent, Teach­ers, Cus­to­di­ans, Stu­dents, and Secretaries.
We invit­ed fam­i­lies to send in pho­tos of their family's par­tic­i­pa­tion in #OneS­tate­lin­er­Sto­ry and the pho­tos came flood­ing in! From our youngest read­ers to our old­est read­ers and every­one in between — includ­ing pets! With par­ent per­mis­sion, pho­tos were shared on Twit­ter, Class Dojo, and on the Face­book page of our Superintendent.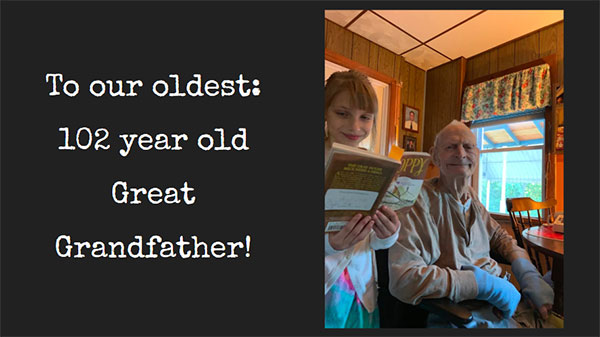 Dar­lene was con­cerned about the pos­si­bil­i­ty of some fam­i­lies not being able to read the book or stu­dents being with­out a par­tic­i­pat­ing fam­i­ly, so she cre­at­ed audio record­ings of each chap­ter and linked them to our #OneS­tate­lin­er­Sto­ry page on our school web­site with the help of our Edu­ca­tion Tech­nol­o­gy Spe­cial­ist, Kir­by Hendershot.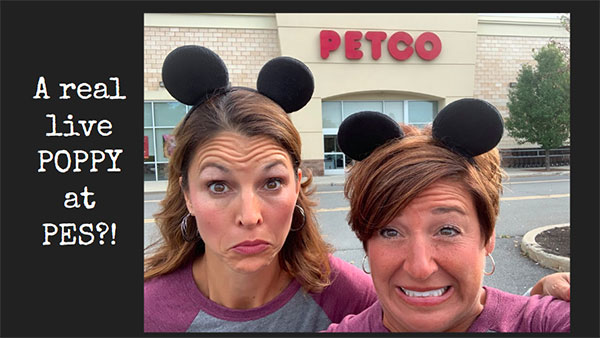 The Direc­tors thought it would be fun to have a real live Pop­py at PES so we applied for a Pets in Class­room grant from Pet­co. We were able to pur­chase three mice — one per grade lev­el along with a habi­tat, bed­ding, food, and chew toys. Each day, Pop­py vis­it­ed a class­room and stu­dents had the oppor­tu­ni­ty to see Pop­py up-close! They talked to Pop­py, wrote about Pop­py, and drew pic­tures of Pop­py. Stu­dents also researched the care and keep­ing of mice.
Among the planned cross-cur­ric­u­lar activ­i­ties were: Owl Pel­let Inves­ti­ga­tions and Dis­sec­tions, Graph­ing of the Bones, Line Plots, Word Prob­lems involv­ing char­ac­ters and loca­tions, Map Scale, Food Webs, Explo­rations of Preda­tor and Prey, Art Projects, Poet­ry, Engi­neer­ing Chal­lenges, Research and Pub­lic Speak­ing, Dim­wood For­est Maps includ­ing geom­e­try spec­i­fi­ca­tions, a Mouse House STEAM Chal­lenge, and Class Pet Journals.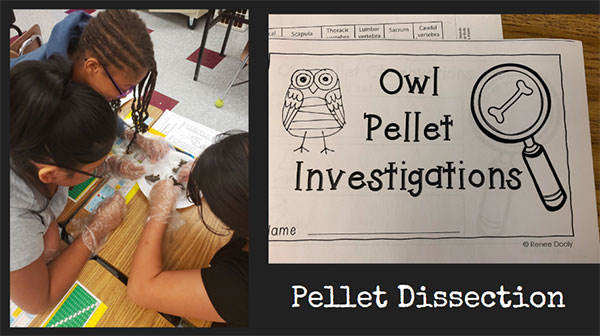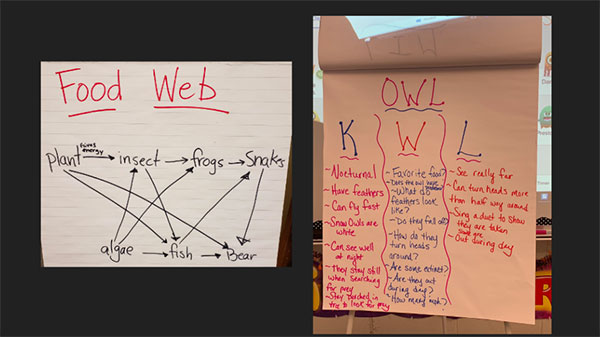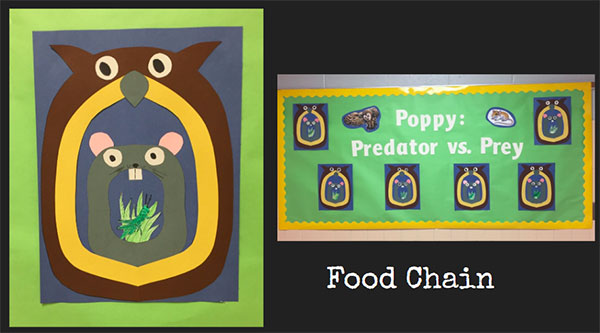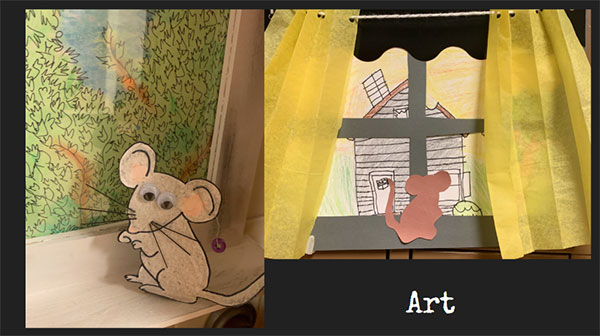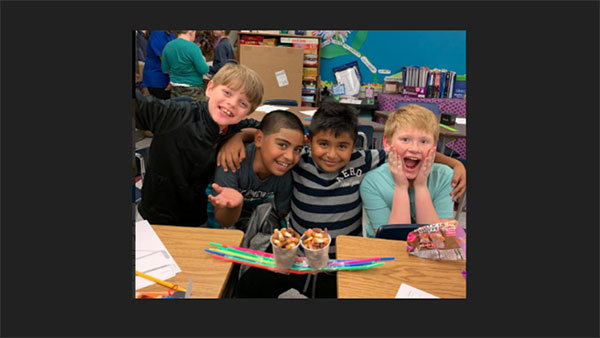 We closed the book on our whole school read of Pop­py fol­low­ing three major events. We wel­comed Kathy and Erick Uhler from the Pocono Wildlife Edu­ca­tion and Reha­bil­i­ta­tion Cen­ter along with some of Poppy's friends from Dim­wood For­est. Stu­dents and Staff met four types of owls, a chip­munk, an albi­no crow who is the mes­sen­ger of the for­est, a skunk, and a por­cu­pine. It was amaz­ing to see these ani­mals up close. Kathy and Erick are ter­rif­ic pre­sen­ters and read the book ahead of time. Through­out the pre­sen­ta­tion they used the char­ac­ters' names and ref­er­enced the book which tied the expe­ri­ence to our shared read. We took up a col­lec­tion and made a dona­tion to the Cen­ter fol­low­ing our par­ent night.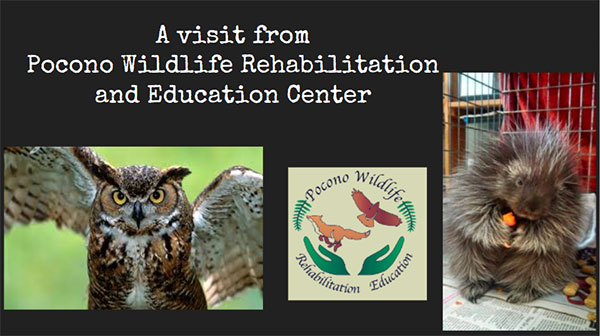 All PES stu­dents par­tic­i­pat­ed in a "Meet the Author" event via Skype. Avi, the author, talked to us about writ­ing, per­se­ver­ance, gen­er­at­ing ideas, read­ing, and cre­ativ­i­ty. Stu­dents were invit­ed to sub­mit ques­tions and allit­er­a­tions in advance and thir­ty stu­dents were select­ed to per­son­al­ly inter­act with Avi. The Skype ses­sion was such a suc­cess! The stu­dents were amaz­ing­ly qui­et and atten­tive which could have been a chal­lenge with such a big group and hav­ing some class­es seat­ed so far from the action. The audio was a lit­tle chop­py at some points, but that was to be expect­ed with Avi's loca­tion in the Rocky Moun­tains. The stu­dents han­dled it well and used the con­text clues to keep up! We are so thank­ful to our tech team for mak­ing sure we had the best expe­ri­ence pos­si­ble! The ques­tions sub­mit­ted were super and the amaz­ing allit­er­a­tions added to the expe­ri­ence. We held a whole-school raf­fle at the end of the ses­sion and some lucky stu­dents went home with mouse ears and noses, and one stu­dent went home with the com­plete set of the Pop­py series books!
Our cul­mi­nat­ing #OneS­tate­lin­er­Sto­ry Fam­i­ly Cel­e­bra­tion was a true cel­e­bra­tion of the book and of the fam­i­lies' par­tic­i­pa­tion. We had an amaz­ing turnout of over three hun­dred fam­i­ly mem­bers who par­tic­i­pat­ed in a vari­ety of Pop­py-relat­ed activ­i­ties. Phillips­burg fam­i­lies cre­at­ed a pinecone owl, spent time meet­ing and learn­ing about for­est ani­mals from our friends at the Pocono Wildlife Reha­bil­i­ta­tion and Edu­ca­tion Cen­ter, cre­at­ed #OneS­tate­lin­er­Sto­ry video tes­ti­mo­ni­als, viewed and vot­ed on stu­dent-cre­at­ed mouse hous­es, and par­tic­i­pat­ed in a green screen pho­to shoot which real­is­ti­cal­ly posi­tioned fam­i­lies deep in Dim­wood For­est. Two fam­i­lies went home with anoth­er mouth to feed as we raf­fled off two LIVE mice, their habi­tats, bed­ding, and food. After rotat­ing through our activ­i­ties, stu­dents placed their Pop­py Pass­port in the bag of the item they hoped to win. We had lots of prizes, but the most pop­u­lar item was anoth­er com­plete set of the Pop­py series books! We end­ed the night with a Dim­wood For­est Dirt Cup and Pond Punch.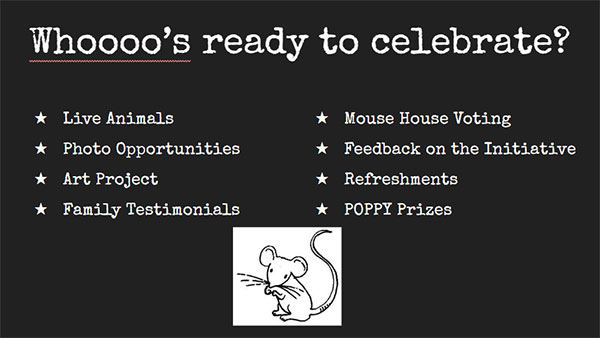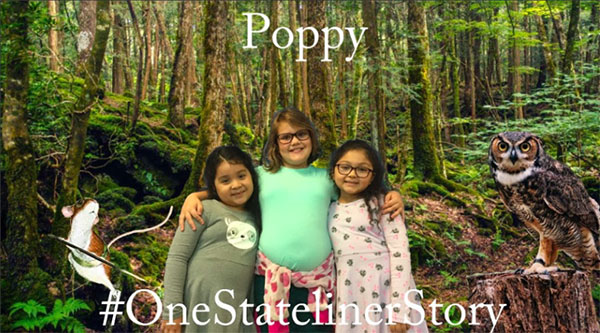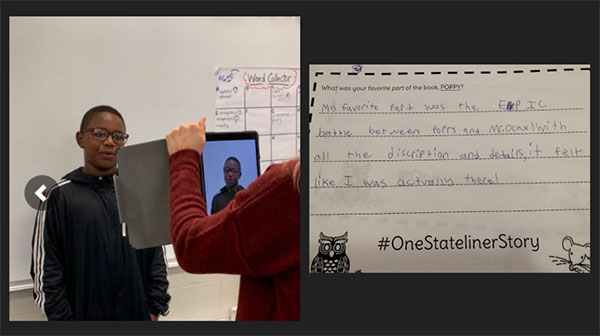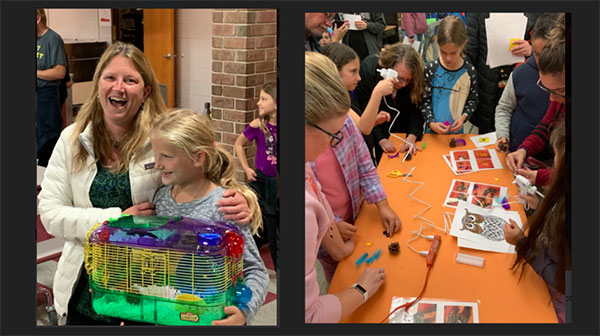 Fam­i­lies pro­vid­ed feed­back about the ini­tia­tive through both high- and low-tech sur­vey options and con­ver­sa­tions. PES staff is shar­ing their feed­back and sug­ges­tions for the future and we're already think­ing of our next book! Stu­dents will also be asked for feed­back on the ini­tia­tive. We will use the infor­ma­tion from fam­i­lies, staff, and stu­dents to plan for the future.