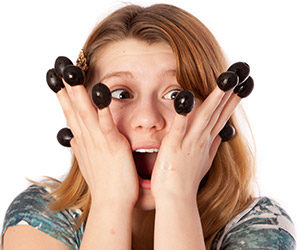 My dad has a pas­sion­ate hatred of olives on, in, or even in the gen­er­al vicin­i­ty of his food. He's con­vinced their mere pres­ence con­t­a­m­i­nates any­thing else on his plate. So when he eats at his favorite small-town din­er, he's always care­ful to tell the serv­er that he wants his din­ner sal­ad with­out the black olives they usu­al­ly include. Except this time the brand-new teenage serv­er plopped it down in front of him com­plete with a gen­er­ous help­ing of his much-loathed food.
"I'm sor­ry," he said, "I asked for the sal­ad with­out olives."
She thought a moment, said, "No prob­lem," reached out to scoop the olives out with her bare hand, and walked away hold­ing them.
Here are the answers to the three ques­tions you're now ask­ing: No, he didn't eat the salad.
No, we haven't stopped laugh­ing yet.
No, he didn't call over the man­ag­er to rat her out. But the next time he went in, he pulled aside one of the more sea­soned servers and asked her to make sure the young woman under­stood there might be a dif­fer­ent way to han­dle the situation.
There are dif­fer­ent ways to han­dle a writ­ing revi­sion as well. Revi­sion is the least favorite part of the writ­ing process for most young writ­ers. So hav­ing dif­fer­ent approach­es on hand is a good way to keep stu­dents com­ing back to this all-impor­tant process.
The com­mon approach is to sim­ply work one's way through the first draft, mak­ing cor­rec­tions and tak­ing out the "olives" as you go. But this isn't always the best tac­tic. Some sea­soned writ­ers rec­om­mend that for a sec­ond draft, you go back and start fresh, rather than mere­ly fix what's already on paper. It sounds counter-intu­itive — don't you lose what was good about the orig­i­nal, along with what wasn't work­ing? But the truth is, this more rad­i­cal approach can give young writ­ers per­mis­sion to "col­or out­side the lines" of their orig­i­nal drafts. Hav­ing writt'en the first draft still informs the new ver­sion in an impor­tant way, but it doesn't lim­it it. Some­times this approach can ele­vate the writ­ing to a whole new level.
As my dad might say, once his food has been touched by olives (not to men­tion some­one else's fingers), he sim­ply can't eat it. The only answer is to start with a whole new salad.