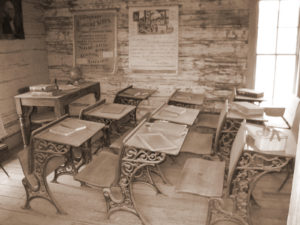 A few years ago anoth­er Lau­ra Ingalls Wilder fan and I made a pil­grim­age to Wal­nut Grove, Min­neso­ta. Oth­er faith­ful fol­low­ers will remem­ber that tiny town as the set­ting for On the Banks of Plum Creek as well as the TV ver­sion of the books.
Our favorite expe­ri­ence of the day was vis­it­ing the Ingalls Dugout Site. I've been to a lot of places with his­tor­i­cal rel­e­vance, all around the world — but almost none of them have giv­en me as much keen plea­sure as this one. Oth­er than a wood­en bridge across Plum Creek and a sim­ple sign, there is almost no evi­dence of human habi­ta­tion. You feel as if you are see­ing the spot exact­ly as it was when Lau­ra first set eyes on it near­ly 140 years ago — but with­out any fear that some­body wear­ing a sun­bon­net is going to spring up and start churn­ing but­ter as some kind of recre­at­ed history.
We had the place com­plete­ly to our­selves. We hap­pi­ly dab­bled our toes in the waters of Plum Creek. We plant­ed our­selves atop the sod roof of the dugout (now just a depres­sion in the side of the creek bank), and sight­ed across prairie grass­es that stretched far away to the hori­zon. We rev­eled in a ser­e­nade of song­birds. For one whole hour, we lived between the cov­ers of a book. And then we got back in our car and drove home to the city.
One of my favorite pieces of writ­ing advice comes from author Faith Sul­li­van. I share it here for you to pass along to your stu­dents. When you are writ­ing about a story's set­ting, don't leave the read­er feel­ing like a dis­tant observ­er. Don't go on for para­graph after para­graph with sta­t­ic set­ting details and bor­ing descrip­tions. Instead, have your char­ac­ter inter­act with the set­ting. Give the read­er small, telling details of the set­ting as the char­ac­ter engages with it.
In oth­er words, show a char­ac­ter run­ning through the tall grass­es, pushed along by the sneaky prairie breezes. Give us a char­ac­ter who's shiv­er­ing because icy fingers are try­ing to poke their way through the walls of their sod home.
Writ­ers who describe their set­ting in this way will make us feel, for that hour or two that we are read­ing, like we are liv­ing between the cov­ers of a book.