Now that snow has fall­en in many places through­out the land, it's time to cel­e­brate the frozen crys­tals in pic­ture books, non­fic­tion, and ear­ly chap­ter books. We encour­age find­ing your cozi­est chair and curl­ing up with your favorite read­ing part­ner and any or all of these books!
Click­ing on a book cov­er will help you pur­chase the book from Bookshop.org. If there is no link, the book can be found at your favorite pub­lic library or used bookseller.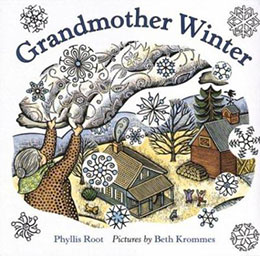 writ­ten by Phyl­lis Root
illus­trat­ed by Beth Krommes
Houghton Mif­flin Har­court, 1999
There is mag­ic in win­ter and this book is a charm­ing read-aloud. Grand­moth­er Win­ter shakes out the feath­ers she has col­lect­ed all year … which trans­form into snow. Hiber­nat­ing ani­mals, bur­row­ing chil­dren, a good con­ver­sa­tion starter!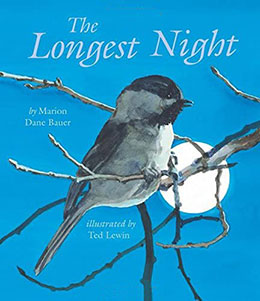 writ­ten by Mar­i­on Dane Bauer
illus­trat­ed by Ted Lewin
G.P. Put­nam's Sons, 2020
Such a beau­ti­ful book, set on the longest night of the year, as the wind calls to Chick­adee to wake the sun.
writ­ten and illus­trat­ed by Jan Brett
G.P. Put­nam's Sons, 1990
When Nic­ki drops his white mit­ten in the snow, he goes on with­out real­iz­ing that it is miss­ing. One by one, wood­land ani­mals find it and crawl in; first, a curi­ous mole, then a rab­bit, a bad­ger and oth­ers, each one larg­er than the last. Final­ly, a big brown bear is fol­lowed in by a tiny brown mouse and what hap­pens next makes for a won­der­ful­ly fun­ny cli­max. As the sto­ry of the ani­mals in the mit­ten unfolds, the read­er can see Nic­ki in the bor­ders of each page, walk­ing through the woods unaware of what is going on. (con­tributed by Wendy Behrens)
writ­ten by Aimée Bis­sonette
illus­trat­ed by Clau­dia McGe­hee
Min­neso­ta His­tor­i­cal Soci­ety Press, 2015
It's grand­ma who is the north woods girl! When her grand­daugh­ter comes to vis­it they spend time out­doors doing things they both love. Grand­ma's get­ting old­er. Should she come to live in the city with her daughter?
by John Owens
Uni­ver­si­ty of Min­neso­ta Press, 2022
by Chris­tine Day
Heart­drum / Harper­Collins, 2021
A mid­dle-grade nov­el about a girl for whom bal­let is every­thing. When she suf­fers a torn lig­a­ment, she slides into depres­sion. Her blend­ed Native Amer­i­can fam­i­ly heads out on a road trip along the west coast, near the Makah com­mu­ni­ty where her moth­er grew up. An upbeat book, set at midwinter.
writ­ten by Susan Coopo­er
illus­trat­ed by Car­son Ellis
Can­dlewick Press, 2019
Orig­i­nal­ly writ­ten for The Mid­win­ter Rev­els, a the­atri­cal pro­duc­tion, this book cel­e­brates the short­est day of the year and a yearn­ing for peace. Ellis' illus­tra­tions are awe-inspiring.
writ­ten by Euge­nie Doyle
illus­trat­ed by Bec­ca Stadt­lander
Chron­i­cle Books, 2016
A lyri­cal and pic­to­r­i­al rep­re­sen­ta­tion of how a farm fam­i­ly pre­pares its farm for win­ter, hon­or­ing how hard it has worked to shel­ter us, feed us, and keep us warm, See our full rec­om­men­da­tion.
writ­ten by Cyn­thia Rylant
illus­trat­ed by Lau­ren Stringer
Clar­i­on Books, 2008
Lyri­cal descrip­tions of the sights and feel­ings evoked by falling snow are beau­ti­ful­ly illus­trat­ed, bring­ing us along on an out­ing with a young girl, her friend, and her grand­moth­er enjoy the many things a snowy day has to offer.
writ­ten by Jacque­line Brig­gs Mar­tin
illus­trat­ed by Mary Azar­i­an
Clar­i­on Books, 1999
In this Calde­cott Medal – win­ning pic­ture book, the true sto­ry of farmer Wil­son Bent­ley and his sin­gu­lar fas­ci­na­tion with snowflakes is ren­dered in rich prose and gor­geous art­work, per­fect for the hol­i­days, snow days, and everyday.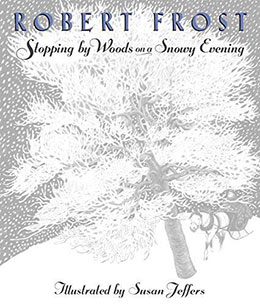 Stop­ping by Woods on a Snowy Evening
writ­ten by Robert Frost
illus­trat­ed by Susan Jef­fers
Dut­ton Books, 1978, reis­sued 2001
An illus­tra­tor's beau­ti­ful inter­pre­ta­tion of this Robert Frost poem, inspir­ing read­ers to feel the cold and expe­ri­ence the qui­et of a win­ter forest.
Stop­ping by Woods on a Snowy Evening
writ­ten by Robert Frost
illus­trat­ed by PJ Lynch
Can­dlewick Press, 2022
Six­ty years after the poem by Robert Frost was orig­i­nal­ly pub­lished, out­stand­ing illus­tra­tor P.J. Lynch uses a blue and green col­or palette to express win­ter on the out­skirts of a small village.
The Sto­ry of Snow:
The Sci­ence of Win­ter's Wonder
writ­ten by Jon Nel­son, PhD
pho­tographs by Marc Cassi­no
Chron­i­cle Books, 2017
How do snow crys­tals form? What shapes can they take? Are no two snow crys­tals alike? These ques­tions and more are answered inside this explo­ration of the sci­ence of snow, fea­tur­ing pho­tos of real snow crys­tals in all their beau­ti­ful diversity
writ­ten by Cathy Camper
illus­trat­ed by Kenard Pak
Kok­i­la / Pen­guin Ran­dom House, 2020
Hav­ing grown up in Wis­con­sin and Min­neso­ta, I appre­ci­ate how accu­rate­ly and emo­tion­al­ly all the ways to hear snow are depict­ed by both the author and illus­tra­tor. Read our full rec­om­men­da­tion.
writ­ten and illus­trat­ed by Jan Brett
G.P. Put­nam's Sons, 1992
Tre­va's trou­ble with trolls begins when she climbs Mount Baldy with her dog Tuffi. The trolls who live there long for a dog, and they try to kid­nap him. But Tre­va is brave and quick-think­ing. She out­wits one troll after anoth­er until she reach­es the very top of the moun­tain, where five trolls are wait­ing — and they want her dog! (con­tributed by Wendy Behrens)
We Want Snow! A Win­try Chant
writ­ten by Jamie A. Swen­son
illus­trat­ed by Emi­lie Boon
Sleep­ing Bear Press, 2021
In this rau­cous, rhyming plea for snow, a group of young­sters imag­ines the cold-weath­er delights they'll enjoy once win­ter arrives. From sled­ding down hills and skat­ing on ponds to build­ing snow forts and snow­men to shar­ing crack­ling fires and mugs of hot cocoa, they want snow and plen­ty of it!
Ten Ways to Hear Snow:
Dis­cov­er­ing Wildlife in Our Snowy Woods
writ­ten by Aimee Bis­sonette
illus­trat­ed by Erin Houri­g­an
Lit­tle Big­foot / Sasquatch Books, 2020
When Win­ter Comes cel­e­brates the joy of play­ing and explor­ing in the out­doors dur­ing the win­ter months. What's going on in hid­den spaces out­doors, shel­ter­ing ani­mals and insects and birds?
writ­ten by Mar­i­on Dane Bauer
illus­trat­ed by Richard Jones
Clar­i­on Books, 2017
Snow is com­ing, and it's time to get ready! The squir­rel gath­ers nuts, the geese soar south, and the snow­shoe hare puts on its new white coat. But what should the fox do? Each ani­mal advis­es the fox that its own plan is best.
writ­ten by Kevin Henkes
illus­trat­ed by Lau­ra Dronzek
Green­wil­low Books, 2019
Snow falls, ani­mals bur­row, and chil­dren pre­pare for the won­ders win­ter brings. The strik­ing text intro­duces basic con­cepts of lan­guage and the unique beau­ty of the win­ter sea­son while the expres­sive paint­ings beau­ti­ful­ly cap­ture the joy­ful won­ders of winter.
writ­ten by Dianne White
illus­trat­ed by Ramona Kaulitz­ki
Can­dlewick Press, 2021
Mama Bear tries to set­tle Small Bear down for the win­ter. She has a cozy answer, paint­ing a dreamy pic­ture of the bright­en­ing col­ors and new adven­tures that will greet Small Bear in the spring. But first comes sleep, in this irre­sistible invi­ta­tion to drowsy lit­tle cubs everywhere.
writ­ten by Jamie A. Swen­son
illus­trat­ed by Ryan Stas
Clar­i­on Books, 2017
A begin­ning read­er: Win­ter is com­ing! Quack has decid­ed he is absolute­ly not fly­ing south this win­ter. He wants to play in the snow, sled, skate, and build snow ducks. His pal Woof is skep­ti­cal but goes along with the scheme until, BRRR! Woof insists he's fly­ing south. But wait! Dogs do not fly south in win­ter! Or do they?