At a meet­ing at the Dal­las Pub­lic Library one day, a retired chief exec­u­tive explained to me his vision for a per­ma­nent dis­play on a soon-to-be-ren­o­vat­ed floor hon­or­ing the men who built up the city's down­town after World War II.
I looked at him skep­ti­cal­ly. "What about the women?"
"There aren't any," he snapped back.
Of course there were! But because a group of white men con­trolled pol­i­tics in the city for decades, few peo­ple know them.
How iron­ic it was to have this con­ver­sa­tion in the Dal­las Pub­lic Library, which was cre­at­ed only after May Dick­son Exall and her women friends raised mon­ey for it and con­vinced Andrew Carnegie to sup­port it. That library, which opened in 1901, housed books on the first floor and a pub­lic art gallery on the sec­ond, which would lat­er morph into the Dal­las Muse­um of Art.
With every research project, I dis­cov­er again and again lit­tle-known or mis­rep­re­sent­ed women who made impor­tant things hap­pen. This is an old sto­ry that's even more famil­iar to Native Amer­i­cans and peo­ple of col­or. But decades after the sec­ond women's move­ment began, I am still stunned when I encounter it in recent books.
This mat­ters because deny­ing women cred­it for past accom­plish­ments makes it eas­i­er to deny them cred­it today. And since many read­ers assume non­fic­tion books are fact, stereo­types get repeat­ed again and again.
Con­sid­er Car­ry Nation, the woman best know for smash­ing up saloons in the turn-of-the-cen­tu­ry run-up to pro­hi­bi­tion. News­men at the time ridiculed her, ques­tioned her san­i­ty, and por­trayed her as some kind of over­sized freak.
So did more recent authors. She "was six feet tall, with the biceps of a steve­dore, the face of a prison war­den, and the per­sis­tence of a toothache," wrote author Daniel Okrent in Last Call: The Rise and Fall of Pro­hi­bi­tion (2010), the book that was the basis of Ken Burns' pro­hi­bi­tion documentary.
Edward Behr, author of Pro­hi­bi­tion: Thir­teen Years that Changed Amer­i­ca (1996), wrote that she was "so unbal­anced and out of con­trol" that she "might well have been con­fined to a men­tal institution."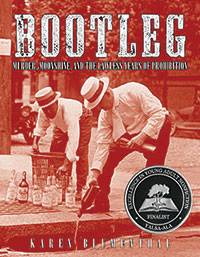 In real­i­ty, pho­tos (and oth­er writ­ers) show Nation couldn't pos­si­bly have been six-feet tall, although Britannica.com and the State His­tor­i­cal Soci­ety of Mis­souri also say so. Though her actions were rad­i­cal, I con­clud­ed in my book Boot­leg: Mur­der, Moon­shine, and the Law­less Years of Pro­hi­bi­tion that they grew out of per­son­al expe­ri­ence with an alco­holic first hus­band, min­is­ter­ing to peo­ple in jail with drink­ing prob­lems, and a deep reli­gious con­vic­tion. She was angry, no doubt. But a thought­ful biog­ra­phy by Fran Grace, Car­ry A. Nation: Retelling the Life (2004), por­trays her as com­mit­ted, not crazy.
As Nation famous­ly said, "You wouldn't give me the vote, so I had to use a rock!"
More recent­ly, I've been steeped in Bon­nie and Clyde lore for a non­fic­tion book out in August. Bon­nie Park­er is a com­pli­cat­ed char­ac­ter and every writer strug­gles to define her: Was she the leader, a fol­low­er or a co-conspirator?
But there's anoth­er temp­ta­tion for male writ­ers, famil­iar to every female who ever went to high school. That's to call her a slut or even a prostitute.
The impli­ca­tion that she may have engaged in pros­ti­tu­tion like­ly start­ed with detec­tive mag­a­zines of the 1930s, which embell­ished sto­ries much like super­mar­ket tabloids today. Some con­tem­po­rary authors allude to it, but in Texas Ranger: The Epic Life of Frank Hamer, The Man Who Killed Bon­nie and Clyde (2016), author John Boesse­neck­er sim­ply states she worked as a part-time pros­ti­tute before she met Clyde, and that Dal­las police "knew Bon­nie as a street-walk­er but nev­er arrest­ed her."
His source? A 1991 local his­to­ry col­umn in the Seguin, Texas, news­pa­per writ­ten by a bar­ber, who attrib­uted the infor­ma­tion to unnamed "old Dal­las police­men." Since Bon­nie and Clyde had been dead 57 years by then, those police­men must have been very old.
To be sure, Bon­nie was a mar­ried woman liv­ing on the road with a man who was not her hus­band. But there is no evi­dence that Bon­nie ever worked as a prostitute.
A lot, of course, has changed. More and more children's books are high­light­ing ground-break­ing women. Just a few days ago, the New York Times print­ed a spe­cial sec­tion of women whose obit­u­ar­ies were pre­vi­ous­ly over­looked, with a promise to keep adding names. I know for a fact that the Dal­las Library direc­tor will nev­er have an all-male dis­play in her building.
But stereo­types per­sist. Here are a few things that writ­ers, edu­ca­tors, and librar­i­ans might do to give women their due:
Con­sid­er the source. I love pri­ma­ry sources, includ­ing doc­u­ments and con­tem­po­rary news­pa­pers and mag­a­zines. But they have to be put in the con­text of their times. Women were legal­ly con­sid­ered their hus­bands' prop­er­ty for hun­dreds of years. They couldn't bor­row mon­ey or own land. They were denied entrance to law schools, med­ical schools, and grad­u­ate schools because of their gen­der. Many of these laws didn't change until the 1970s. Don't assume today's stan­dards when read­ing or writ­ing about women from a dif­fer­ent era.
Ques­tion, Ques­tion, Ques­tion! Were girls real­ly weak? Did women real­ly faint? Would her tem­per or impa­tience have mat­tered if she were a man? Is her hair, attrac­tive­ness, or body shape rel­e­vant? Do female writ­ers tell a dif­fer­ent story?
Include women in every unit of study. In almost every top­ic area these days — the Civ­il War, both World Wars, sci­ence, the envi­ron­ment, math, tech­nol­o­gy, pol­i­tics, art, music and so on — there are good kids' books about what women con­tributed. Share them.
Do your own research. Con­sid­er a class project to iden­ti­fy and research a less­er-known woman or per­son of col­or who made a dif­fer­ence in your com­mu­ni­ty. While high­ways and big build­ings are usu­al­ly named after men, there's prob­a­bly a name on a local park, school, or near­by street to get you start­ed. Your local library or his­tor­i­cal or genealog­i­cal soci­ety would prob­a­bly be thrilled to help.
[Ed: As this arti­cle cir­cu­lat­ed, Karen Blu­men­thal tweet­ed the Bri­tan­ni­ca ency­clo­pe­dia folks about the dis­crep­an­cy in fact con­cern­ing Car­rie Nation's height. Here's what hap­pened. You and your stu­dents can have a pos­i­tive effect on fac­tu­al information.]